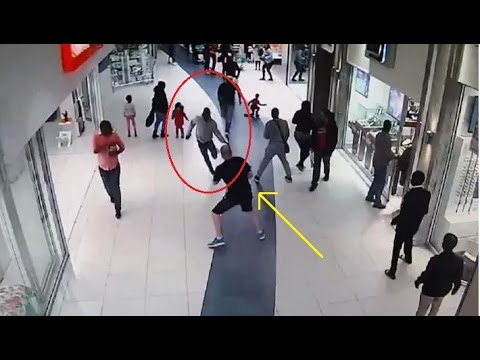 A man in a Northgate mall in Johannesburg was quick to act when he saw a thief running his way, and quickly tackled him.
Once the thief was taken (immediately!) into custody, the tackler – without any ado – just casually walked on.
Watch Video – Cell phone thief in South African mall gets hard tackled!
UPDATE September 2016: Jacques Erasmus was the man in the video. Here's his story:
"Strolling through Northgate Mall I suddenly heard people shouting at the top of their lungs. Somewhat startled I noticed a man running in my direction at speed, with a small chasing group following close behind. It did not take me long to realise what was happening, nor what needed to be done to try and assist.
"I managed to stop the thief whom was taken away by security and staff. The objects you can see being picked up are cell phones stolen from a nearby store.
"I visited the mall security office afterwards to see if there was any footage of the incident caught on CCTV. There was, with this video being the result of me recording the footage on my cell phone."