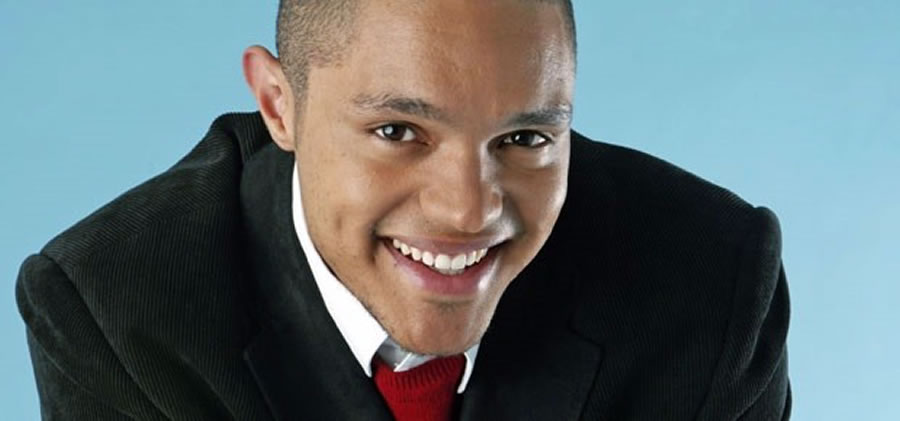 Trevor Noah will be taking over the Daily Show TONIGHT, Monday the 28th of September. Filling the massive shoes of Jon Stewart will be no easy task, but as a New Yorker with a South African mother, I think the new South African expatriate will be able to add huge value and insight to the nightly news show…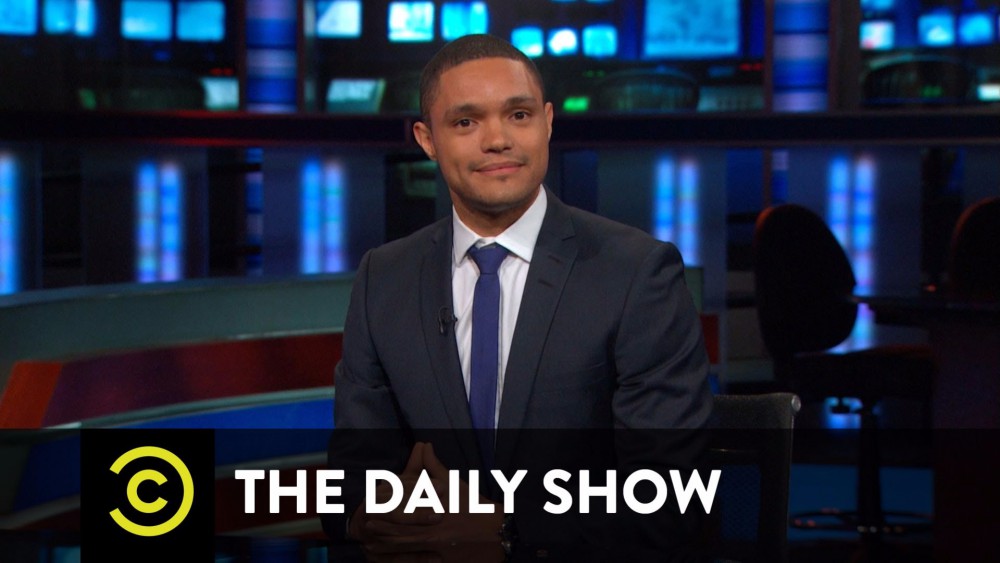 [vc_button title="1″ color="default" size="size_small"] He Is Very Funny! (Afterall he has our South African humour!)
Trevor has been performing stand up for over a decade, he has filled out massive shows, and toured around much of the world, he is quick witted, sharp and has a huge cache of jokes that all sorts of people will find funny.
[vc_button title="2″ color="default" size="size_small"] Political Humor
He is no stranger to political humour, with South African politics (and the chaos that it sometimes is) featuring heavily in his stand up shows. He should have plenty of ammunition with the upcoming US election to get a taste of America's political comedy!
[vc_button title="3″ color="default" size="size_small"] Race Issues
Trevor Noah grew up in Soweto during Apartheid South Africa. In his words "I was born a crime" with a black South African mother and a white Swiss father…so his experiences with "Legal" discrimination give him a great platform to dive deeper into the race issues currently making headlines in the US.
Furthermore conversations about race in South Africa are far more open and less "Politically Correct". Thus Americans can expect Trevor Noah to really add some value when discussing racial issues in the US.
[vc_button title="4″ color="default" size="size_small"] Expat Insight
As most South Africans abroad know, expats can bring a unique insight to a country. Trevor will will surly be able to offer interesting insight into how the world views the US. What it is that people love and hate about America and what the general image of the United States is around the world.
He will also be able to bring to light some of the universally funny things that occur around the world, that perhaps a regular American host might have missed out on. EG. his very funny skit about Zambia and their love of escalators, I highly suggest you give it a watch, "Just don't be gay!"
[vc_button title="5″ color="default" size="size_small"] Foreigner Perspective
Trevor Noah will be able to bring a unique perspective to the news cycle, only recently emigrating to the US from South Africa, he will have a whole different way of looking at the news than many American TV hosts.
He will be able to offer a fun take on how the American news system operates, offer a global view of the success of the US. Perhaps most important, he will be able to contextualize some of the more shocking stats about the US.
[vc_button title="6″ color="default" size="size_small"] Politically Independent
While Trevor might lean left or right, (most likely left) on a number of issues, he was not born into the American political system, he has not been raised a Democrat nor a Republican, so expect him to straddle the political lines. This could not be more important at a time when issues in the US are so politicized that many will simply back up "their side" no matter the issue.
It will be refreshing to see an "Independent" on television. Furthermore he is not a citizen of the US, thus he will not be voting in the upcoming elections, this political neutrality could play really well with independents and moderates on both sides of the political aisles.
[vc_button title="7″ color="default" size="size_small"] He is Good Looking!
If you are going to be on television four nights a week, you had better be smart, you should be quick witted, but by gosh it does help to be handsome!

[vc_button title="8″ color="default" size="size_small"] He Will Teach Americans A Little About The Rest Of The World
Americans are often unfairly characterized as not caring too much about the rest of the world, but at the site I founded, XpatNation, a large proportion of our readers are Red White And Blue Americans, people who have been in the country for generations, but they still care deeply about what goes on in the world. Be it that they want a greater cultural understanding of a place or people, or perhaps they have a friend or family member who is living abroad, many from the armed forces who have a true and steady connection to the nations they have served in. I am looking forward to what Trevor might teach Americans about the wider world.
[vc_button title="9″ color="default" size="size_small"] Watch Him Learn About The US
Whenever an expat moves to the US, it can be very interesting to watch them learn about the wider culture, to understand some of the stereotypes people overseas hear about the US are just as silly as some of the stereotypes Americans might hear about South Africans, it will be interesting to see what Trevor finds surprising about America, and for him to learn about the fascinating history and culture of the United States.
Although Trevor has been working in the US for quite some time now, as many South Africans have already learnt spending time in a country is very different than setting down roots and emigrating.
[vc_button title="10″ color="default" size="size_small"] Jon Stewart Chose Him
Jon has worked with some of the great minds of television, and has put together a great team to work on the Daily Show, choosing Trevor to take over could be considered a risk, but Jon has been king making for years…and it is clear to see that Jon can spot talent, and if Jon thinks Trevor is the right fit to lead the Best F#@king News Team Ever then America really might have a big star on their hands.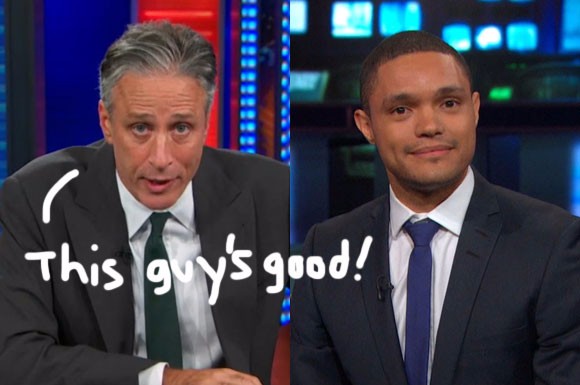 [vc_button title="11″ color="default" size="size_small"] Connect To His Audience On Twitter
While Jon was not social media's biggest fan, Trevor embraces the medium. He has 2.6 million twitter followers, regularly responds to his fans, and engages with the public on topics of interest.
[vc_button title="12″ color="default" size="size_small"] Impressions!
Who doesn't like a good impression? Trevor has a huge cache of amusing impressions in his repertoire, any comedian will tell you that a good impression can go a long way, and many Daily Show fans will be having a good laugh at some of his accents and voices.
Check out the video below to learn a little bit more about Trevor from the man himself and to hear some of his very funny impressions.
[vc_button title="13″ color="default" size="size_small"] His Smile : )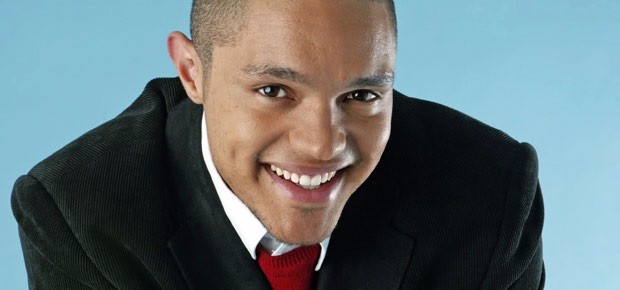 [vc_button title="14″ color="default" size="size_small"] The Daily Show Crew
The hardworking crew that Jon Stewart left behind will be in Trevor's corner, making sure everything runs smoothly. Jon took the time during his last show to make sure they were all given their rightful credit, they are an integral part to the Daily Show.
[vc_button title="15″ color="default" size="size_small"] The Daily Show Correspondents
The Daily Show correspondents are sticking around to work with Trevor, Jessica Williams, Lewis Black, John Hodgman, Al Madrigal, Kristen Schaal, Aasif Mandvi, Jordan Klepper, and Hasan Minhaj will all continue to work on the show.
[vc_button title="16″ color="default" size="size_small"] Colbert Is Only On At 11.35 PM
What else is an American going to do while they hopelessly try and stay awake for the Colbert Report : ( Late Show With Stephen Colbert, and you will have 5 minutes to do what you do during late night shows without someone mentioning the Donald and killing the mood.
[vc_button title="17″ color="default" size="size_small"] This Quote
"You have to work a bit harder to offend me because I'm from the home of some of the best racism in the world. I'm a snob when it comes to racism."
[vc_button title="18″ color="default" size="size_small"] Election Season
Nothing makes better late night TV than a US election, get ready for The Best F#@king News Team Ever to tackle the 2016 Election.
A version of this article first appeared on Xpatnation (and is republished with kind permission of Steven Shamoon) – view the original here.
STEVEN SHAMOON was born in New York City, but spent most of his childhood growing up in London UK, with a South African mother and Iraqi father he experienced different cultures from an early age. He loves to consume information and founded Xpatnation with the idea of bringing together people, ideas and experiences of expatriates living in America
XPATNATION is a news/culture and lifestyle website, with the voice of people from around the world who have chosen to make America their home. Focusing on global events and culture, as well as offering a unique insight and perspective into American issues.