Get ready to back the Boks tomorrow in green and white! The South African rugby team's usual green and gold kit will be left behind in favour of their 'away' kit tomorrow at the Rugby World Cup (RWC).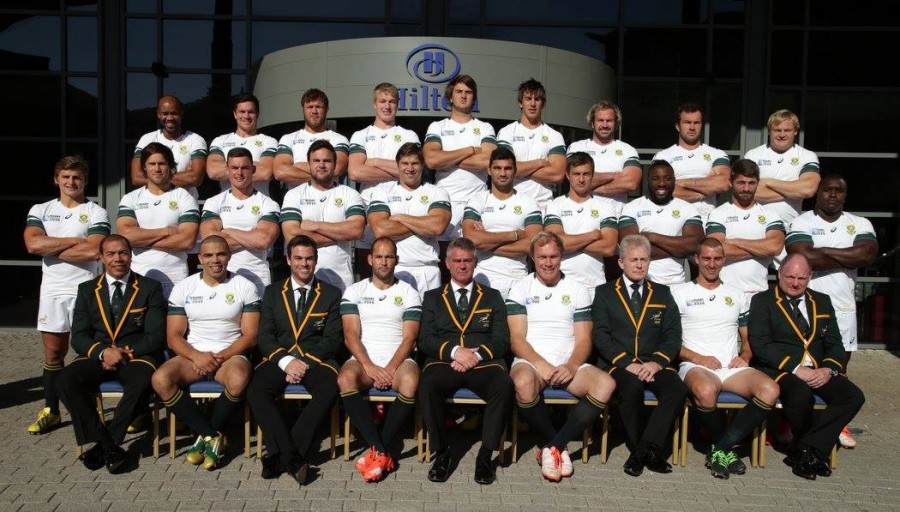 The Springboks' facebook page was updated an hour ago with the above photo. No explanation was given other than that "the Boks will be in white as per RWC regulations."
Although questions have flooded in as to which RWC regulation requires this (since playing Scoltand in blue and white has never posed problems before), no further details have yet been given.
South Africa face Scotland tomorrow in their third Pool B match at St James Park in Newcastle. Scotland is currently sitting in first place on 10 points in Pool B. South Africa is second with 7 points.
South Africa lost their first match in a dramatic defeat by Japan, and won their second with a convincing victory against Samoa. (They actually wore their white away kit in the match against Samoa in the last World Cup.)
Fourie du Preez will captain the team after Jean de Villiers was injured (and subsequently retired from test rugby).
The first Test match between South Africa and Scotland took place over 100 years ago in Glasgow in November 1906. The score in that match was 6-0 in favour of Scotland.
Since then, the two teams have played in 24 Test matches against each other and South Africa has won a whopping 20 of them! The only four which South Africa lost were all played at Murrayfield in Edinburgh.
Tomorrow will be the first time that the teams meet on neutral territory.
SA and Scotland have only met once before during a RWC tournament – that was in 1999 where SA beat Scotland at Murrayfield 46-29.
Tomorrow's referee is Welshman Nigel Owens. He has refereed 12 previous SA matches of which we won seven and lost five. He last refereed a South African match in Brisbane earlier this year where we lost 20-24 to Australia.
The match kicks off at 17:45 South African time.