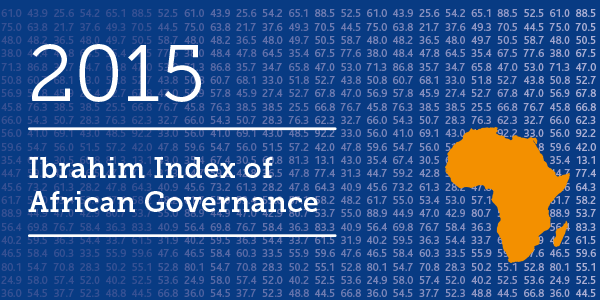 People in Africa are healthier and the continent more democratic than 15 years ago, but progress in certain areas has stalled over the last four years, according to an important new governance survey released by the Mo Ibrahim Foundation on Monday.
"It is wrong for people to buy elections." Mo Ibrahim pic.twitter.com/91bNVNF2tU

— Mo Ibrahim Fdn (@Mo_IbrahimFdn) October 5, 2015
According to the foundation's Ibrahim Index of African Governance, of the 54 countries in Africa surveyed, 21 (including five in the top 10) have deteriorated in overall governance performance since 2011. Only six countries registered an improvement across each of the four categories of the IIAG – Côte d'Ivoire, Morocco, Rwanda, Senegal, Somalia and Zimbabwe.
The overall governance score was best for Southern Africa and the worst Central Africa, and the gap between the two regions has widened since 2011. The top three countries in overall governance were Mauritius, Cabo Verde and Botswana, the survey found.
South Africa's score for Safety and Rule of Law went up slightly since 2011, as did its one for Sustainable Economic Opportunity. Participation and Human Rights went down slightly.
"While Africans overall are certainly healthier and live in more democratic societies than 15 years ago, the 2015 IIAG shows that recent progress in other key areas on the continent has either stalled or reversed, and that some key countries seem to be faltering", says foundation chairman Mo Ibrahim in a statement.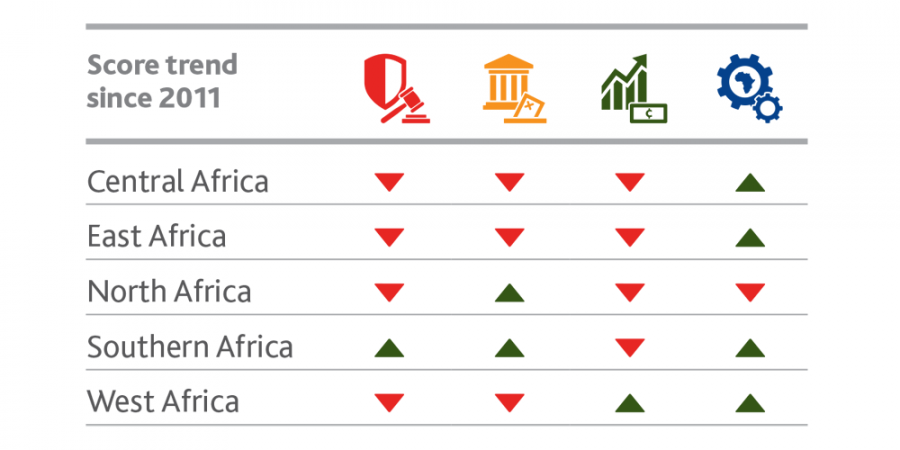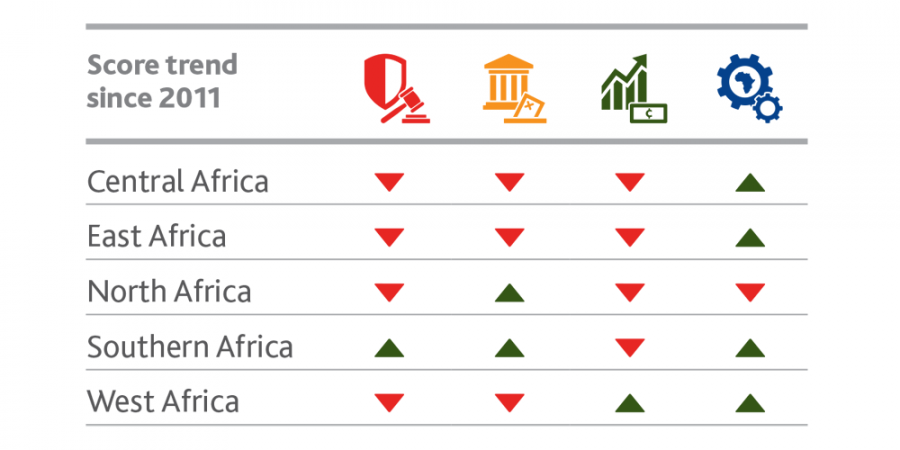 "This is a warning sign for all of us. Only shared and sustained improvements across all areas of governance will deliver the future that Africans deserve and demand."
The IAAG provides an annual assessment of the quality of governance in African countries and is the most comprehensive collection of data on African governance. Ibrahim, a Sudanese-British mobile communications billionaire who sold his company in 2005, set up the foundation to promote good governance in Africa.
Some of the findings of the survey are that the bottom three countries in overall governance are Central African Republic, South Sudan and Somalia. It is the first time that the newly independent South Sudan has been included in the survey.
The top 10  improvers in overall governance over the last four years represent almost a quarter of the continent's population, according to the survey. Five of these countries, Senegal (in ninth place), Kenya (14th), Morocco (16th) Rwanda (11th) and Tunisia (8th), already rank in the top 20 of the IIAG, "leading to the question of whether they might become the continent's next powerhouses".
Read more at the foundation's site.