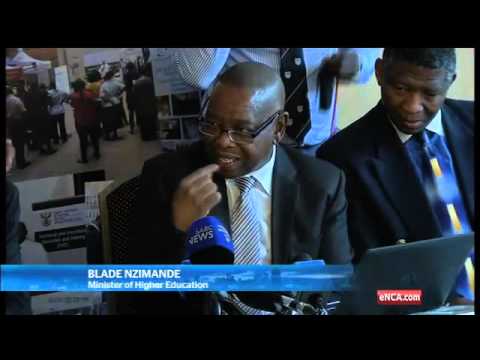 As students get ready to march on the Union Buildings in Pretoria on Friday, a comment by the Minister of Higher Education, Blade Nzimande, has become a video sensation and made students think his words show the government does not care about their demands.
In this video, the news report that caused all the trouble:
President Jacob Zuma, who has not commented yet on the student protests after more than a week, is meant to meet with student leaders are the protest. At the same time, protests are moving ahead in other centers, such as Durban, where there is meant to be a march on ANC headquarters in centre city, as well as in cities abroad.
Before a press briefing on Wednesday following protests in Cape Town, Nzimande said to people around him that "if the students don't accept this, we'll start our own movement – students must fall' before bursting out laughing. The words were publicized on TV channel eNCA.
The hashtag #studentsmustfall quickly started trending. Many people on Twitter said the minister's joke showed the ANC was out of touch with the country.
Nzimande was reportedly angry about the broadcast of his words. A ministry representative was quoted in news reports as saying the comment was meant as a joke for those present at the press conference.
"This is cheap journalism on the side of eNCA and we going to take it up with the owners of eTV," the representative said.
The march in Pretoria is meant to start at 9 a.m. A large police presence was reported from early in the morning.
Pledges of support for the protests, which began last week over a demand for reduced university fees, have come from around the world. Already the hashtag #internationalshutdown is gaining strength.
South Africans in London said they would have a fellow march on the high commission in Trafalgar Square, and marchers in New York are gathering in Brooklyn under the banner 'New York Stands in Solidarity with South Africa's Student Movement'.
The #NationalShutDown is now an #InternationalShutdown. London gets involved tomorrow! #FeesMustFall ??✊? pic.twitter.com/K3K2TECdxZ

— 21.10.15 ✊ (@hlumz) October 22, 2015
We stand with you! #FeesMustFall #FeesWillFall #StandwithStudents #NationalShutDown #unionbuilding #FeesMustFallNYC pic.twitter.com/CJ3XFtZ9JB

— ZAMANDELA (@NYClwando) October 23, 2015