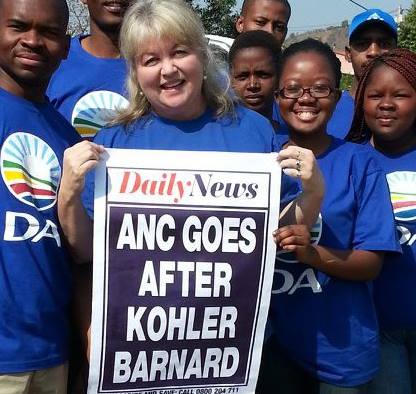 CAPE TOWN – The Democratic Alliance has terminated the membership of parliamentarian Diane Kohler Barnard after finding her guilty of misconduct, the party announced on Friday.
In September, Kohler Barnard shared a Facebook post by freelance journalist Paul Kirk which said education, health and the police service were better during the apartheid-era rule of former president PW Botha. The post went viral and drew considerable criticism.
According to news reports, earlier in October Kohler Barnard pleaded guilty before an interdisciplinary hearing to misconduct, bringing the party into disrepute and not abiding by the party's social media policy.
Kohler Barnard is allowed to appeal the party's ruling, the DA said in a statement.
A second MP, Juanita Terblanche, also had her membership terminated on Friday. A DA spokeswoman said the termination had to do with the misappropriation of party funds in the North West,  which is her constituency, a matter that has been ongoing since 2010.