Philani Dladla's story is well known to those who know him as the Pavement Bookworm and have bought books from him on Empire Road in Johannesburg, South Africa. But now he has added author to his résumé, with his newly published book titled, of course, "The Pavement Bookworm".
Dladla – whom we wrote about in 2013 already – used his love of books to change the course of his life and save himself from drug addiction. He got his first book when he was 12, but a series of events finally brought him to be homeless and living under the Nelson Mandela Bridge in Johannesburg.
"I decided I needed to save myself," Dladla said. "I chose not to keep any money so I could avoid buying drugs. Anything I got I immediately spent on food… and books."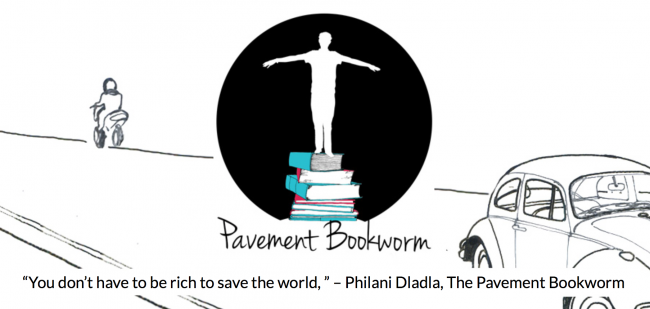 Dladla started reviewing the books and selling them to motorists driving up Empire Road. He demanded a price that related to his rating of the book in question. The media started paying attention to him – even the media abroad – and that did not always go over well with his fellow homeless people (see excerpt below).
On his website, pavementbookworm.co.za, Dladla not only reviews authors like Clive Cussler, Jodi Piccoult and Stephen King but also promotes welfare programmes.
Read an excerpt from Dladla's book, "The Pavement Bookworm"…
In the following excerpt of the book, published by Jacana under its new imprint, Blackbird Books, Dladla tells how, after a holiday back in KwaZulu-Natal, his lifesaving enterprise turned on him one day:
THE PAVEMENT BOOKWORM – An Excerpt
"By the end of 2012, I had made enough money to go and visit my family in KwaZulu-Natal after many years. They knew that I was still alive because the Pavement Bookworm was doing the rounds in the media. At least I didn't have to tell them my story.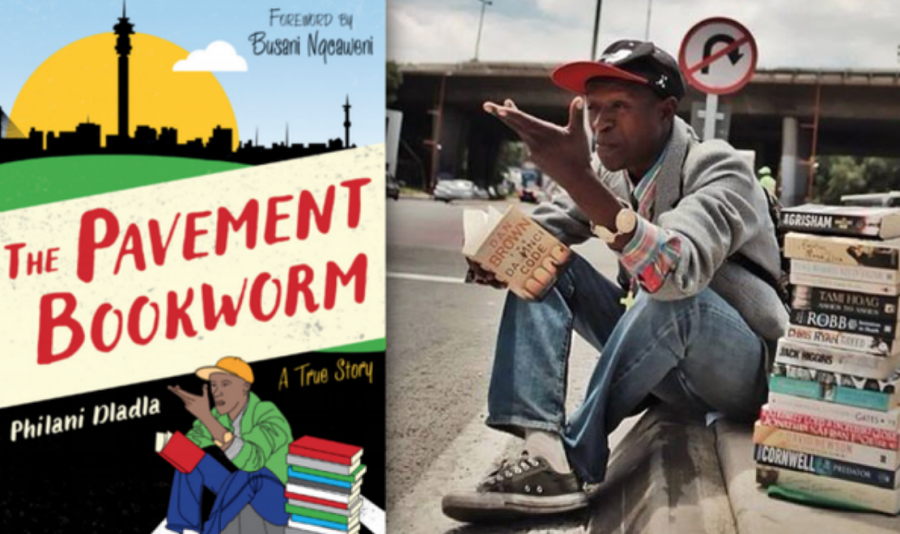 "I bought everything brand new from head to toe and some gifts for uMa and my brothers. I still had uMa's contact number but I didn't call because I wanted to surprise them. After travelling for more than seven hundred kilometres crammed in a taxi we arrived at my beautiful hometown of Port Shepstone.
"I took another taxi to Oshabeni where my home is. It felt good being home again. My mum was happy to see me. My family had some questions for me – Where had I been? How had it been? Why it had been so long since I had made contact or sent money? Some asked if I had missed them.
"It was very emotional. People were very happy to see me again – even those who used to gossip about when I got stabbed, dropped out of school and tried to kill myself and called me a loser and a bad influence and nsangwini (weed addict). All was forgotten; it was like it never happened.
"It felt like I had a new body. My holiday was not very long because the City of Gold was calling me back, I had more dreams and they were bigger than the small town Oshabeni. If I wanted my dreams to come true I had to go back to the gold digger's city. Look at this book you're reading; it is one of my dreams.
"I didn't need to pack because I lived like a rat in Johannesburg. I took a bus from Oslo Beach that arrived at 5:30 am at Park Station in Johannesburg. I waited in the waiting area for the sun to rise and then went to get a few books from Henry's place. On my way I received a call from a lady called Twanji Kalula who works for a morning show called Expresso on SABC 3.
"They wanted to do an interview with the Pavement Bookworm. I gave her the green light and she said she'd meet me at Empire Road with her crew at 9:30 the next morning. I was early as usual and arranged my books neatly. I started selling books while I waited for Twanji and the Expresso crew to show up.
"What I didn't know was that the media attention had turned my friends sour. My own boys, my friends who lived under the bridge with me, came in numbers with new faces to attack me. They were led by Simon, popularly known as Lesiba – another heartless street king. After Bongani was stabbed to death, Simon replaced him.
"It was like the devil sent him to give me a hard time. He never liked me and he said I thought I was better than everyone else since I managed to quit drugs successfully. He expected me to relapse again and when that didn't happen he started abusing me every day, calling my feeding scheme a Mickey Mouse business.
"He physically attacked me many times but I never fought back because he was expecting it, and then he would kill me with the okapi knife he kept in his pocket. I still have scars on my head, which are reminders of how he once broke a bottle on my head…"
Watch Video: In this interview, one of the earlier ones with the Pavement Bookworm, he expounds on John Grisham: