Check out this performance by former South African expat Gavin Edwards that everyone's talking about tonight. His rendition of 'Say Something' on TV singing contest The Voice South Africa had judges fighting over him and set social media on fire. In fact, there was even a little #ProteaFire involved when AB de Villiers tweeted his support.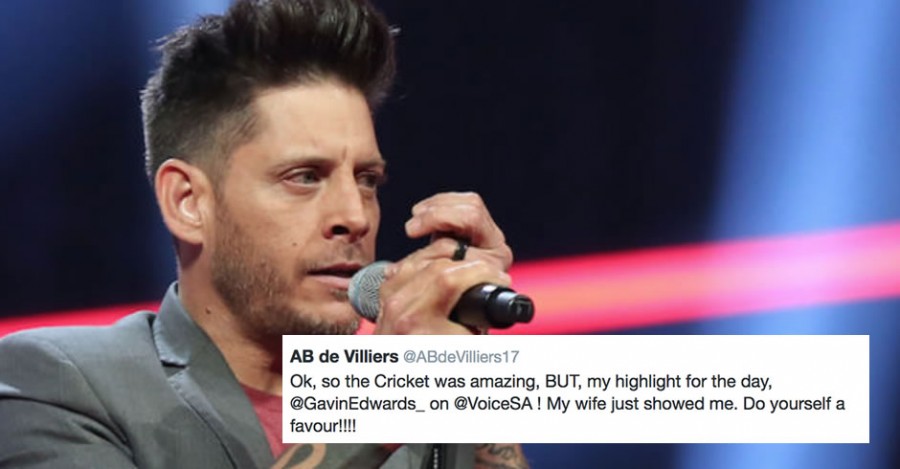 After today's awesome 2-0 cricket series victory over England, the Protea's de Villiers tweeted: "Ok, so the Cricket was amazing, BUT, my highlight for the day, @GavinEdwards_ on @VoiceSA ! My wife just showed me. Do yourself a favour!!!!"
Gavin received near-unanimous acclaim for his version of A Great Big World's "Say Something", with singer-songwriter judge Karen Zoid and Afrikaans superstar Bobby van Jaarsveld fighting to be his mentor. TeamBobby won.
Watch Gavin Edwards on the Voice SA
Thirty-seven year old Gavin, who's originally from Durban and now lives in Johannesburg, spent 14 years overseas, but – according to VoiceSA – "the rock 'n roll lifestyle took its toll and he recently returned home to sober up and start afresh".
Gavin had entered the fast lane when Brain McFadden from international band Westlife spotted his band at Sun City and flew them over to Los Angeles.
Under Brian's management, Gavin and his band met celebrities like Tom Jones, Bono and Russell Crowe. But Gavin became dependent on alcohol, and realised he had to choose between the bottle and music. Music won.
After AB de Villiers' tweet this evening, Gavin tweeted: "Wow ok so @ABdeVilliers17 Just Tweeted about me singing on the @VoiceSA tonight, I am Lost for words. Thanks for the support AB" and later tweeted directly to De Villiers saying: "And by the way 71 runs off 29 balls now that's amazing, you rocked today, #JustSayin Great win AB."
One of Gavin's fellow contestants, Jeremy Olivier, tweeted: "@GavinEdwards_ @ABdeVilliers17 @VoiceSA you deserve it Gavin! And I agree- that innings AB, was on another level!"
Gavin Edwards' Advice for Young Artists
On tonight's show, Gavin had this to say about choices young artists should make…