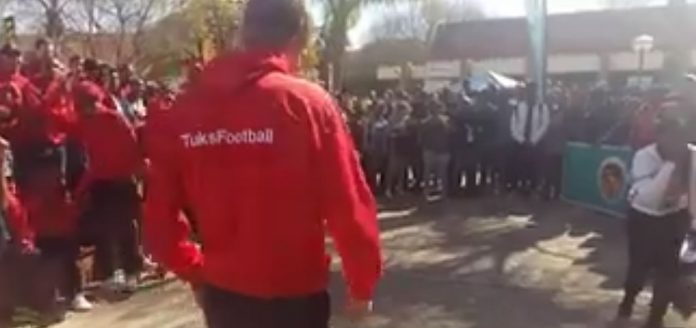 A white guy's dance moves at the University of Pretoria (Tuks), South African, have caught the attention of his fellow black compatriots and social media around the country.
The video was first uploaded by Varsity Sports to Twitter last week, with a message: "Could this be @TuksSport #TeamCelebration when they score on Monday? #Iyachesa #VarsityFootball."
"This is the South Africa we want to see"
Unfortunately for the home side, they didn't win on Monday… but the Tuks Sports video has proved a winner on Facebook where it's been viewed over 70,000 times after being copied across by FB user Ike Bam who said: "Mlungu [white person] owns the dance floor. I love this country. #Iyachesa."
Social media user Macndy Mazibuko said "This is the South Africa we want to see" and Dawn Crowther greed "how great to see black and white together like this. This is definitely the South Africa we are needing and wanting to see."
Tshwane University of Technology (TUT) beat Tuks on Monday 1-9 to climb to the top of the Varsity Football leaderboard… and spreading even more goodwill, TUT's goalkeeper Dumsani Msibi has pledged to share his Man of the Match prize money with his teammates!
Watch Video: Varsity Football Dance
Could this be @TuksSport #TeamCelebration when they score on Monday? #Iyachesa #VarsityFootball pic.twitter.com/NclcxGQh3m

— Varsity Sports (@varsitysportsSA) July 21, 2016
If you can't view the video above, try this (not as clear):
MORE
South African Farmer shows white men can dance to African music