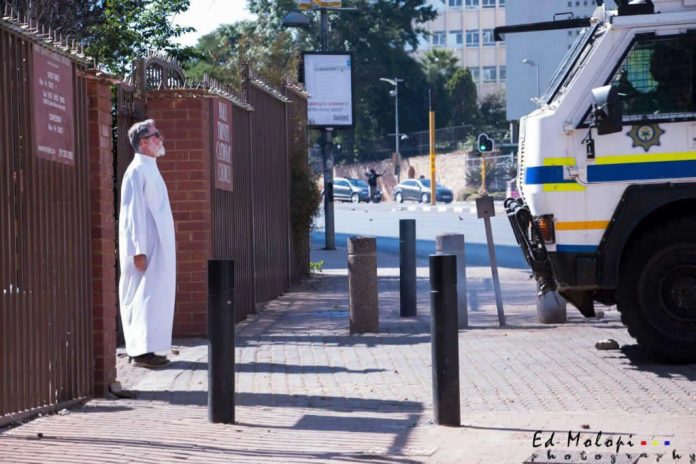 JOHANNESBURG – Photos of a Catholic Priest in Braamfontein, with blood streaming down his face, went viral today on social media. He had been hit by a rubber bullet during #FeesMustFall protests. Police claimed it was a stray bullet. Hylton White, a Faculty Member at Wits University, was there just before it happened…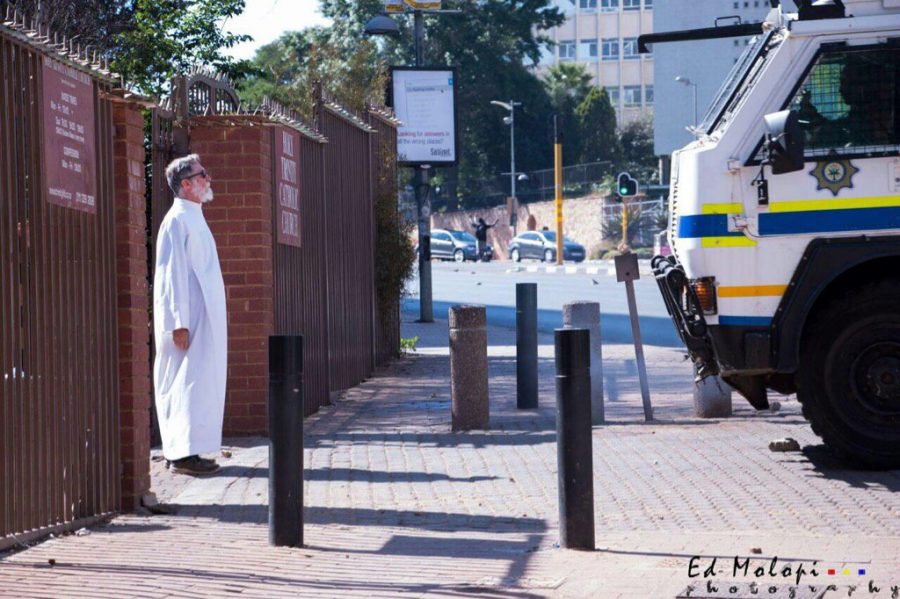 White wrote on Monday afternoon: "I just saw the priest at Holy Trinity stand rock still in the driveway to the church while a casspir (riot tank) drove at him at full speed.
"He was protecting students seeking sanctuary inside.
"They eventually slammed on brakes and stopped less than a meter from him. He didn't flinch. He stood there for a second and then made the sign of the cross at them. They retreated. I was utterly gobsmacked. Never seen anything like it.
"I'll be making a donation to Holy Trinity on payday for that moment, and I posted the first version of this update with hugely uplifted spirits…
"But then they drove back past again five minutes later and they shot him directly in the face. He's inside now with medics."
According to local news reports, police said he was caught by a stray bullet and that innocent bystanders are sometimes caught up in such situations. Video footage uploaded by Times Live (watch below) seems to show otherwise:
Acts Wits (the Catholic Tertiary Students movement) confirmed "Our Parish Priest Fr. Graham was hit by a stun grenade in attempt to protect students and restore stability."
They said "students have been pushed this far. Our voices have landed on deaf ears and yet we are still painted as thugs and criminals.
"Police come fully armed and ready for war onto campus. The very campus where unarmed students are expected to come onto.
"This instigates fear. How do people react to fear? Flight or fight. Yet again, who is the victim?
"Is this what we've come to? Hear our cries. We are innocent. We are unarmed. Don't shoot at us. We come in peace."
They also confirmed in an update that "fortunately Fr. Graham was returned to safety and has been treated. Our most sincere apologies to Fr. Graham."
In their last tweet tonight, Acts WITS said: "Pray for Wits. Pray for UKZN. Pray for Stellies. Pray for UP. Pray for TUT. Pray for UWC. Pray for UCT. Pray for higher education."
Is this what we've come to? Hear our cries.
We are innocent. We are unarmed. Don't shoot at us. We come in peace. pic.twitter.com/QcHcb1KMH5

— Acts WITS (@WitsActs) October 10, 2016
Our Parish Priest Fr. Graham was hit by a stun grenade in attempt to protect students and restore stability.#WitsFeesMustFall pic.twitter.com/jRuDwXEm6R

— Acts WITS (@WitsActs) October 10, 2016