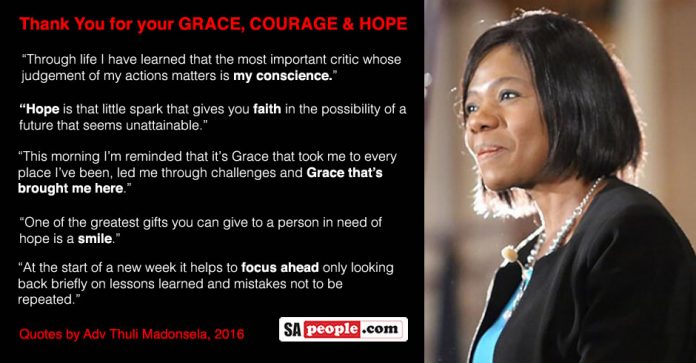 As South Africa thanks Advocate Thuli Madonsela for the incredible job she did at protecting the country from corruption, at being the Public Protector we could only have dreamed of having… here are some wise words from the lady herself that may help us move forward without her.
Outgoing Public Protector, Adv Thuli Madonsela, on life and lessons learnt:
"Through life I have learned that the most important critic whose judgement of my actions matters is my conscience."
"Hope is that little spark that gives you faith in the possibility of a future that seems unattainable."
"This morning I'm reminded that it's Grace that took me to every place I've been, led me through challenges and Grace that's brought me here."
"One of the greatest gifts you can give to a person in need of hope is a smile."
"At the start of a new week it helps to focus ahead only looking back briefly on lessons learned and mistakes not to be repeated."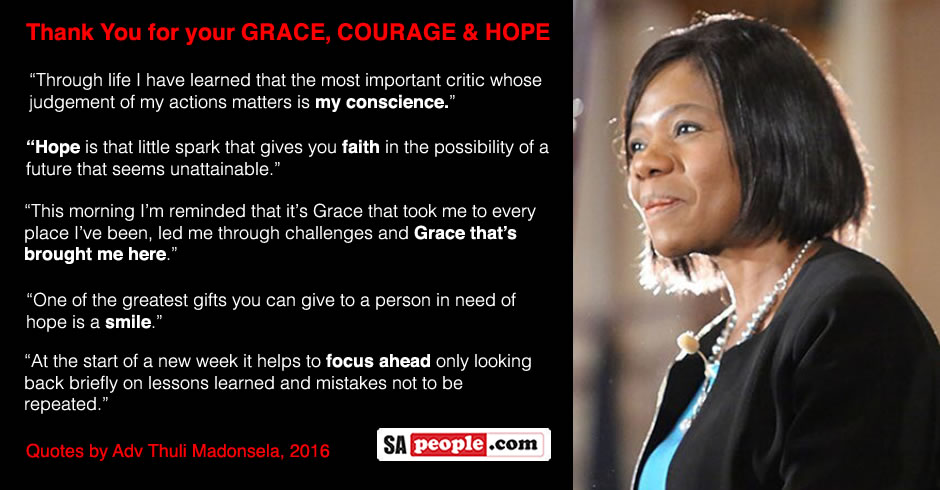 Tips from Advocate Thuli Madonsela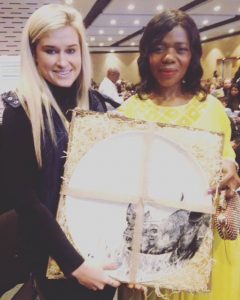 You cannot lead if you cannot follow.

Be a leader who does not need a title.
Believe in the purpose of the work you are doing!
Choose your battles carefully.
Social injustice is intolerable.
Accept that mistakes are made, not because you are a bad person… but because you are human.
Notes compiled by Legh Wilkinson from The Platter Project during a keynote address delivered by Adv Madonsela.
Reports at 2pm:
Adv Madonsela is set to hold a press conference today at 2pm to announce the outcomes of her final reports, including perhaps her 'State Capture' report on the alleged influence the Gupta Family has held over South African government despite President Zuma and Minister van Rooyen's attempts to stop the report's release.
UPDATE 11.30am Friday 14 Oct: Madonsela's lawyers have reportedly informed the High Court in Pretoria that she will NOT release the State Capture report today.
Tribute from Zapiro
Tributes on Twitter today, 14 October, Thuli Madonsela's final day as South Africa's Public Protector:
As You Bow Out Of Office Today,You Undoubtedly Have Given Good,Great&Golden Moments surely your life has been impacted too #ThuliMadonsela pic.twitter.com/1zEpXKtSbZ

— Joshua Awesome (@awesomecoach) October 14, 2016
The new Nando's ad that pays tribute to a fellow 'fiery chick'!
PP @ThuliMadonsela3 "Ever the griller. Never the chicken!" @NandosSA pic.twitter.com/aHXrA02LeT

— Public Protector SA (@PublicProtector) October 13, 2016
Cartoonist @DovFedler bids a nervous farewell to #PublicProtector #ThuliMadonsela pic.twitter.com/dIGI0jxcZx

— IOL News (@IOL) October 14, 2016
Thank you Thuli ❤️ #ThuliMadonsela pic.twitter.com/PkZoEQ5dt3

— Jackie S (@gjstain) October 14, 2016
@ThuliMadonsela3 Strong women dont play victim or make themselves look pitiful, they stand & deal. #ThuliMadonsela pic.twitter.com/nFiUqI10EB

— Eugene Tebza (@Mixologist_DJ) October 14, 2016
You lifted us up, gave us hope and courage, made us believe in integrity & honour and the POWER of women leaders
Thank you #ThuliMadonsela https://t.co/q7hQcwQeuN

— Margie Orford (@MargieOrford) October 14, 2016
Producer Brad: The Letter (To Thuli Madonsela) Video
Uploaded by 947 Joburg: "The Letter (To Thuli Madonsela). Producer Brad has been doing some writing, this time to #ThuliMadonsela. It's a little farewell something something. Have a listen…"