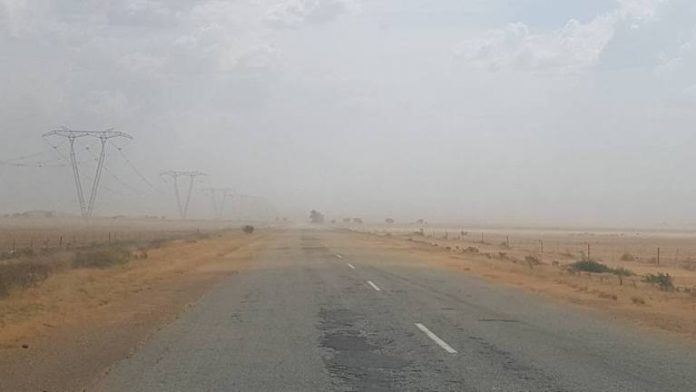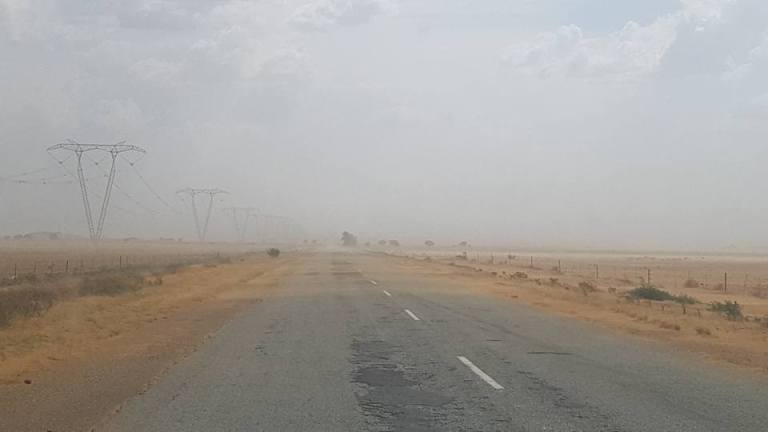 As dam levels drop – with the Vaal Dam running dangerously close to empty – and the drought in South Africa dragging on… you'd be forgiven for mistaking some of these photos by RONEL ERLANK SLABBERT for a beach or a desert. (Scroll down for Vaal Dam update.)

In fact, these are the scenes along the road between the maize-farming town of Bothaville and the optimistically named Hoopstad (City of Hope) in the landlocked Free State.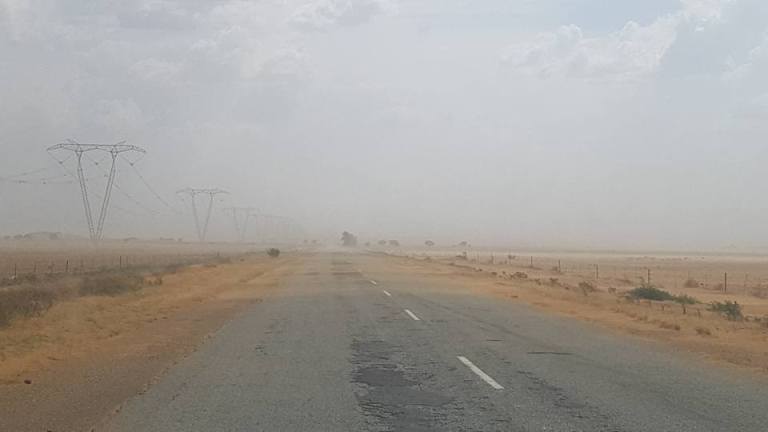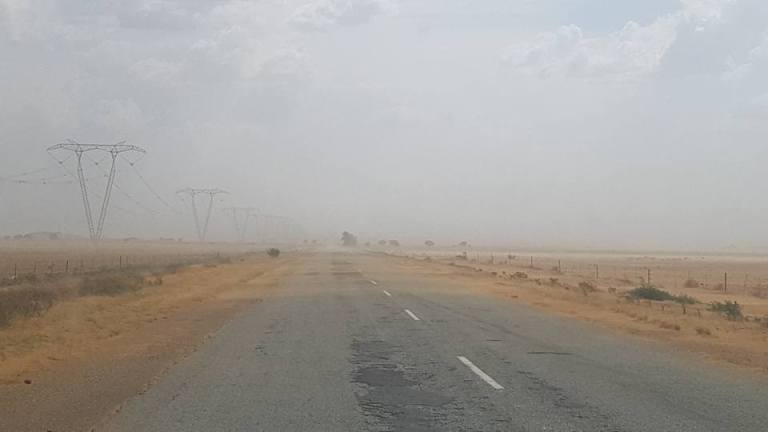 The Department of Water and Sanitation reported last Wednesday that the national storage of 211 dams is now at 49% and still dropping.
The situation is so drastic that from Monday 7 November, water from the Sterkfontein Dam (sitting at 91.5% because it's in reservoirs) will be released over a period of 54 days into the Vaal Dam, where levels are only at 26.4%. The Vaal loses water quickly because of evaporation (which the heat wave would not have helped.)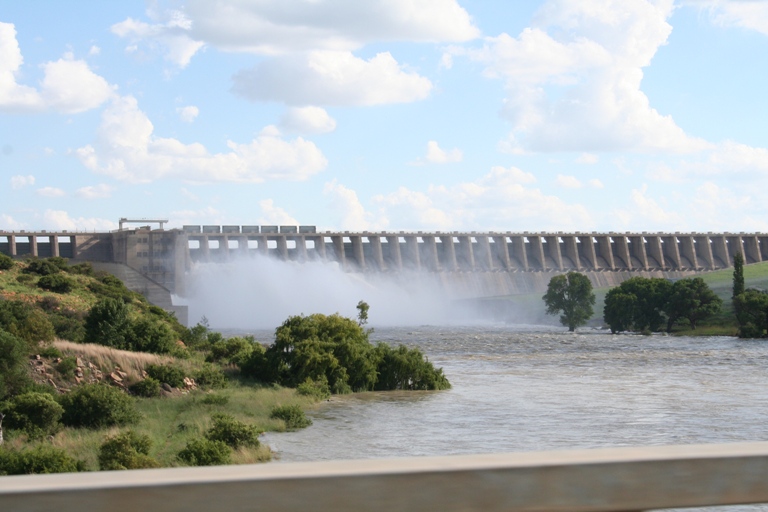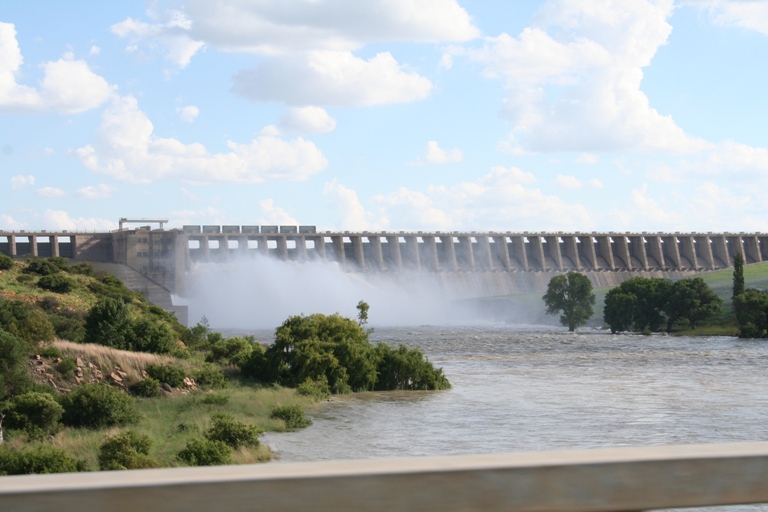 The Department has urged communities and businesses in the country to strictly follow water saving measures… and while habits are changing, it's just not fast enough.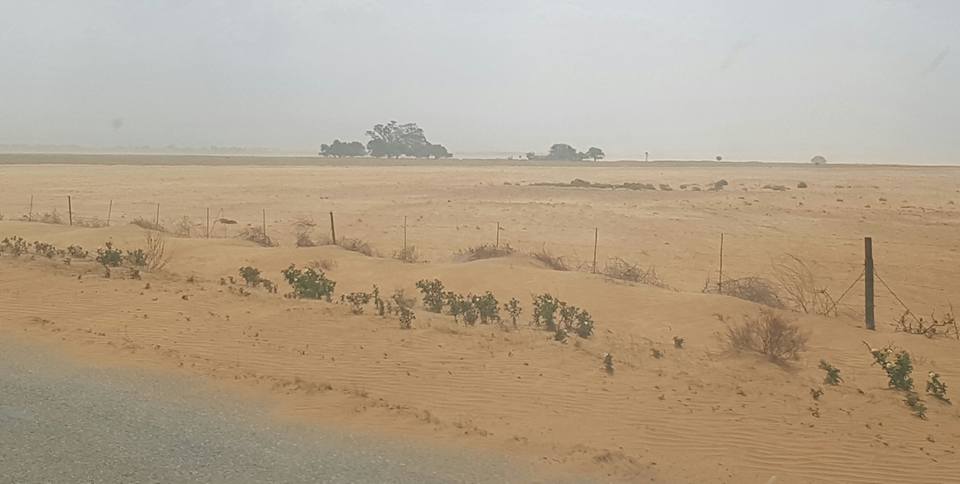 Vaal Dam Update, 10 November 2016
Water was released from the Sterkfontein Dam just after 9h00 on Monday to help replenish the Vaal Dam's dangerously low water levels. This will continue for 54 days to the end of December 2016.
Despite the massive downpour of rain in Joburg and the East Rand on Wednesday – 16.5mm of rain according to Gauteng Weather, there was not as much rainfall as hoped over the Vaal area – only 1.55mm – with little change to the Vaal Dam water level. Rand Water said that the levels were at 26.3% on Monday and had only risen to 26.4% yesterday (Wednesday).
Experts predict it will take years to get levels back to normal.
?Water from the Sterkfontein Dam released just after 9am to help replenish the Vaal Dam's dwindling water levels | ? Jan Aggenbach/ReenvalSA pic.twitter.com/UlDg9aMJgO

— Gauteng Weather (@tWeatherSA) November 7, 2016
Top Water Saving Tips from Water Shortage South Africa
Caroline Van Saasen, from Water Shortage South Africa, told SAPeople, that while we need to be thankful that some rain is falling (and "even the hail falling is water"), it's time for South Africans to become "water scrooges?" and be very selfish with what they have:
Stop Watering Gardens
"I see and hear of too many people still watering their gardens. Please educate your garden engineer. He might not know or realise the impact of the drought. He is being paid by you to make sure you have a nice looking garden so while you are at work, he waters your paradise."
2. Don't Wash Your Car
"I know this is a very sensitive situation but carwash business need to realise that they MUST make a plan with the water wastage. Please. I haven't washed my car in 2 months. I don't care what people say… its fine with me… I know I am saving water."
3. Wash Underwear in the Shower
"When you shower, take your underwear and socks and quickly wash it out."
4. Wash Clothes Less Frequently
"Wear your jeans more than once if you don't have a filthy occupation like miners, tradesman etc."
5. Don't Let Your Children Play with Water
"I realise it's summer and it's hot, but please don't let your kids play with water in the garden. I know it might be inhuman to the little ones but rather cool down with a wet cloth."
6. Close Curtains
"Close your curtains during the day. The sun and heat reflected on walls and paving will keep the heat out."
7. Use Your Bath Water
"To some it might sounds farfetched and I might get crucified? but instead of watering your garden, use the water from your bath or shower to do your washing… you can grow a new garden when the drought is over."
8. "Be responsible…"
"We need to stay hopeful and positive, and we need to be responsible citizens of this country."
9. Challenge Friends
"Inform your friends and family… put challenges in place to see who can use the least water in a month?????"
10. Join Water Shortage South Africa
"Join Water Shortage South Africa and check out the phenomenal team and what they have accomplished with your help over the last 10 months."
Water Shortage South Africa: 
www.facebook.com/groups/924585607595490/