Public Protector (PP) Adv. Busisiwe Mkhwebane has "noted with sadness" a report carried in the Sunday Times newspaper yesterday, 27 November 2016, alleging that she has pressed charges against her predecessor, Adv Thuli Madonsela. The PP says "it is not true" and that it is not clear how the newspaper interpreted the information that was shared with a ST journalist on Saturday, in Durban, in the way that it did.
In a press statement, the PP's office explained that Adv Mkhwebane has opened a case with Brooklyn Police Station to investigate whether a breach took place, but has not (yet?) laid charges.
The alleged "leaks" refer to an audio recording of a meeting between Madonsela and President Jacob Zuma, which was held as part of the so-called "State Capture" investigation.
Madonsela says she did not "leak" the tapes, she released them legally. She did so after President Zuma claimed that no such meeting took place!
Mkhwebane says she requested the investigation after complaints from the Presidency and Speaker of  the National Assembly.
Ignoring the fact that the President apparently lied to his country, the new Public Protector claims her investigation is to protect the public's trust in her office being compromised.
According to Mkhwebane, Noseweek magazine claims to be in possession of a recording of Madonsela's meeting with Vytjie Mentor; and another newspaper article was based on what purported to be a recording of the 'State Capture' meeting between Madonsela and Economic Freedom Fighters leader, Julius Malema.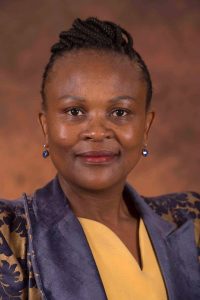 "We need to safeguard whatever evidence such people, including whistle-blowers, give to us," she said.
The article in the Sunday Times – under the headline "Zuma guns for Thuli" – also claimed that Vytjie was among the aggrieved persons that approached the PP over the alleged "leaking" of 'State Capture' recordings.
Vytjie, for her part, was furious with the newspaper report, and said on Facebook on Sunday: "I NEVER COMPLAINED TO MKHWEBANE ABOUT THULI LEAKING ANY TAPES. HOW CAN AN ADVOCATE LIE LIKE THIS? I AM HEADING TO THE BAR-COUNCIL AND SHE WILL HAVE TO PAY ME HUGELY. I WILL BE LAYING CHARGES AGAINST HER AS WELL. THIS IS SO GALLING!!"
The Public Protector said it is further saddened by the "harmful statements attributed to Ms Mentor" following the Sunday Times story. Mkhwebane says she will take up her grievances with both Vytjie and the Sunday Times privately.
Several South African leaders, columnists and social media users have begun asking if Mkhwebane is the Public Protector or State Protector.
The Democratic Alliance (DA) said she "is dancing to Jacob Zuma's tune and acting on his behalf to undo the valuable work done by her predecessor."