When that super pod of humpback whales cruised into Cape Town this weekend, THOMAS PRYOR grabbed his surf ski and headed out for an unforgettable experience paddling with the whales. Here's his story…
Sunday Brunch Buffet with Whales in the Western Cape… by Thomas Pryor
I had managed to see the whales off Sea Point on Saturday. I was with a smaller pod of roughly 20 not far away from the 60 whales featured in Jean Treson's
 post on SAPeople. (Watch below.)
After the brilliant experience of Saturday I was very eager to find the pod again on Sunday and after lots of "stalking" on Facebook and Instagram from helicopter to whale watching tours – I was looking for any hashtag that may lead to their whereabouts – I rolled the dice on Llundudno.
As I reached the Curios area overlooking the bay, the guys there started moving frantically and pulled out binoculars pointing at the ocean… and there was a set of whales fully breaching! 
I headed down to the beach and set off in my Surfski. It didn't take long before I was zigzagging trying to catch up with the closest bunch.
I hung around with a small pod who were fairly placid, before following a pair who were slapping the water with their tails and pectoral fins.
Every so often I could hear whales breaching in the distance, it sounded like a canon going off as they hit the water; and similar to lightning I could count the seconds to tell they were just over a kilometer away, and still that loud and imposing at such a distance.
I watched a private charter come past me, and it headed towards a lot of activity (blow hole's of the whales) just over a kilometer away, as within about 100 meters you can begin to hear and smell them.
I headed in the same direction as the charter disappeared around the point, and as I came within those hundred meters… I began to realise just how many there were.
They were moving in a clockwise direction as they fed, so I moved along their flank in a counter-clockwise direction, getting as close as I dared, paddling a-top of their pectoral fins as they surfaced and submerged alongside me.
They would generally surface twice alongside me before ducking down deep, and surface in a completely different direction.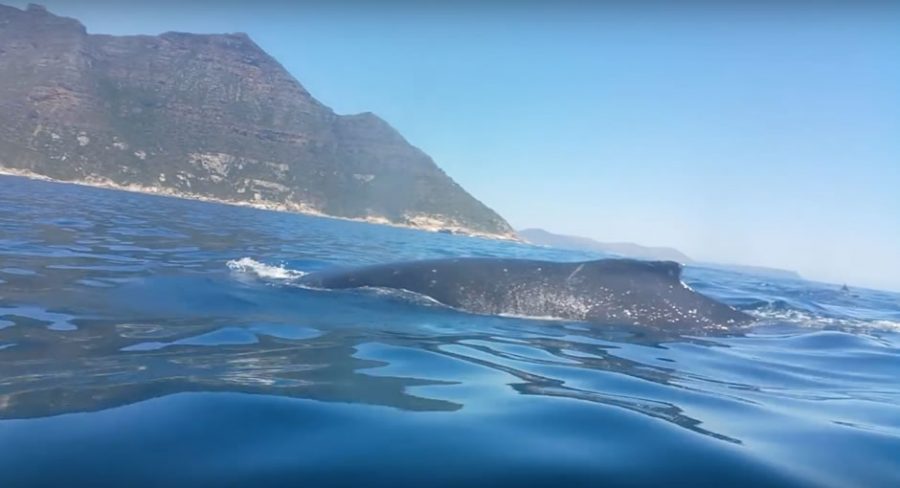 The intensity of their breathing versus the grace with which they move through the water was truly astonishing.
I always felt as if they were completely aware of my presence and I never felt in danger once. For being more than 3km out to sea alone, I found that quite remarkable.
After about 30 minutes with the pod that must have been roughly 40 strong, I saw what I thought was a pectoral fin begin to surface alongside me about 4 meters away.
I had been reaching for my phone to record another video, when I realised it was not moving past me but towards me.
This is when sheer terror set in.
The head of a "large" (by the day's scale) whale was heading straight for where my bum was in my seat, set to surface in exactly the same place! This is when sheer terror set in.
He adjusted his angle and began to glide directly beneath me, not making me feel any more comfortable. I managed to grab my paddle and pull 3 rapid strokes, being very aware that the tail was still to come!
His tail surfaced, being half the length of my boat and still moving towards me, I narrowly managed to clear his path, and just like that he had taken his breath on my left hand side while I had focused on his tail, and proceeded to disappear into the depths again. 
After a few profanities for anyone in earshot to hear, I ended up laughing out-loud to myself and decided that after almost two hours of pure awesomeness, that was my cue to call it a day!
It really was the most amazing thing!
Here's the video Thomas took whilst approaching the large pod of whales for the first time:
Tom had his phone in a waterproof bag which he was holding with his mouth whilst filming (and constantly checking around for whales surfacing next to him!)… "that's why it's quite jumpy!"
Watch Thomas on Saturday: "Oh Gosh! I'm definitely too close"
***
When Tom's not hanging out with whales, he works in Food and Beverage at the Cape Town international convention centre. He says he decided to share his video with SAPeople followers because, having spent time overseas in the UK and Kuala Lumpur, "I just thought this is something, that if I was still overseas, would be really cool to see and make me homesick…" 
MORE