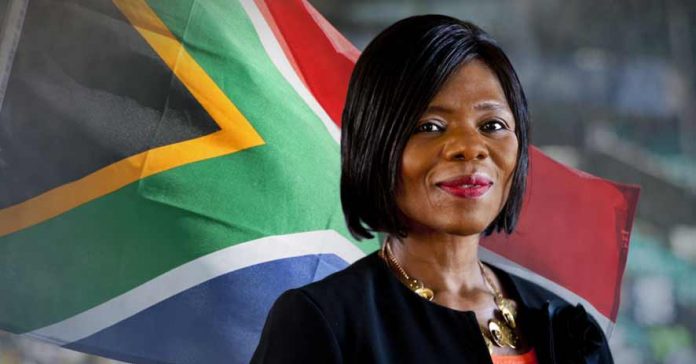 Advocate Thuli Madonsela has announced she is "supremely 
honoured and excited to partner with Pan Macmillan SA to publish my memoirs. Hope the insights shared will contribute meaningfully…"
In a press release Friday, Pan Macmillan South Africa said it is "delighted to announce today that it will publish a memoir by Former Public Protector of South Africa, Advocate Thuli Madonsela.
"The book is a personal memoir covering the remarkable life of one of South Africa's pre-eminent and most respected leaders – as an individual, as an advocate for gender equality and the advancement of women, as well as in the often controversial role of Public Protector."
Madonsela served as South Africa's Public Protector from 2009 to 2016, describing this role as a non-political figure who 'gives the people a voice while giving the traditional leader a conscience'.
Her status as an exceptional South African is rooted in this tenacity in speaking truth to power, says Pan Macmillan. "Advocate Madonsela's personal commitment to the country and its population has been an inspiration, from her involvement in drafting South Africa's groundbreaking Constitution to her pursuit of cases that drew significant media attention – such as the investigations into: alleged impropriety by Andre Odendaal, the erstwhile Midvaal Municipality Chairperson; Nkandla; Bheki Cele; a company and trust fund linked to Julius Malema; the role of Helen Zille in a communications tender by the Western Cape Provincial Government; Gwen Mahlangu-Nkabinde; and State Capture – together with her work to highlight administrative justice rights violations that have affected the country's marginalised as well as intervening in systemic service failure."
The much-loved Advocate has been awarded Doctor of Law degrees from the University of Stellenbosch, the University of Cape Town, the University of Rhodes and the University of Fort Hare and has received many awards and accolades for her dedication to justice and leadership.
Advocate Madonsela said: "I'm grateful for this opportunity and excited to take a journey back into the life I have lived, with the hope that what I share will have meaning for others."
Terry Morris, Managing Director of Pan Macmillan South Africa, said: "In times of political turbulence, Advocate Madonsela has been a beacon of truth, a voice for the ordinary citizen and a tireless defender of the Constitution. Pan Macmillan is honoured to work with Advocate Madonsela to bring her important and inspiring story to the world."
Pan Macmillan South Africa acquired World rights for the book.
Supremely honoured and excited to partner with Pan Macmillan SA to publish my memoirs.Hope the insights shared will contribute meaningfully https://t.co/0LhLtjCLzm

— Adv Thuli Madonsela (@ThuliMadonsela3) January 20, 2017
One of the big books in #2018 Advocate Thuli Madonsela (@ThuliMadonsela3) is to publish her autobiography with Pan Macmillan South Africa pic.twitter.com/RgbeexClOh

— Reader's Warehouse (@readerwarehouse) January 20, 2017