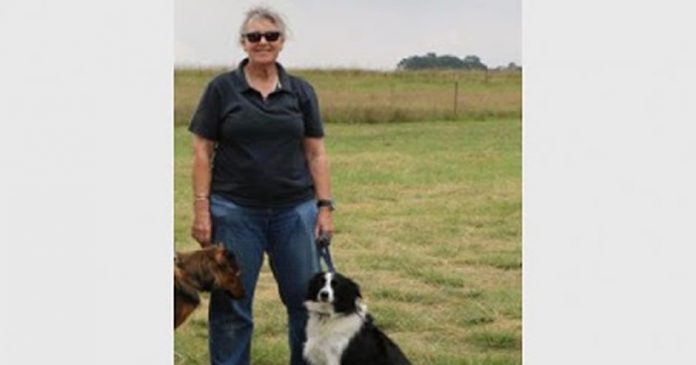 In a heartbreaking update on the farm attack which rocked the community of Dullstroom this weekend, it has sadly been announced that Sue Howarth tragically passed away this afternoon.
Sue was well known in Border Collie circles, and had 3 rescue Border Collies herself.
A fellow animal lover Patti Baron-Lowe said she has "

passed away from the most HORRIFIC injuries she suffered during the VICIOUS, POINTLESS and HATEFUL torture she and her husband endured in this attack. Her husband is still in serious condition in hospital. SHARE THIS STORY – ENOUGH IS ENOUGH – LET'S BRING THEM TO BOOK."
A reward of R20,000 has apparently been offered by a friend.
Sue's injuries were reportedly so severe that it was decided to turn off her life support machine. Her husband Robert is in critical condition in ICU. The couple had been tortured and shot.
The Democratic Alliance (DA) extended its "heartfelt condolences to the family and loved ones of Sue Howarth".
The DA said "Sue and her husband, Robert Lynn, were overpowered and tortured in their home, and then left for dead on the side of the road in Belfast, Mpumalanga, on Sunday.
"Since the beginning of February, 30 farms have come under attack, and 15 people have lost their lives in farm murders across the country and this number seems to be increasing.
"We simply cannot allow for these horrendous acts to continue and for our rural communities to live in constant fear.
"The DA will continue to call on government to implement rural safety units to protect rural communities against violent crime."
Yesterday the body of Roger Solik was found 2km from that of his wife Christine. The couple was murdered in the Midlands, KwaZulu-Natal after a break-in. A week ago a father and his wife, and his parents were all killed on a farm in Mpumulanga.
These type of murders are not new. They just don't usually make the news or have politicians comment on them. There is also a devastating number of murders of people in townships and other parts of South Africa. It is hoped with the increased publicity that the government will step up and do more to curtail violent crime in SA.
#FarmAttack update: Sue Howarth (64) has passed away in hospital. https://t.co/CZGXZm8NU8 pic.twitter.com/mr4oQ2lv3A

— Theresé de Bruin (@ThereseDeBruin) February 21, 2017