DURBAN – Fire fighters are battling to extinguish a huge fire which has engulfed a container warehouse at Durban Harbour, KwaZulu-Natal.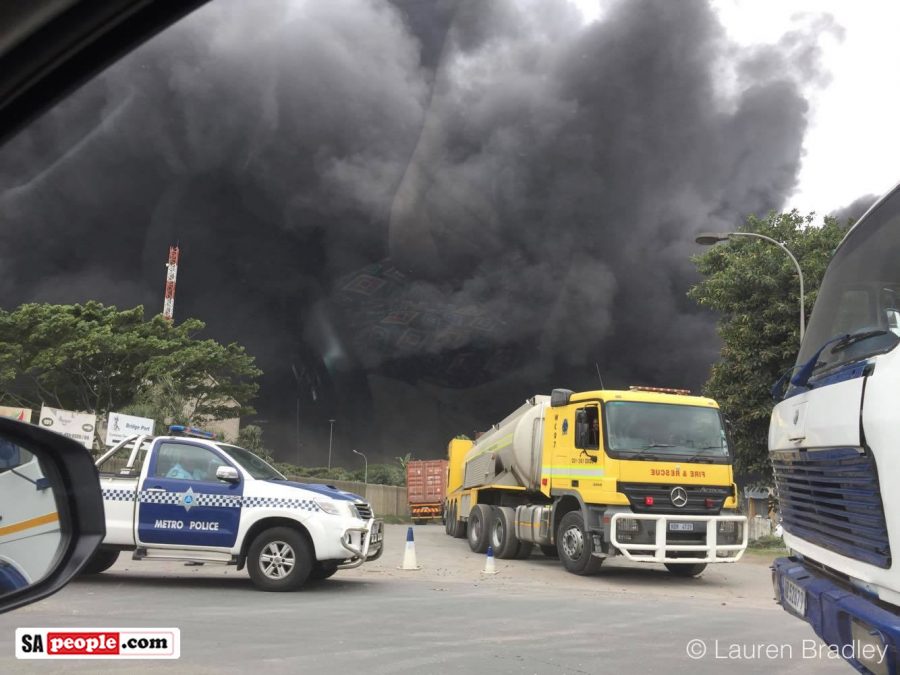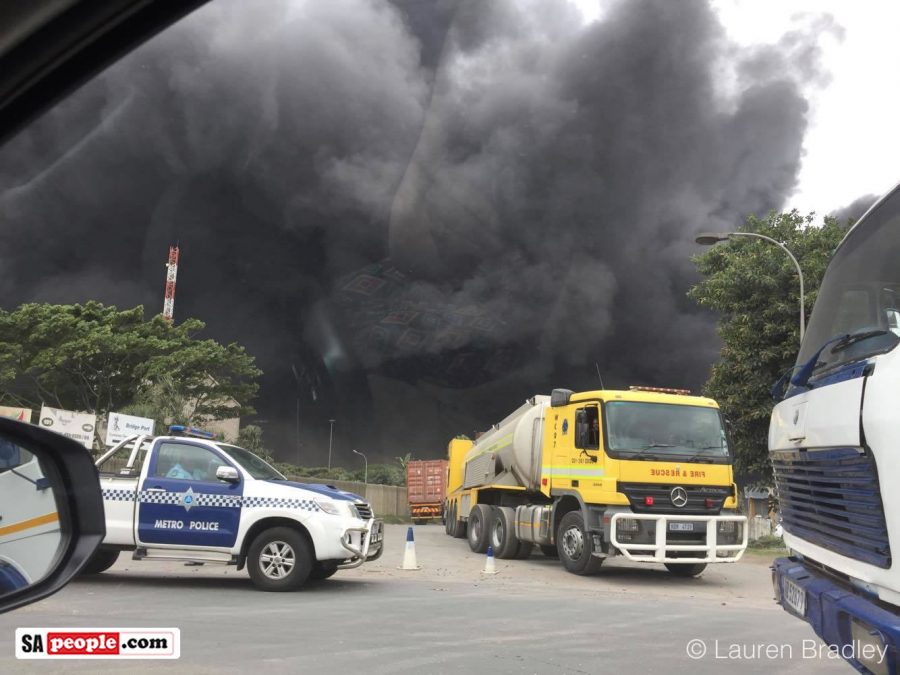 According to an eThekwini Municipality firefighter, Paul, "strong winds and water resources making things very difficult." 
Paul, who is station commander at Amanzimtoti Fire Station, says so far two people have been injured, including a fire fighter. The fire fighter has been transported to hospital to be treated for burns. He is reportedly in a stable condition.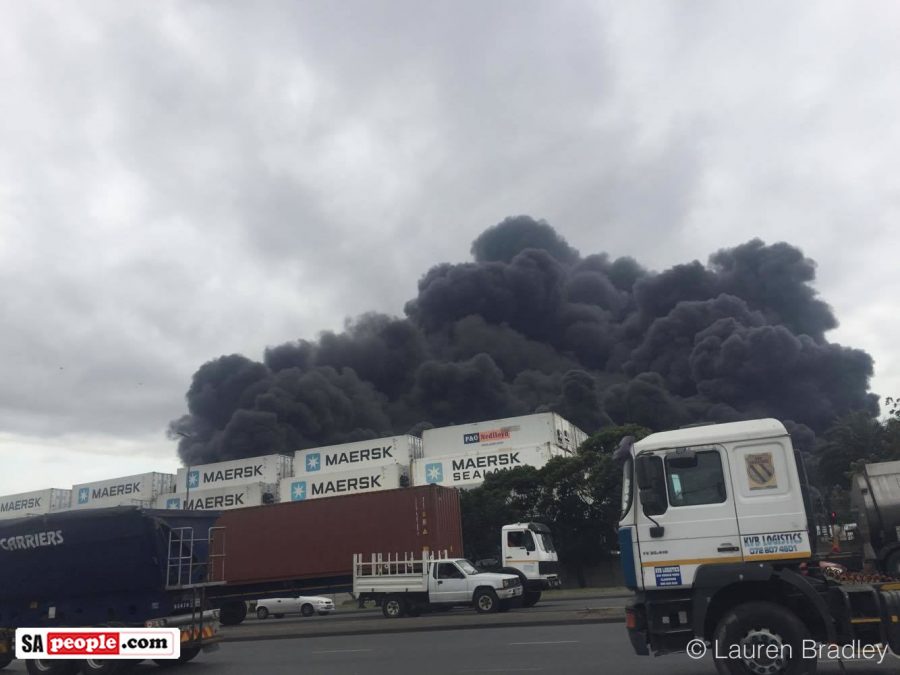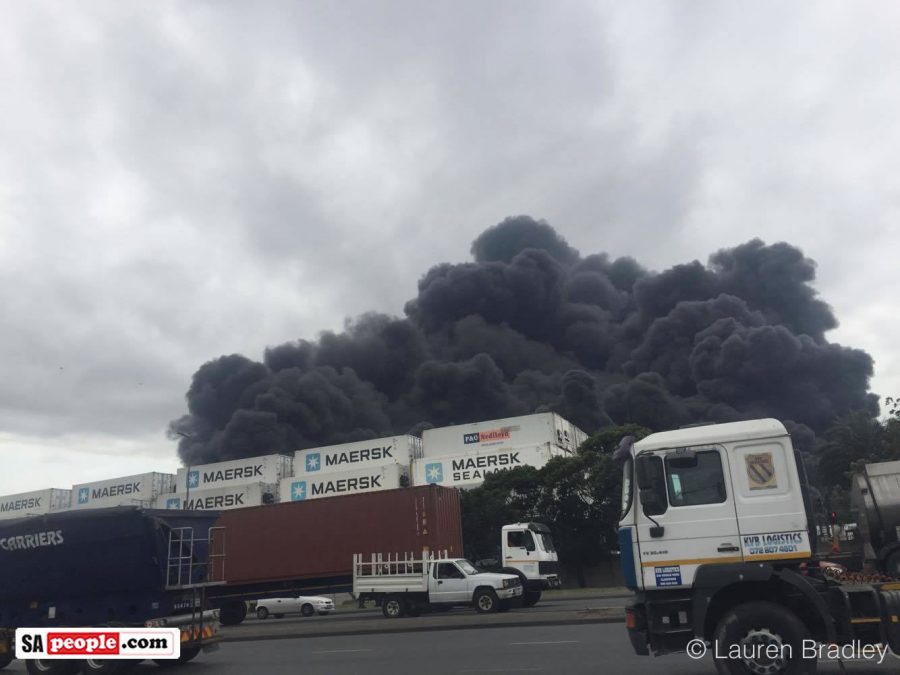 The fire engulfed the industrial site early this morning, with strong winds fanning the flames.
According to Rescue Care Emergency Services there are more than 70 firefighters and several fire trucks – from different fire units – at the scene, working desperately to prevent the fire spreading to nearby factories.
The warehouse appears to have thankfully been empty at the time the fire broke out.
The cause of the fire has not yet been determined, although it is believed that wax panels caught alight.
Regular SAPeople expat contributor Lauren Bradley, who is on holiday in South Africa at the moment, captured the photos on this page. She said: We took our kids to the Durban docks this morning. We thought the grey sky was an approaching storm… but turns out it's a hectic fire! At first we weren't sure if it was a boat or building on fire."
South Coast Road has been closed between the M7 and Bayhead Road due to the poor visibility emanating from the smoke.
Walked out of the Bafana Bafana press con and found this in the air… pic.twitter.com/tYHTmDcZb9

— Myron Naicker (@myronnaicker) March 24, 2017
Time lapse of the smoke from the #DurbanFire, as seen from Durban North. pic.twitter.com/xxweQKg1A6

— Dylan Mccormick (@dylmcc) March 24, 2017
#durbanfire from the train view…@eNCA @ewnreporter pic.twitter.com/OvWzLYRxsR

— ? Anonymous ? (@KDmzwandile) March 24, 2017
[VIDEO] – Aerial footage of the factory fire in Durban. Relevant services are on scene. #realhelprealfast @ewnupdates @ECR_Newswatch pic.twitter.com/QhNSeDdzFl

— ER24 EMS (Pty) Ltd. (@ER24EMS) March 24, 2017
The plume of smoke from Umhlange stretching over nearly 20km via @SunCellWatch @TimesLIVE pic.twitter.com/cKnqSI7rzv

— Jeff Wicks (@wicks_jeff) March 24, 2017
A supplied clip of the smoke from the #durbanfire blowing over #Durban CBD pic.twitter.com/7hBoNuJpHO

— KZN EMS (@kznems) March 24, 2017
@FatalMoves @ECR_Newswatch @TrafficSA @bereamail @IamAlexSweet @_ArriveAlive Fire 151 South Coast Rd Well alight. @bravedaveZA pic.twitter.com/mJ2Uf3aIZL

— Rescue Care Pty Ltd (@rescuecare) March 24, 2017
Durban is on fire #DurbanFire pic.twitter.com/KkOG7q3FZ3

— Mandla Magwaza (@Njinjiwami) March 24, 2017
Candle Factory Burning in the Wind
Melted wax burns on the foreground of South Coast Road warehouse fire ##durbanfire @ECR_Newswatch @ecr9495 @JaneLinleyT pic.twitter.com/JozBy0nzh8

— Shaun Ryan (@wordsfromshaun) March 24, 2017
Medics say 1 fireman has been hurt in #durbanfire in South Coast Road. Told will be taken to hospital. @ECR_Newswatch @ecr9495 @JaneLinleyT pic.twitter.com/5y1PUTNtuB

— Shaun Ryan (@wordsfromshaun) March 24, 2017