Ethekwini Municipality is working tirelessly to contain the fire that broke out in a container warehouse at Durban Harbour this morning. The cause of the fire has not yet been determined, however it has been confirmed that multiple chemicals, including fertiliser, were in the warehouse and are burning.
At 21h30 Friday evening, Durban's Municipality issued this official update:
"Our firefighters are working tirelessly from the morning to ensure that #DurbanFire is contained.
"We have 41 fire vehicles on site, 35 are fire trucks and 6 are support vehicles.
"We have 125 fire personnel on duty.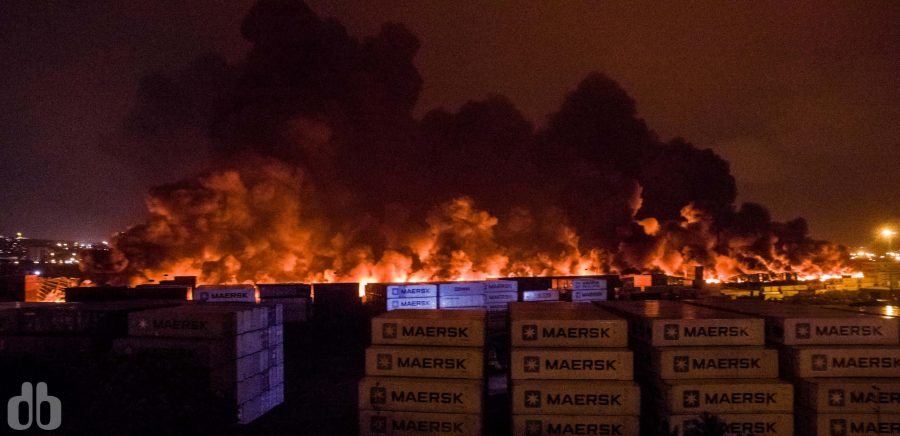 "Our Water Department has made provision for enough water to be available to assist with this operation.
"We continue to ask residents to remain calm. We plead with certain residents to stop spreading panic in their communities. We will keep residents updated."
South Coast Road has been closed between the M7 and Bayhead Road. 
According to Berea Mail, South African Police Services (SAPS) have unofficially asked people and businesses within the area of the fire, on the Bluff, to evacuate. This has not been confirmed on eThekwini Municipality's page yet.
The fire broke out this morning at a warehouse at Durban Harbour, believed to be Transnet warehouse. Durban's fire chief has confirmed that several chemical products were in the warehouse, including fertiliser, and that any fire with multiple chemical products burning is obviously dangerous.
The Municipality issued important safety precautions for Durban residents if the smoke drops to ground level.
Durban photographer BYRON DU BOIS took the photos above this evening, as well as the one below earlier today… taken with a DJI Phantom 3 Pro from the Illovo Sugar terminal, off South Coast Road towards Edwin Swales. With the big winds and a dying battery, he almost didn't get the shot… and now it's gone viral nationwide, capturing the full horror of the "inferno" in Durban. 
Tonight Byron told SAPeople: "It better rain. I believe it's chewing through materials fast down there. And by the tonnage…"
#DURBANFIRE UPDATE, Saturday 25 March – Durban Still Burning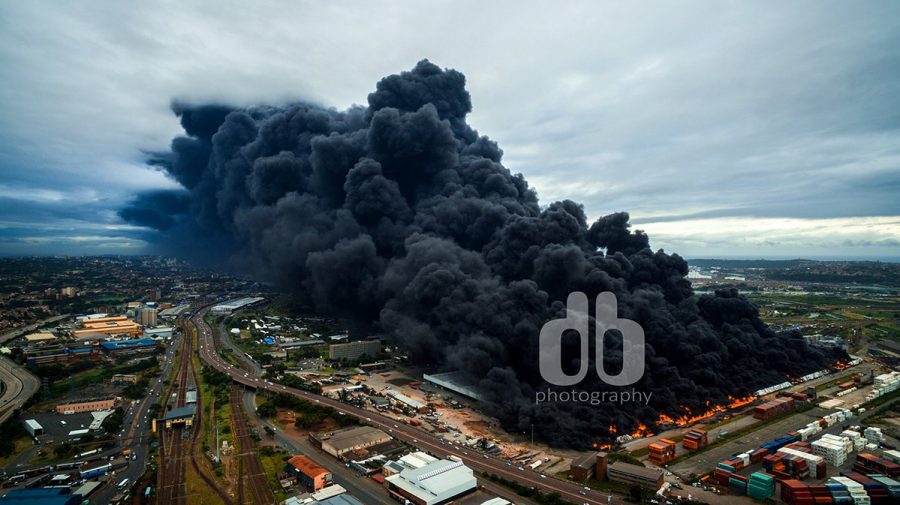 [24 March 2017 21:30] #DurbanFire #Update #FireSafety pic.twitter.com/W8aPzDwcNS

— eThekwini Muni (@eThekwiniM) March 24, 2017
#Update on #DurbanFire pic.twitter.com/MExGvVDeNQ

— eThekwini Muni (@eThekwiniM) March 24, 2017
Gift of the givers bringing in food and drinks for firefighters battling #durbanfire pic.twitter.com/HteBuA3Iaj

— Nushera Raisa (@nushera) March 24, 2017
@MrCPT @dbntourism @ILuvDBN @MMStadium @durban_kzn @News24 @wordsfromshaun pic.twitter.com/lkmKISnZjZ

— Byron Du Bois (@DoOb_s) March 24, 2017
The #durbanfire rages into the night pic.twitter.com/nMJRslS39R

— CJ Moyo (@Moyo_Son) March 24, 2017
UPDATED VIDEOS from Inside the Warehouse, #DurbanFire
@FatalMoves @ECR_Newswatch @bereamail @IamAlexSweet @_ArriveAlive @eNCA @News24 @ewnupdates Inside Factory 151 South Coast Rd pic.twitter.com/0v62OzgSOW

— Rescue Care Pty Ltd (@rescuecare) March 24, 2017
#SouthCoastRoadFire @rescuecare standing by whilst fire fighters try to fight the blaze. @ECR_Newswatch @eNCA @News24 @ewnupdates pic.twitter.com/cATVupZ8lC

— Rescue Care Pty Ltd (@rescuecare) March 24, 2017
@FatalMoves @HighwayMail @ECR_Newswatch @bereamail @IamAlexSweet @eNCA @News24 @ewnupdates Fire inside warehouse #SouthCoastRoadFire pic.twitter.com/YqFkp3LXFA

— Rescue Care Pty Ltd (@rescuecare) March 24, 2017