As the warehouse fire in Durban continues to rage, with more than 100 firefighters on the scene, eThekwini Municipality has issued an official update and tips for residents, particularly as chemicals are burning in this fire.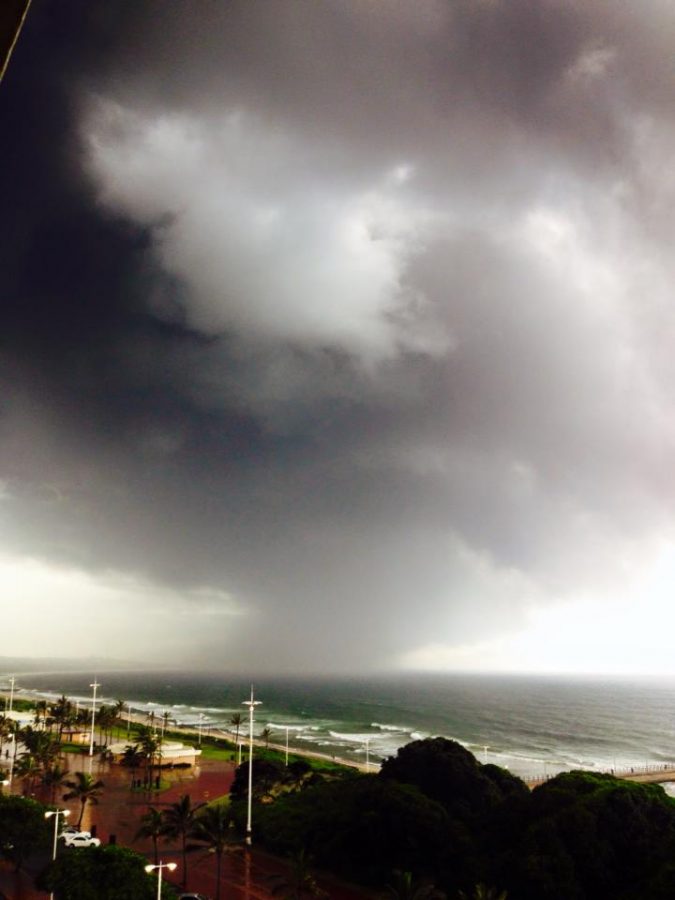 The fire – at a container warehouse in Durban Harbour – has been blazing since this morning, with flames fanned by strong winds. This evening, night crews have started taking over.
One firefighter was transported to hospital earlier today with burns. Another citizen is believed to have been injured. Fortunately there were no people in the warehouse at the time it ignited, early Friday morning, so no other injuries have been reported.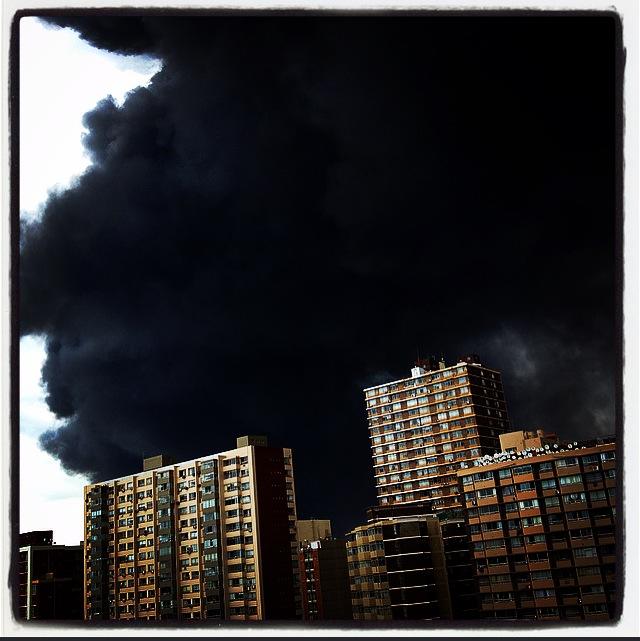 Unfortunately, preliminary reports from Environmental Health indicate that the warehouse contains a large volume of wax, fertiliser and polypropylene.
eThekwini Municipality's Fire Chief confirmed this evening that "there is always a danger when we are fighting a chemical fire, especially if there are multiple products under one roof." (Watch below.)
Southcoast Road has been closed between the M7 and Bayhead Road because of the poor visibility emanating from the smoke.
Durban Municipality asked residents to please NOT panic. "DO NOT pull over to watch/video the fire. Drive away from the smoke," tweeted the Municipality earlier today.
This evening eThekwini Municipality issued the following Important UPDATE:
"In response to #DurbanFire our emergency response teams are working on stabilising the situation.
"Should the smoke come down to street level due to the wind, the public is advised to stay indoors in order to limit their exposure to the smoke.
"Pedestrians can make use of a damp cloth to cover their nose and mouth.
"Motorists are requested to keep vigilant, keep a safe driving distance, and switch your headlights on while on the road.
"Residents in high rise buildings – including hotels and hospitals – using mechanical ventilation, are advised to be safe and use their discretion to limit their exposure."
Local photographer and artist SAM CROSS posted the photos on this page saying: "An artistic approach to the fire in Durban. Hoping they get it under control soon. This smoke has been billowing into the sky for hours. I think I'm getting a headache."
More videos and photos of #DurbanBlaze.
Fire Chief for EThekwini Municipality confirms chemicals in the Warehouse. #Durbanfire pic.twitter.com/aFcTptjJgp

— Nushera Raisa (@nushera) March 24, 2017
The heat is unbelievable @ECR_Newswatch … #durbanfire rages on. pic.twitter.com/lWuvAvJGTO

— Nushera Raisa (@nushera) March 24, 2017
INSANE pic of the #DurbanFire from above! Hope it's all sorted by now.

Photo by: @DoOb_s pic.twitter.com/UmVz8HyayB

— Dylan Moore (@MrCPT) March 24, 2017
Here's one more before the it goes dark @wordsfromshaun
Thanks for the share @wordsfromshaun pic.twitter.com/aNM56ANI2m

— Byron Du Bois (@DoOb_s) March 24, 2017
Too scary!! #DurbanFire pic.twitter.com/m2BgcUUKMX

— Camelot Spa Regent (@TheRegentSpa) March 24, 2017
#DurbanFire View from behind my flat. pic.twitter.com/OPakJ0LktE

— Yajna Ramnath (@authoryajna) March 24, 2017
While I'm out at #Bafana in presser, some pics of #durbanfire from top of Maharani Hotel. @ecr9495 @ecrdrivetime @ECR_Newswatch pic.twitter.com/rXJ7pxdhgS

— Gareth Jenkinson (@gazza_jenks) March 24, 2017
@ecr9495 … #durbanfire … ? currently from my house the smoke is still thick in the air ? pic.twitter.com/4aSxGklFUj

— Tarryn Daniel (@Tarryn_Anika) March 24, 2017
District Commander Owen Singh debriefing night shift firefighters as they head in #durbanfire pic.twitter.com/GucJt0f282

— Nushera Raisa (@nushera) March 24, 2017
#Update on #DurbanFire pic.twitter.com/MExGvVDeNQ

— eThekwini Muni (@eThekwiniM) March 24, 2017