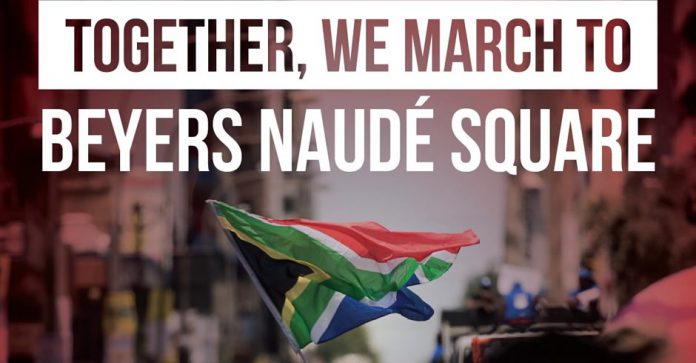 The planned March for Change in Johannesburg, South Africa, on Friday 7 April 2017 to Luthuli House has been changed to finish at Beyers Naude Square… as it transcends politics, according to organisers. And those taking part in the 'National Shutdown' marches are invited to join together so that South Africans can speak with one united, stronger, voice.
The DA said the destination had been changed from the ANC's headquarters at Luthuli House  "in the interests of the ever-growing movement to remove Jacob Zuma" and that "this is not a party political matter. It is a matter of urgent national importance, which affects all of us as South Africans, and thus transcends party politics.
DA leader Mmusi Maimane said: "I would also like to invite all those citizens and civil society structures who are participating in Friday's "national shutdown" to join this March for Change. Together, with one united voice, we are stronger and we will be heard."
He said: "Let us all stand up against the Jacob Zuma and his lawless, corrupt ways, and send a clear and united message: Zuma must go!"
Over the past 72 hours, the Democratic Alliance (DA) has apparently been inundated with requests from a "host of concerned citizens – from all backgrounds and walks of life – who want to take part in the growing movement calling for Jacob Zuma to be removed as President of South Africa".
Maimane will be inviting the ANC's top 6 – including Cyril Ramaphosa, Gwede Mantashe, and Zweli Mkhize – to join the march and to address the rally which will be just a block away from Luthuli House.
Further details, including times and the venue where the march will commence, will be communicated during the course of this week.
There will also be updates regarding marches across South Africa.

https://twitter.com/Our_DA/status/848911905465012225