South Africa's Department of Environmental Affairs (DEA) has lost its appeal to keep a moratorium on the local trade in rhino horn.
SA's highest court – the Constitutional Court – made the ruling yesterday, in effect opening the way to make the trade and sale of rhino horns legal within the country. The United Nations' global ban on international trade still remains.
Rhino horn breeders, like John Hume, believe that legalising rhino horn trade will decrease poaching.
In a rhino horn trade debate with Born Free President and CEO Will Travers last year in London, retired SA property developer Hume said: "I beg of you, let's end the war on the trade in rhino horn. It has only resulted in the killing of game rangers, poachers and the decimation of the rhino population."
His argument, and that of other private rhino owners, is that unlike elephant ivory and pangolin scales, rhino horns can be cut off anaesthetised live animals without injury to the animal. Hume and many like him already remove their rhino's horns making them uninteresting to poachers. Now they sit with stockpiles of horn, which they say, could be sold and the proceeds spent on rhino protection and breeding programs.
International trade in rhino horn has been banned under CITES (Convention on International Trade in Endangered Species) since the 1990s and also within South Africa since 2009. Since then, poaching has reached an all time high with more than 1,300 rhino poached in 2015.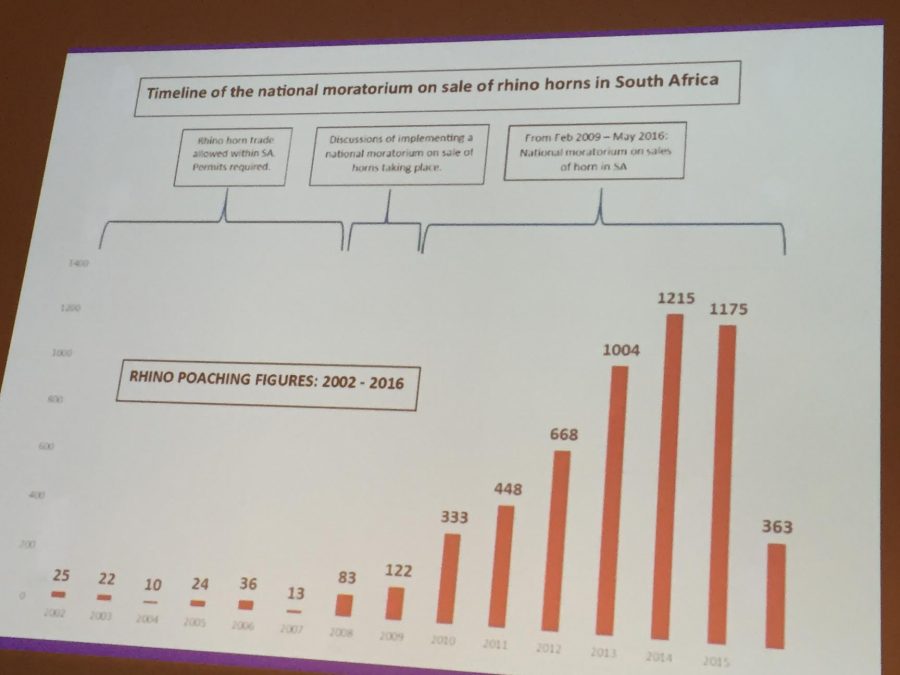 "I think it's a huge assumption that the entry of legal rhino horn into the marketplace is somehow going to magically replace illegal," said Travers at the time.
"Poachers and criminals syndicates are entrepreneurs. They will take advantage of any opportunity to make money. If you're selling it at 30,000 a kilo, they will sell it at 25."
The DEA said authorities were still considering the implications of yesterday's ruling.
DEA spokesperson Albie Modise said in a statement: "It is important to note that permits are required to sell or buy rhino horn."
Pelham Jones, chairman of the Private Rhino Owners Association, reportedly told AFP news agency that they are "delighted" with the ruling.
Many conservationists have called the move "disastrous" and "shameful", and the Captured in Africa Foundation said: "Why would they want trade in a country that doesn't demand the product?"
.@ConCourtSA dismisses @environmentza #rhino horn sales appeal https://t.co/wtiEmkuW6V via @BDliveSA #poaching #wildlifecrime @INTERPOL_EC pic.twitter.com/LLScgtUfgW

— SAVE OUR RHINO (@SaveOurRhinoK9) April 5, 2017
BREAKING Top Court has lifted ban on domestic sale of #Rhino horn in S Africa https://t.co/L6mqUaOn6F #endangered pic.twitter.com/AOkonxqQB4

— Gina C (@ginachron) April 5, 2017
Question has to be asked – why would they want trade in a country that doesn't demand the product?@John_CITES @sapeople @torchiachris https://t.co/FVAXjwQlxu

— CIA Foundation (@cia_foundation) April 5, 2017