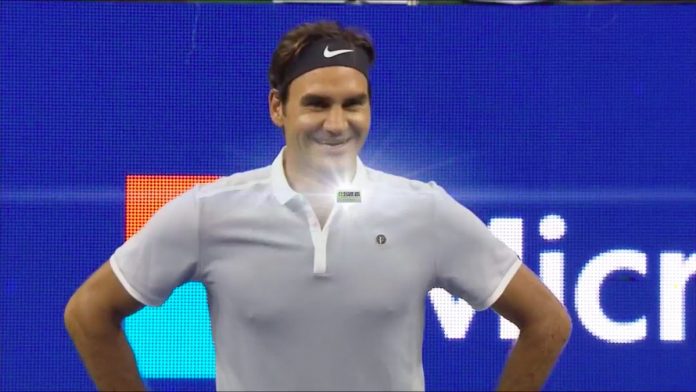 Tennis superstar Roger Federer beat John Isner in a sold-out exhibition match –  Match for Africa – on Saturday evening in Seattle, USA… raising over $2-million in the process.
The event was held to raise funds for his foundation – the Roger Federer Foundation which supports children's charities in South Africa, Switzerland and other countries in Africa.
Watch the video below where Roger, whose mother Lynette is South African, discusses her roots and the life-changing impact his holidays to South Africa as a child have made to him contributing to the world.
Federer has already held three other charity tennis exhibitions – featuring Rafael Nadal, Stan Wawrinka, and Andy Murray – in Switzerland. He started his foundation at the age of 22 and has raised millions for children's charities in SA, Switzerland, Namibia, Botswana, Zambia, Zimbabwe and other countries.
He told reporters in Seattle: "All of a sudden you get in this position where you feel like you're really lucky to be playing on the pro tour, and maybe you can actually do more and give back. And I thankfully have some great people in sports or in the world, like for instance the likes of Bill Gates and Andrea Agassi, who have done so well in philanthropy."
Watch Roger Federer Discuss His Mother's South African Roots and Making a Contribution There
Tonight, Roger Federer won in doubles, won in singles and raised over $2 million for his foundation.

HIGHLIGHTS: https://t.co/CqsrNfYqB0 pic.twitter.com/12ejfUiPmY

— TENNIS.com (@Tennis) April 30, 2017
.@rogerfederer & @BillGates teamed up for The Match for Africa 4

See some of the photos at @SeattleRefined: https://t.co/9Pu9jmY14q

— Tennis Channel (@TennisChannel) April 30, 2017
The Match for Africa 4 Raises Over $2 Million for an amazing cause! pic.twitter.com/NpHR3zqDs5

— Tennis Channel (@TennisChannel) April 30, 2017
.@RogerFederer talks about making a difference in the world pic.twitter.com/pvFdMuMb0A

— Tennis Channel (@TennisChannel) April 30, 2017
He also announced he will be playing in Paris:
.@rogerfederer tells Mary Carillo he is entered in @rolandgarros and shares his thoughts on playing on the clay and his take on @rafaelnadal pic.twitter.com/PAziudsf6k

— Tennis Channel (@TennisChannel) April 30, 2017
MORE
Roger Federer's credits South African mom.