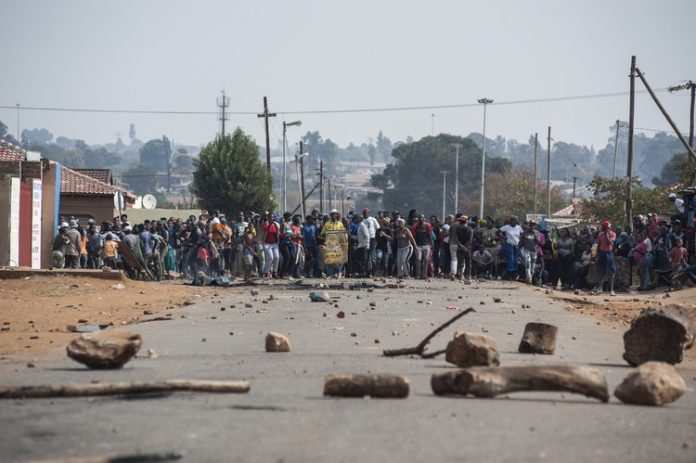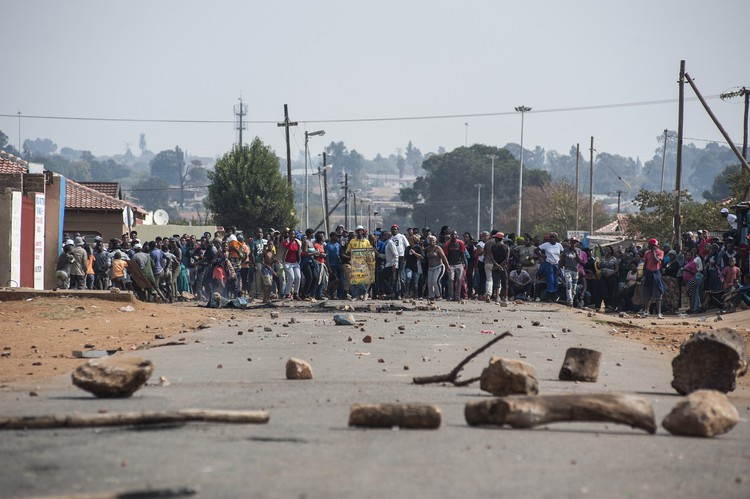 Service delivery protests engulfing the townships to the south of Johannesburg are continuing. Residents of Finetown which is located next to Ennerdale took to the streets blocking all entrances and exits out of the township with rocks and burning tyres.
Protesting residents also managed to block traffic on the Golden Highway but had to retreat back into the township when a large police contingent arrived and fired stun grenades and rubber bullets. This follows protests that have taken place in the neighbouring suburbs of Ennerdale, Eldorado Park, Lenasia South and Kliptown.
Vuyo Kamba a community leader who was part of the organisers of the protest articulated the issues facing the community. "As the youth we need land. We tried speaking to our councillor but we have not made progress. We can't be sharing a space with our grandparents and parents," said Kamba. The issue of overcrowding of families in the available houses was one that was constantly brought up by protesters during the course of the day. "I don't care if there is no electricity on that land I will build a shack and live in it as long as I can have my own space for myself and my kids," continued Kamba.
Police continued firing tear gas and rubber bullets at the residents who attempted to once again reach the main road. Schools in the area remained shut for the day leading to a large number of youngsters taking part in the protest.
Mxolisi Eric Xayiya the Gauteng Premiers Special Advisor on Service Delivery and Management arrived to listen to the demands of the protesters. "We have to bring both Provincial and local government representatives together so that we can get clear reasons as to the problems holding up development in this area. We also need to implement strict timelines and communicate to the people who stands to benefit so that we can provide the community with certainty," said Xayiya.
"We had to close the main roads because its the only thing that gets the attention of the authorities," said Kamba when questioned on the tactics being used by protesters. "If we are not satisfied with what the government representatives tell us we will continue our struggle until we get what we want."
Kamba indicated that no development was being made in the township to assist the youth in achieving their goals. "The youth have nothing to do here. That's why you will find young boys smoking naope and other such drugs to pass the time."
---
Published originally on GroundUp
---
© 2017 GroundUp.
This article is licensed under a Creative Commons Attribution-NoDerivatives 4.0 International License.