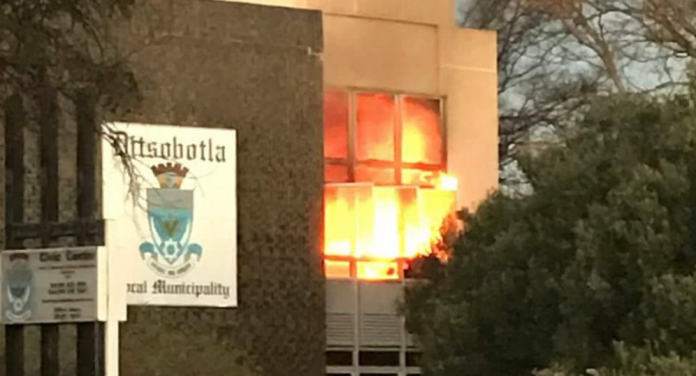 The Mayor of Ditsobotla, Daniel Buthelezi, is being held hostage in Lichtenburg by protestors; and a fire is raging through municipal offices, allegedly caused by petrol bombs thrown into the building by unhappy residents… who have been protesting about poor service delivery in the North West area.
According to several tweets from the area, a Service Delivery Protest on Wednesday ultimately led to a group of about 40 protestors taking the mayor hostage.
Last month the mayor claimed their was a 'third force' involved in violent protests in the North West region. Protestors had been calling for him to resign following allegations of corruption which he denied.
Police are currently negotiating with the hostage-takers and the Democratic Alliance (DA) has called for calm in the area. According to some tweets, the mayor and protection unit are all being held.
There have been several protests in the area in recent weeks, particularly in Coligny where a teenage boy was allegedly pushed from the back of a bakkie and suffered fatal neck injuries. The two suspects, who claim he jumped, were recently released on bail.
Hostage drama unfolding @DitsobotlaLM on Lichtenburg. Police negotiators on the scene. #LichtenburgHostageDrama @NewsnoteNetwork pic.twitter.com/lHm7aCEPat

— Obakeng Ice-T Maje (@IceT_) May 24, 2017
Fire raging #Ditsobotla municipal office Lichtenburg
Allegedly torched by service delivery protesters
Reports meyor held hostage @TimesLIVE pic.twitter.com/WjFSjZldna

— Alex Sweet Patrick (@IamAlexSweet) May 24, 2017
On Newsflash for the wrong reasons, Lichtenburg Nort west, civil unrest pic.twitter.com/ZLImvMK3AW

— Collin Mutlwane (@mutlwane_collin) May 24, 2017
BREAKING: Protesting residents throw petrol bombs into municipal building in Lichtenburg, mayor held hostage by residents #ditsobotla

— Cathy Mohlahlana (@CathyMohlahlana) May 24, 2017
Scenes from outside Ditsobotla Local Municipality in Lichtenburg. @News24 pic.twitter.com/FQdRHRBTjT

— Sharlene Rood (@ssharim) May 24, 2017