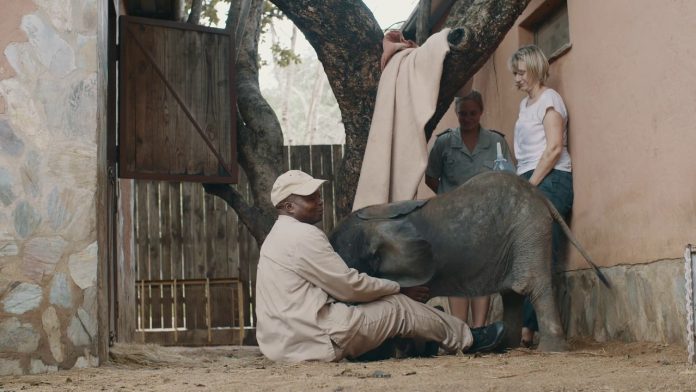 With the massive costs of taking care of orphaned elephants, coupled with the closure of elephant-back safaris, Camp Jabulani in Hoedspruit, South Africa, has launched an interactive, evolved elephant experience with a strong conservation ethos for local and international tourists. The incredible video below captures the essence of this new elephant experience, as well as the very special humans who have committed their lives to protecting the rescued elephants.
I have been very privileged to work with the Elephants at Camp Jabulani and HESC, to meet and work with their grooms and carers.
The original herd was rescued from Zimbabwe where they had been trained to offer Elephant backed safaris. They were rescued after a political "land grab" because their lives were in danger, they were at risk of being killed, the local community did not want their crops destroyed. There was no where for them to go.
Lente and Adine Roode of the Hoedspruit Endangered Species Centre (HESC) offered to save them and they travelled from Zimbabwe with the men whom they had known all their lives.
The only way to pay for their upkeep was to continue to offer Elephant backed safari's. Not all the Elephants were ridden. Training had already taken place in Zimbabwe through positive reinforcement.
The relationship between these Elephants and their carers is one of love and understanding not one of fear and obedience [as can be seen i the video below]. The Elephants spent eighty percent of their days in the bush as wild Elephants would do.
Scientific studies have been conducted to make sure that this herd of Elephants is unstressed and is content.
It is impossible to introduce a semi-domesticated herd into the wild. [It was tried.] It is very expensive to care for a semi-domesticated herd.
Public opinion has dictated that Elephant backed safaris need to be become passé. Many Elephants are abused and overworked and trained in the most appalling circumstances around the world. In order that the facilities that have no moral compass are closed down all facilities are now encouraged to stop offering Elephant backed safaris.
Camp Jabulani has taken this bold decision to stop offering Elephant backed safaris. Guests visiting Camp Jabulani are now offered different opportunities to watch this incredible herd in the bush. These close up encounters are spectacular and life changing experiences. They are natural and unrehearsed, guests are thrilled beyond belief.
Elephant poaching has unfortunately taken hold in South Africa.
Camp Jabulani is uniquely situated to offer sanctuary to the victims of this poaching crisis the orphaned baby Elephants. The knowledge and experience of the carers and the wildlife vets gained after looking after this herd for many years has afforded them the unique ability of being able to save these orphans.
Elephant orphans are very difficult to hand rear. They are very sensitive and very emotional.
At present Camp Jabulani have a rescued orphan called Shawu who is being cared for at Hoedspruit Endangered Species Centre and they have also successfully introduced Timisa, another orphan, to the Camp Jabulani herd.
I will be continuing this story as there is so much to tell.
This film is dedicated to the men who love these Elephants with every fibre of their souls.
Benjaman, Blessmore, Cedric, Clever, Colben, Emmanuel, Foster, George, Godknows, Isaac, Israel, Joshua, Josiah, Kenneth, Kevin, Last, Manasseh, Matipedza, Matome, Owen, Liverson, Samson, Simbarashe, Stavros, Tichona
"I have learnt that courage was not the absence of fear, but the triumph over it. The brave man is not he who does not feel afraid, but he who conquers that fear"
Camp Jabulani launches interactive, evolved elephant experience with a strong conservation ethos
The 1st of April 2017 saw the launch of the new evolved elephant experience at Camp Jabulani after the decision was made to terminate elephant-back safaris.
MORE
Camp Jabulani:
www.facebook.com/campjabulani.SA/