Thousands of miles away from South Africa, is a graffiti artist on a mission to save Africa's wildlife… even though he's never set foot on the continent. PAVEL CISAROVSKY spends his days painstakingly creating artworks – or rather 'heart-works' – along the roads of Prague to raise awareness about the tragic massacre of Africa's rhino and elephant by poachers (who are hunting for the animals' horns and ivory to supply a small Asian market).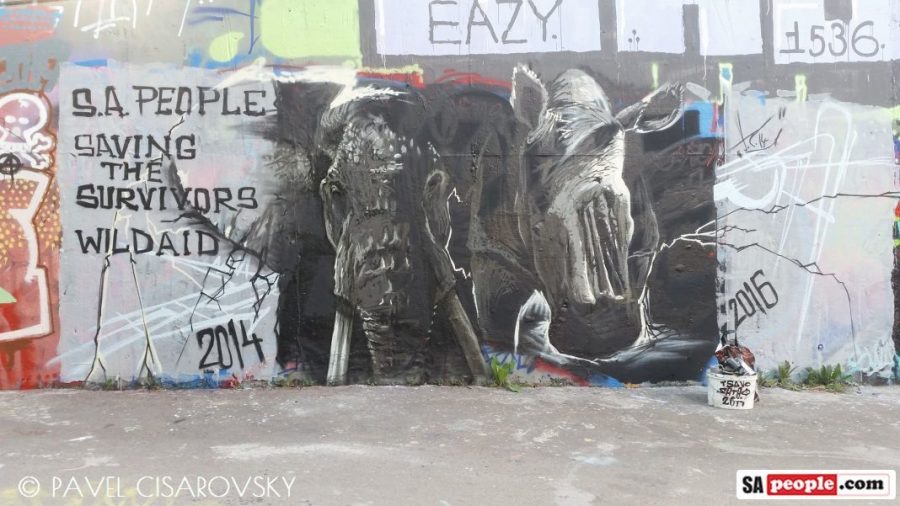 The 39-year-old artist, who sells his other works via an e-shop, spoke exclusively to SAPeople about his passion to save Africa's wildlife from further slaughter.
In the past his graffiti had been limited to his name, CAS.
"I lived an easy life, but I felt like I was missing something. I loved Afrika since I was a kid when my grandmother bought me an amazing book AFRIKA.
"I was drawing elephants and other animals all the time. Long time ago I saw on TV an amazing old elephant called Satao. He was living in Kenya and I fell in love with him. He was like a god for me. I don't know why.
"Later, in April 2016 I heard Satao had been killed because of his beautiful huge tusks. I could not get it. Why?!
"It really hurt me and in this moment I got an idea – I could try draw a message on the wall I found out on our amazing Earth is walking the last 21 Titans elephants. It's really sad. Here we are in year 2017… and we've killed almost everything alive in Africa.
"I also helped to kill Satao, Hope [a rhinocerous that made world headlines when she miraculously survived a poaching attack… but later died], and others… because I support too the Chinese market and bought Smart phone, TV, bike, shoes etc.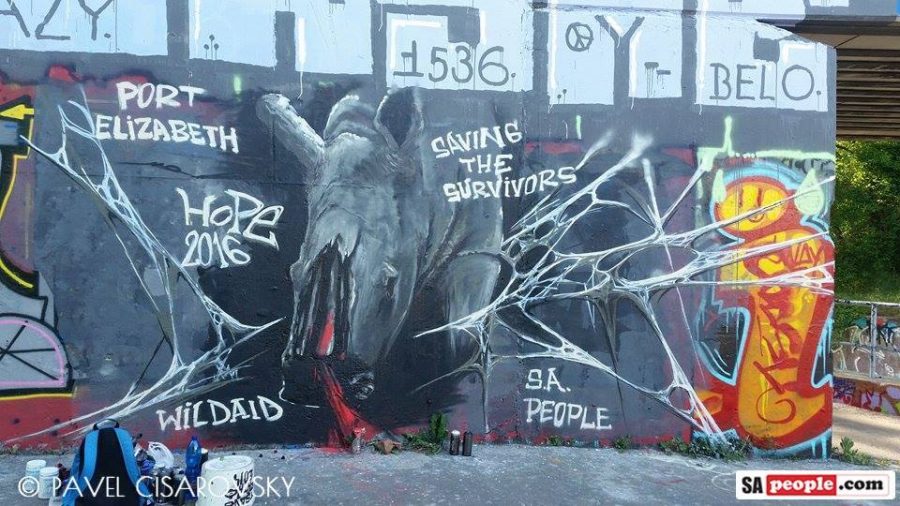 "It's my message for future generations – appreciate and love what we have here as our wealth and save the last wild life."
Pavel says that the reactions of people who've seen his graffiti have ranged from some who think he's weird and "likes blood", to those who admire his artwork "because they love Africa same as me, and appreciate what I am doing".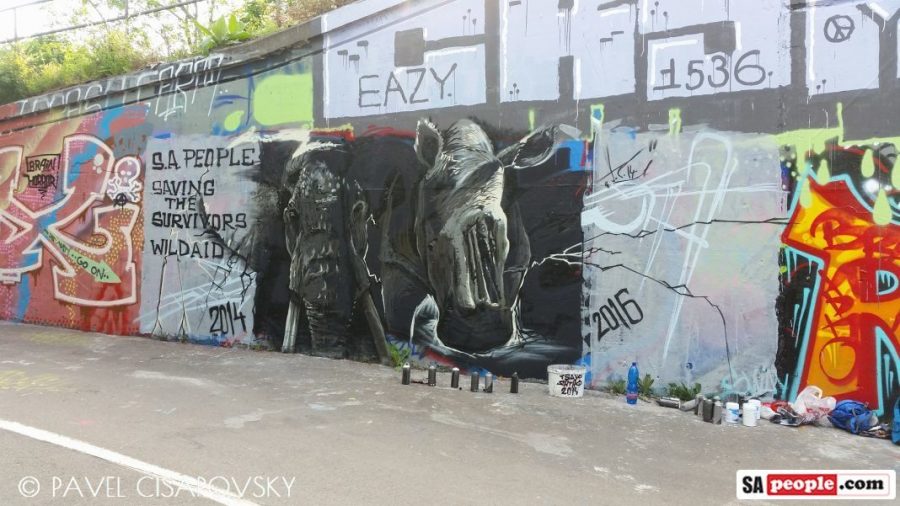 And incredibly – he's not making any money from his powerful wildlife paintings. Recently he has been commissioned by a famous Czech family to paint Satao and other elephants who have been killed or died of natural death during the human era… but he's not charging them.
"I really appreciate these famous, important and very nice people letting me paint on their private wall… and for people it will have an even bigger value and they will learn about elephants from the wall of their private house… but I never will charge for it. (See below.)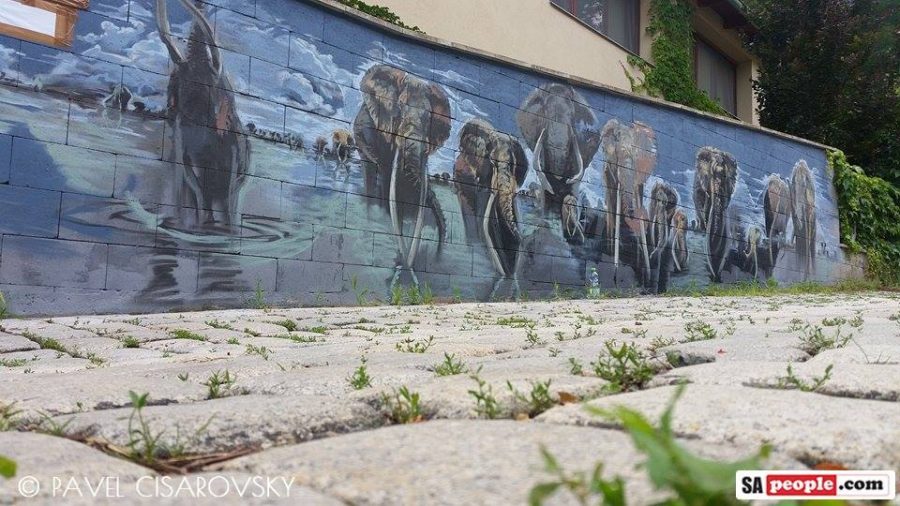 He says sometimes people are rude when they see his artwork… "but even if they are rude to me, they go home and google Satao and Hope… and it is my goal more people will know what's going on in Africa.
Sometimes the rude people make him "feel down" but he says he's determined and will never quit his project. With the amazing support of his friend Zuzana, Pavel says "I have to fight for my goals. This is my biggest goal…  everybody must know the sad destiny of dear Hope and lovely Satao…"
His passion to save our wildlife is even more incredible when you discover he has only ever seen an elephant and rhino at a zoo when he was a kid. "Unfortunately I haven't been to Africa yet… I hope this will change one day and I will be able to go and see them in real life."
Until then Pavel's fanbase on Facebook is growing as he raises vital awareness around the world. Follow Pavel here.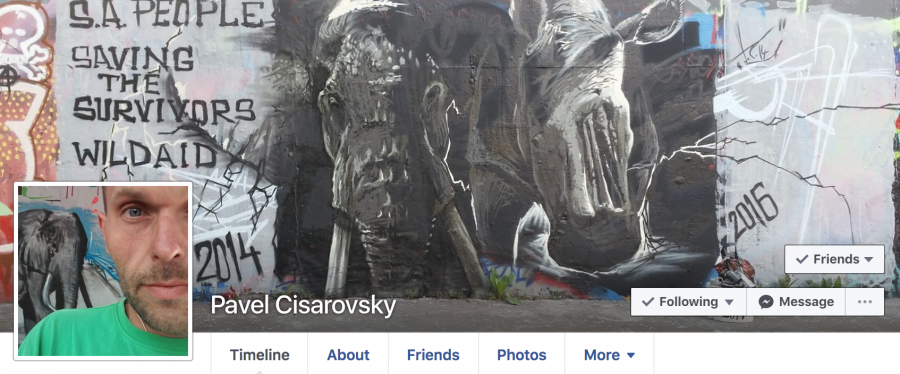 South Africa (and Africa) needs the world's support and pressure right now to save what's left of our wildlife – last week the Department of Environment revealed the latest South African poaching statistics – 30 elephant have been killed in the Kruger National Park this year so far, and 529 rhino have been killed around the country.
Africa's wildlife needs more people like Pavel Cisarovsky.
#ThankYouPavel #PaintingWithPassionAntiPoaching