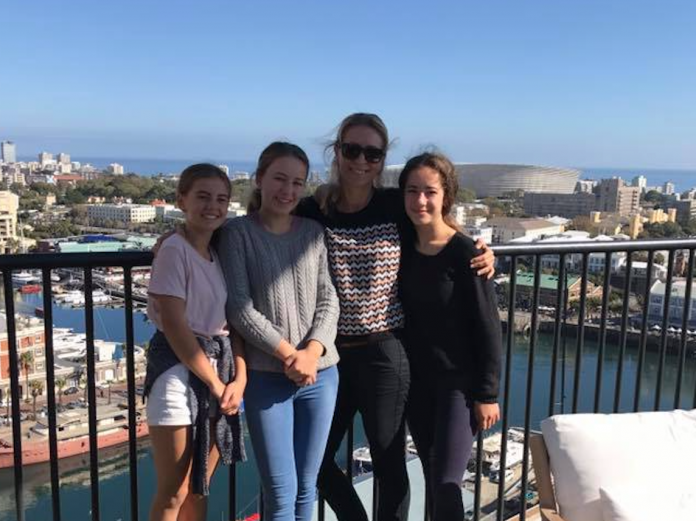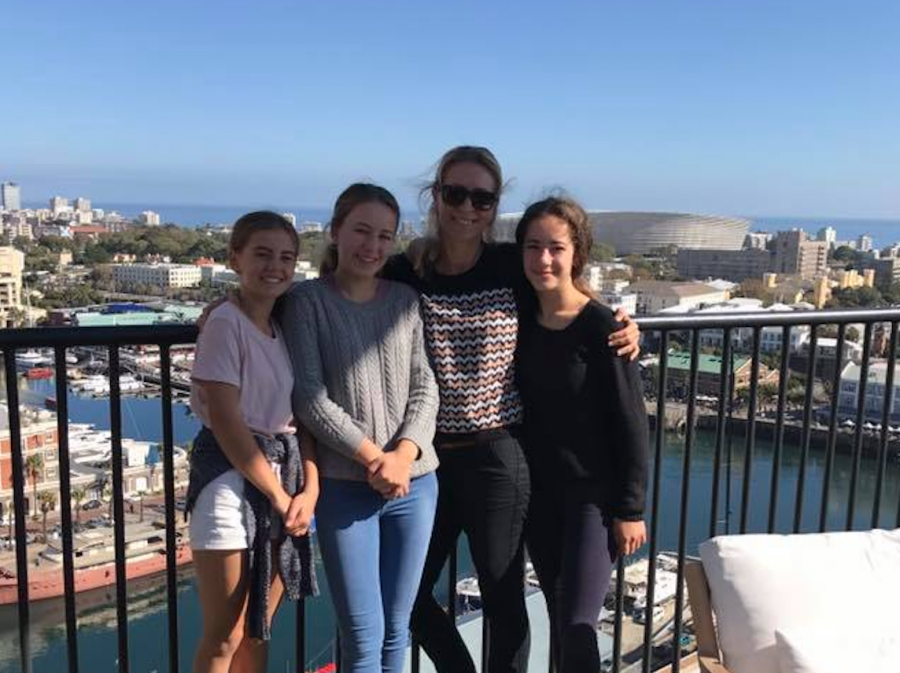 SAPeople co-founder, and former South African expat, Amanda Stergianos, has launched one of SA's first websites to provide an online marketplace for the multitude of amazing small businesses around the country. Every business on The Vendory has a story about real people and why they do what they do. This is The Vendory's story…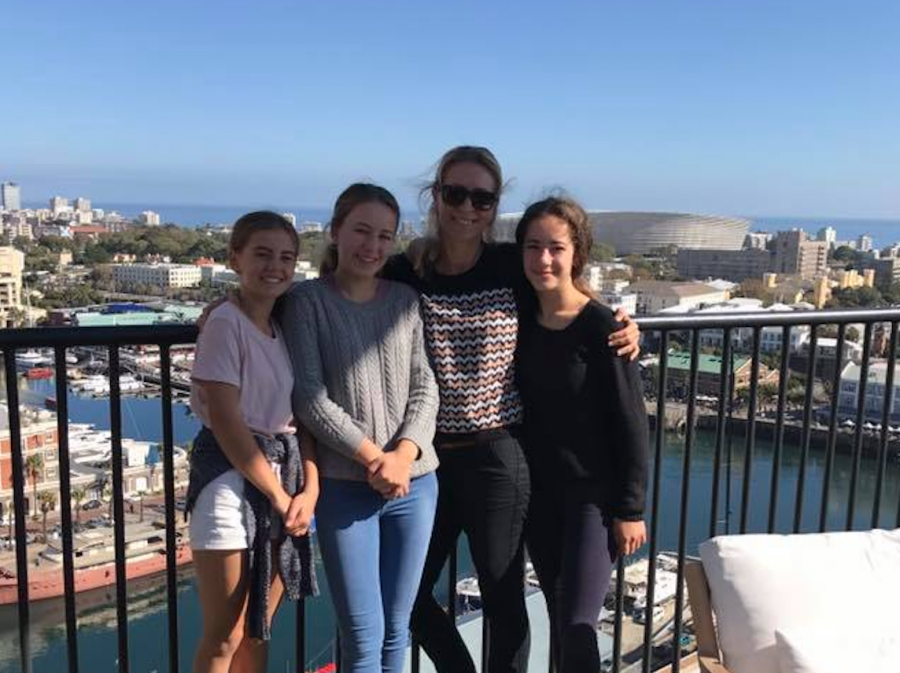 How did you start your own businesses, Amanda?
When my first daughter was born in London, she had some medical problems that meant I didn't want to go back to my corporate job… but rather take care of her. After a year of being a stay-at-home mum, I co-founded www.sareunited.com which was South Africa's first online social network (pre-facebook)… and which we grew to about 900,000 South Africans worldwide. We then went on to develop a collaborative online dating site. Not long after that I co-founded SAPeople.com with long standing friend and business colleague, Jenni Baxter.  I moved back from London (after 18 years)  to Cape Town, and started www.vintage-etc.com – a online only furniture and home accessory business. As my idea was for online only, most people told me "people need to see it and touch it, it will never work!" – but now we have nearly 10 000 followers on Facebook and a growing business in a short space of time.   I love what I do every day which this translates into passion. This in  turn led to the launch of www.thevendory.com, to help others create instant online sites for their creative businesses. Looking back now, I've travelled an unexpected, winding digital road clocked up nearly 20 years in the digital space, watching the era of the internet unfold with interest!   
The other full time (but not less important)  job I have is being a single parent to three busy teenage girls – Tati, Bella and  Nina who, bless them,  evidently have entrepreneurial DNA and recently started a thriving little business selling home made " slime".   I've watched them solve "partner conflict",  source cheaper material in bulk and market online; they even have a waitlist!   Inwardly,  I smile and am pleased that my young girls are selling on a hot trend !   Bottom line is, anyone can start an online business,  be prepared to fail before you win… and persevere. 
Why did you create The Vendory ?
I lived in London for 18 years with my young family, and when we moved back to South Africa five years ago, I noticed we in SA were still lagging behind on the digital curve… although that is changing fast.
The dynamics of our beautifully diverse country has forced South Africans to be a great entrepreneurial nation – there are many small creative businesses as there simply are not enough jobs for everyone, so we had to create our own.
The problem, however, is, that while someone may be fantastic at their craft, or passionate about their small business, they may not necessarily have the skill or time, to run the digital elements. Running online sites, social media and digital elements can be very time consuming and often intimidating for smaller traders, thus these smaller businesses operate within the confines of an unnecessarily small audience of only passing traffic – never being found or seen by willing shoppers.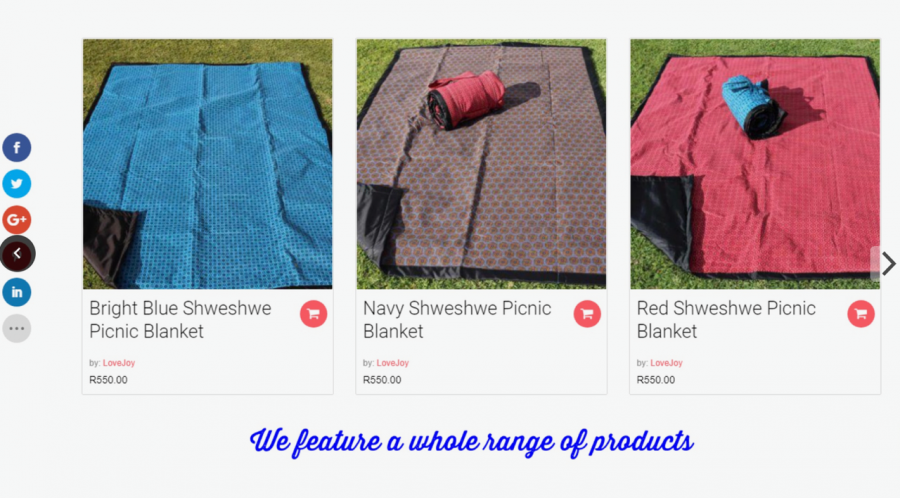 I want to change this in the online space with new technology that offers instant trading platforms in a digital marketplace environment, which is an online space where various traders come to trade together.
But is online shopping in SA really growing?
Yes! According to Techcentral, research shows that 58% of adults in SA have shopped online in the last 12 months (approximately 23% growth in 2016/17). With mobile shopping exploding in SA, we will see a phenomenal 123% increase in mobile shopping by 2108*.
We are currently slightly behind the curve of online growth. SA can look abroad for trends in online shopping. If we look at the stats, we see that 52% of men and 56% of women, now shop at online marketplaces in the USA.** This creates what may be great growth opportunity for The Vendory and other marketplace or aggregate sites as shoppers look for good deals and great finds.
With this online retail growth in SA, we have also seen innovative courier companies offering great value in bulk buying waybills (like Courier Guy and FastWay) to bring costs down to very affordable rates, drop shipping models and provide options where customers book their collection at local points near their homes (such as Pargo). So we see how a problem – like the lack of a safe, reliable postal system – created an opportunity for entrepreneurs… so, what was previously a barrier to entry for online sellers, has now opened up a whole host of clever delivery options – further opening the floodgates for online trade in SA.
Most middle age online shoppers report spending an average of 5 hours shopping online** per week and it is my prediction that the average South African online shopper's confidence will grow exponentially in the next three years for all the reasons above.
Let us not forget that our younger "digital" generation (Millennials) is graduating and coming into cash as they start their professional careers as empowered young people. As if by osmosis, shopping online is a mere extension of what they do – they listen to music online, socialise online, study online… shop online!
Are South African businesses ready for this?
Social media has totally changed how we market to,  and reach our audiences. We have to add value, engage in comments and understand what our shoppers want – its far more sociable and "friendly".  Gone are the days of hard sell in newspapers or print ads,  flyers and cold calling.  Businesses that do not adapt will see a drastic drop off in their reach and sales as competitors edge into their space with better digital strategies.  SA businesses need to embrace technology (and mobile technology specifically) – so I want to remove the barriers, like fear of the unknown or dread of the cost, for smaller business and provide this instant online and mobile solution for them to trade instantly and effortlessly.
What does each Vendor get on The Vendory ?
They get an instant online store with their "story", a vendor's profile photo, and a full display of their product. The mobile and tablet friendly micro-shop is built with automated invoicing and orders to the vendor and shopper inboxes. Each and every vendor gets their own site login to a vendor dashboard where they can monitor their sales, review orders and remove out-of-stock items from their pages.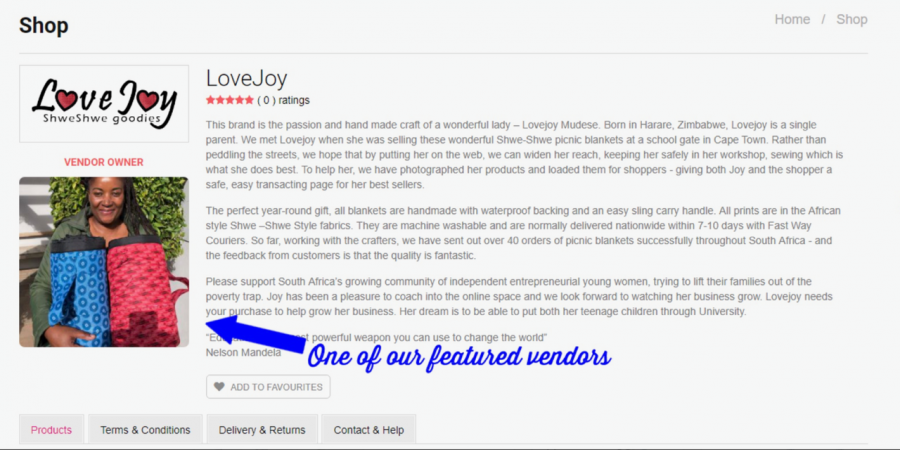 We also offer three types of payment methods for shoppers making an online check out simple. The Vendory does a certain amount of social media advertising, blog posts, press and PR to get traffic to the marketplace. The Vendory acts like an aggregator of great vendors and their stores, which in turn generates curiosity for shoppers to browse other shops in the marketplace. We also take care of hosting domain renewals and web admin to keep the vendor stores running and current.

Can anyone become a Vendor?
Anyone can apply, but each vendor is reviewed and hand-picked because they are passionate about their business, have a great product and good photography. That is why we tell their story and show shoppers their photo and logo on their trading page. While each vendor may have a wider range of products, we go through a selection process with each vendor and only show shoppers our favourites and their best sellers – and we insist on good photos. We want The Vendory to become a great shopping destination of curated content. We do turn vendors down if we find negative feedback on their business or if their photography is not a good representation of their product. We want ethical vendors on site.
How does it work ?
Every shopper's order goes to The Vendory administrator AND simultaneously, directly to the vendor and shopper all at the same time. The vendor fulfils the order directly with the shopper via courier and only on proof of delivery, does The Vendory release the payment to the vendor. The Vendory does not handle the stock, but we facilitate the marketplace environment. This helps shoppers feel secure that they are not dealing with a fly-by-night operation, so we encourage our shoppers to transact on the site where they will be covered by our trading policies.
Is a marketplace better than a stand alone site?
This online hub of vendor shops generates energy, word-of-mouth and traffic in a way that all of the businesses listed benefit, growing not only their sales, but their brand exposure at the same time. This frees the vendor up to do what they are good at, their trade, without handling the micro administration of web admin and marketing.
Have you got any examples of success stories on The Vendory ?
We do yes, let me tell you about three. These stories are all of great people with great ideas that need to be heard and seen by others. I'd like to make that possible for thousands of small businesses.
Lovejoy:
A lovely Zimbabwean lady called Lovejoy was selling lovely waterproof picnic blankets door to door and happened to knock on my door. She was carrying heavy bags and selling two or three a day if she was lucky. We have helped her set up her own online store, and she's up and trading. We monitor her sales and have set her up with a reliable courier company. To date we have sent out nearly 30 picnic blankets across SA. What I love is getting the emails from all her shoppers gushing about how happy they are with the speed and quality of her service.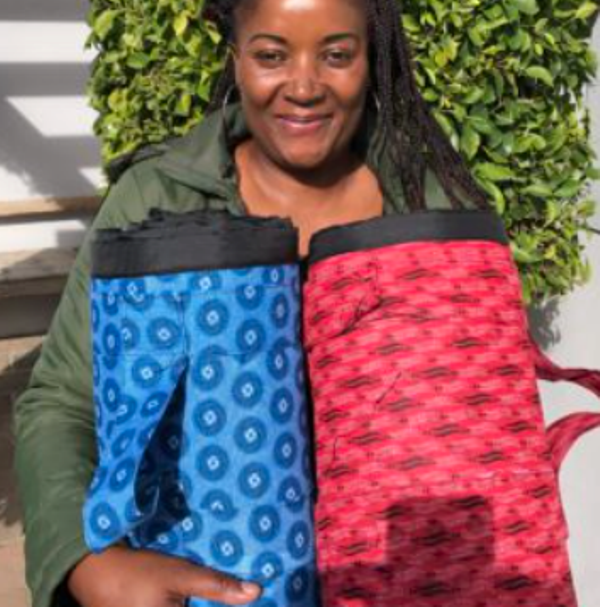 See Lovejoy's story and shop here  http://thevendory.com/vendor/lovejoy/
African Icons :
Recently, I was riding my mountain bike alone up on Table Mountain. I stopped another cyclist (who introduced himself as David Bristow) for directions to a new path I was trying to find, and he rode with me for a while. I found out on our ride that David was a known, published author and that more recently he had created these incredible leather bound coffee table books after traveling through Africa. The photography taken by Pat de la Harpe is absolutely stunning, as is the writing by David. We set up a store for him and now he is trading online – a customer recently ordered his book for her husband's 50th. She was able to contact David through the site and get her special order inscribed on time for her husband, who she said was rather difficult to shop for – she was thrilled to find this unique and special gift for her husband who loves the bush.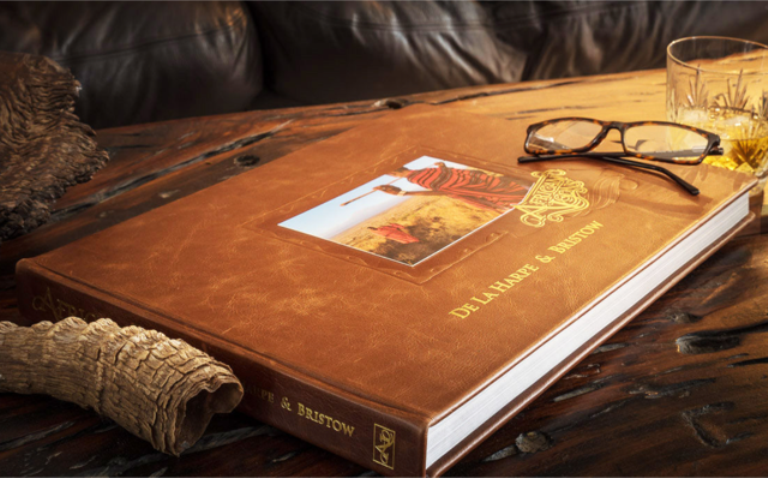 See African Icons' story and shop here http://thevendory.com/vendor/african-icons/
Venomist
Another story I'd like to share is that as a woman living in beautiful Cape Town, I'd love to get out on the trails more often, but I am nervous to do so for obvious reasons. When I met Joe Hannan – founder of Venomist Pepper Spray, he told me about his clever idea of bike and arm mounted pepper sprays – that strap on, should we need to defend ourselves. So if you are pushed off your bike or attacked while running, you have the pepper spray on your arm anyway. I now keep one on my bike, I strap one to my arm if I run, and I keep one on my visor of my car. We do live in a beautiful country, but we have to adapt to stay safe. Wearing my Venomist spray is like wearing a safety belt – you hopefully won't need it… but you feel a lot more secure if you have it!
You can see Venomist story and shop here http://thevendory.com/vendor/venomist/
What is in the future pipeline for The Vendory ?
We only just launched (July 2017). We are already up to 25 vendors – with 400 published products in total in the first two months of trading, which we are very happy about. We are now looking for more great vendors to join us for our first trading Christmas, and to carry on growing until we have a thriving online hub of creativity, all while helping small businesses find new routes to market.
In terms of our corporate alignment, we hope to establish great relationships with other businesses – but we will always align with those that have the same value system as ours – nurturing South Africans and fostering entrepreneurial growth in this country.
Special Offer for SAPeople Readers 
The Vendory is  offering five  SAPeople readers totally FREE websites. The Vendory will take care of all the admin in getting your site live at no cost! Reference SAPeople in your online application, and apply online at www.thevendory.com
MORE
Any queries can be sent to info@thevendory.com 
* https://techcentral.co.za/big-growth-in-online-shopping-in-sa/71943/
** https://www.bigcommerce.com/blog/ecommerce-trends/
Watch why become a vendor on The Vendory
Watch 6 Reasons: What makes The Vendory different to other online stores