American President Donald Trump fired a few verbal missiles at North Korea, Iran and Venezuela on Tuesday, at his first United Nations General Assembly address in New York… but it was the guys from Zimbabwe who looked the most unimpressed! Watch video below.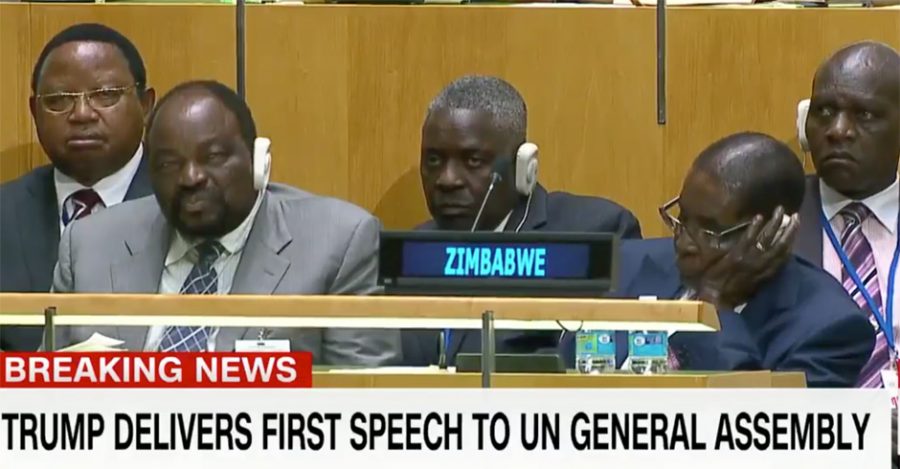 Trump said North Korea's Kim Jong – whom he called 'Rocket Man' – is on a "suicide mission for himself and his regime" and that if forced to defend itself for its allies, America would "totally destroy North Korea". He said Jong "threatens the entire world with unthinkable loss of life".
He also took a hard line against Iran (a "rogue nation") and its nuclear deal, and then said the US will probably have to intervene in Venezuela following President Nicolas Maduro's recent election to create a "constituent assembly" that limits the powers of the elected national assembly.
Maduro has already responded, calling Trump "the new Hitler".
The Zimbabwean representatives were featured on CNN when Trump was complaining that despite there being over 100 countries in the UN, the US pays 22% of the budget. At that point the camera zoomed in on the Zimbabwe corner (we're not sure if it was intentional!)… who were not looking too impressed!
Trump said "major portions of the world are in conflict and some, in fact, are going to hell".
He also vowed to take down "loser terrorists", and reiterated that its America first… although reminded the other leaders that "you will always, and should always put your countries first".
Watch Zimbabwe's Reaction to Donald Trump's Speech
President Trump at UN: "Major portions of the world are in conflict and some, in fact, are going to hell" http://cnn.it/2wvkutO

Posted by CNN on Tuesday, September 19, 2017
Donald Trump's UN Speech: Three Takeaways
Full Speech President Trump addresses the United Nations (entire speech)