Public Protector (PP) Busiswe Mkhwebane has been asked to launch an investigation into the alleged payment of at least R300,000 – and possibly as much as R680,000 – by sporting goods supplier Sedgars Sports, for a trip to Dubai by Minister Fikile Mbalula and his family in 2016.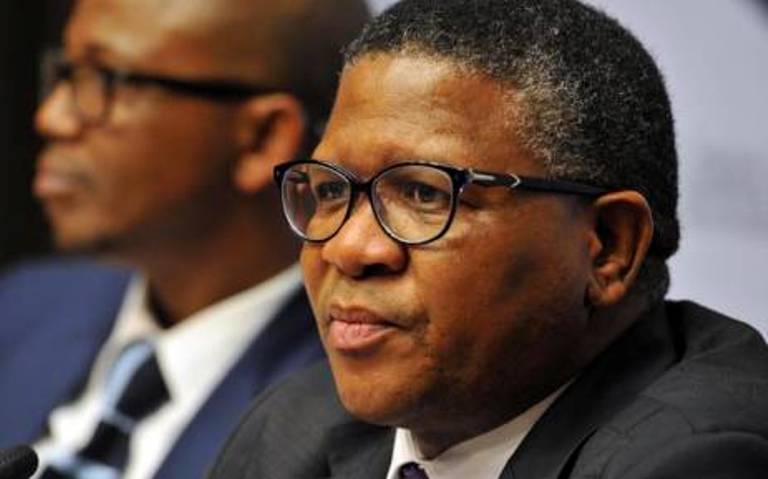 At the time Mbalula was South Africa's sports minister.
The request to Mkhwebane was made today by civil rights organisation AfriForum.
"It is extremely suspicious that Mbalula was the Minister of Sport and Recreation at the time of this trip, while the company that allegedly sponsored the trip was doing business with the South African Sports Confederation and Olympic Committee," says Monique Taute, Head of AfriForum's Anticorruption Unit.
"An investigation by the PP could potentially reveal a conflict of interest, as well as a possible corrupt relationship between Mbalula and Sedgars Sports."
The letter cites an EWN investigation which suggested that "Sedgars Sport sponsored at least part of the Mbalulas' trip in late 2016, by channelling money through an apparently inactive company called Reimon Uniforms. Sedgars Sport has been a clothing supplier to Sascoc for more than a decade.
The EWN investigation also established that "Mbalula, his wife and three children departed from Johannesburg on 28 December 2016 and returned on 3 January 2017. The family stayed at the Atlantis, The Palm Hotel in Dubai, developed by Sol Kerzner's Kerzner International Holdings and internationally acclaimed for its Atlantis-themed waterpark. The entire holiday package, including return affairs, cost approximately R680 000.
"Two independent sources confirmed that Sedgars Sport paid for at least half of the trip. Two payments were made from a bank account linked to Reimon Uniforms on 28 February 2017 – the first of R200 000 and then a further R100 000 – to Johannesburg-based travel agency Munlin Travel. Reimon Uniforms appears to be an inactive company whose bank account accepts and channels funds from Sedgars Sport-linked accounts to various other parties.
"It is understood that the remainder of the R680 000 expense was paid for in cash by a Sedgars Sport employee."
AfriForum says that while Sedgars Director Yusuf Dockrat denied any link between Sedgars Sport and Reimon Uniforms, stating their relationship was purely one of client and supplier, company records and online resources suggest otherwise. As an example they mention that Dockrat is a former director of a company called Barns of Investment. Its postal address is 2372, Vereeniging.
It turns out Reimon Uniforms lists its postal address as 2372, Vereeniging!
Opposition party, the Democratic Alliance, is also calling on the PP for an investigation. DA chief whip John Steenhuisen said: "It's concerning because the money was paid. There's very likely a conflict of interest with the Minister of Sport receiving a gift of this nature from a company that was doing business with Sascoc, which is accountable to the minister."
DA Shadow Minister of Sport, Tsepo Mhlongo, said since SASCOC was under Mbalula's purview as Sports Minister, there was a clear conflict of interest and Mbalula breached the Executive Members Ethics Code, which states that:Members of the Executive may not solicit or accept a gift or benefit which constitutes an attempt to influence the member in the performance of the member's duties.
So far the Minister has declined to answer any specific questions about the expenditure, saying it is a private matter.