President Jacob Zuma, in his capacity as chair of Southern African Development Community (SADC), is sending special envoys to Zimbabwe and Angola in light of the unfolding situation in that country.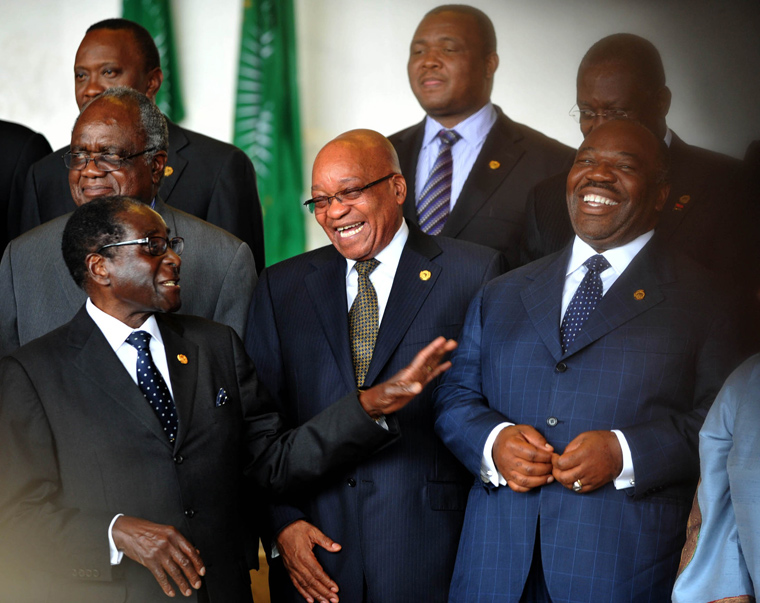 "The President is sending the Minister of Defence and Military Veterans, Nosiviwe Mapisa-Nqakula and the Minister of State Security, Bongani Bongo, to Zimbabwe to meet with President Robert Mugabe and the Zimbabwean Defence Force (ZDF)," the Presidency said on Wednesday.
According to the Presidency, President Zuma had spoken to President Robert Mugabe on Wednesday, who indicated that he was confined to his home but said that he was "fine". South Africa is also in contact with the ZDF.
The special envoys will also be sent to the Republic of Angola to see President Joao Lourenco, chairperson of the SADC Organ on Politics, Defence and Security to brief him on the situation.
President Zuma has reiterated his call for calm and restraint and for the ZDF to ensure that peace and stability are not undermined in Zimbabwe.
The Zimbabwean military has allegedly taken control of state institutions, saying that it is targeting criminals in government who are bent on destabilising that country.
President Zuma has expressed hope that developments in Zimbabwe would not lead to unconstitutional changes of government, as that would be contrary to both SADC and African Union positions.
He has urged the government of the Republic of Zimbabwe and the Zimbabwe Defence Force to resolve the political impasse amicably and has urged the Zimbabwean Defence Force to ensure that the maintenance of peace and security in the country is not compromised.
On Wednesday, the Chief of Staff in the Zimbabwe National Army, Sibusiso Moyo, appeared on State television, saying that the position taken by the military since the statement made by Zimbabwe Defence Force's commander, Constantino Chiwenga, Monday had reached "another level".
General Chiwenga on Tuesday accused the ruling party ZANU-PF of being infiltrated by counter-revolutionaries who wanted to destroy it.
He issued a warning that the army would intervene if President Mugabe continued his tactics in an effort to help his wife, Grace Mugabe, succeed him as ZANU-PF and Zimbabwean President in party and national elections due next year.
Grace Mugabe is rumoured to have left the country and headed to Namibia, although the Namibian government has not confirmed this, and other reports suggest she is still in Zimbabwe with her husband at their home in Borrowadale, Harare.
Mugabe "safe"
Moyo assured all Zimbabweans and the international community that this is not a military takeover and that President Mugabe and his family are safe and their security is guaranteed.
"We are only targeting criminals around him (President Robert Mugabe) who are committing crimes that are causing social and economic suffering in the country in order to bring them to justice," he said.
Last week, President Mugabe fired his Vice President Emmerson Mnangagwa on allegations of disloyalty and deceit. The two had been political allies for more than 40 years.
Most analysts believe Mugabe fired Mnangagwa after his supporters allegedly booed Grace Mugabe at a rally.
Zimbabweans have been urged to minimize movement with exception of those who offer essential services and businesses. Some media in the country are reporting that some businesses shut for the afternoon.
Alpha Conde, head of the African Union (and President of Guinea) said the military takeover is "clearly soldiers trying to take power by force". According to the BBC, Conde has called on the army to stop what they're doing which he says "seems like a coup".
The South African Presidency said SADC will continue to closely monitor the situation and remains ready to assist where necessary to resolve the political impasse in keeping with established SADC protocols and processes.
Sources – SAnews.gov.za-Xinhua-NNN, BBC, Twitter
Let's not forget how SA aided and abetted #Mugabe through the horrendous "quiet diplomacy" and turning a blind eye to torture of activists.

— Justice Malala (@justicemalala) November 15, 2017
President Zuma on Robert #Mugabe and the situation in #Zimbabwe. Full story here >> https://t.co/fpUYVLKHba pic.twitter.com/ko2hGchB06

— eNCA (@eNCA) November 15, 2017