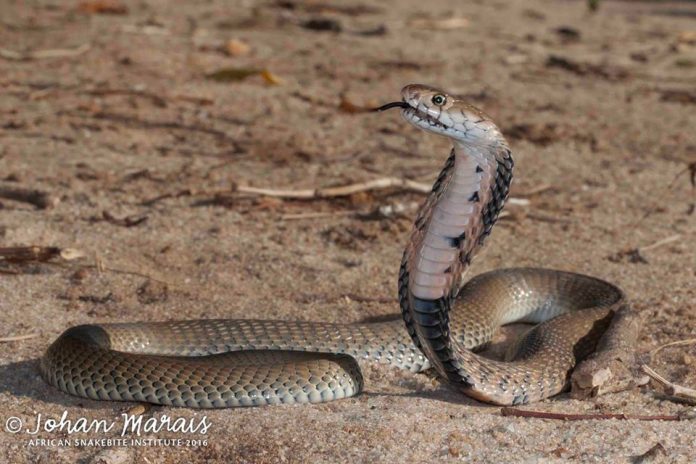 A South African six-year-old girl is recovering in hospital after being bitten by a Mozambique Spitting Cobra – as she lay fast asleep in her bed – on Friday evening. The incident occurred in Ballito on the KwaZulu-Natal north coast.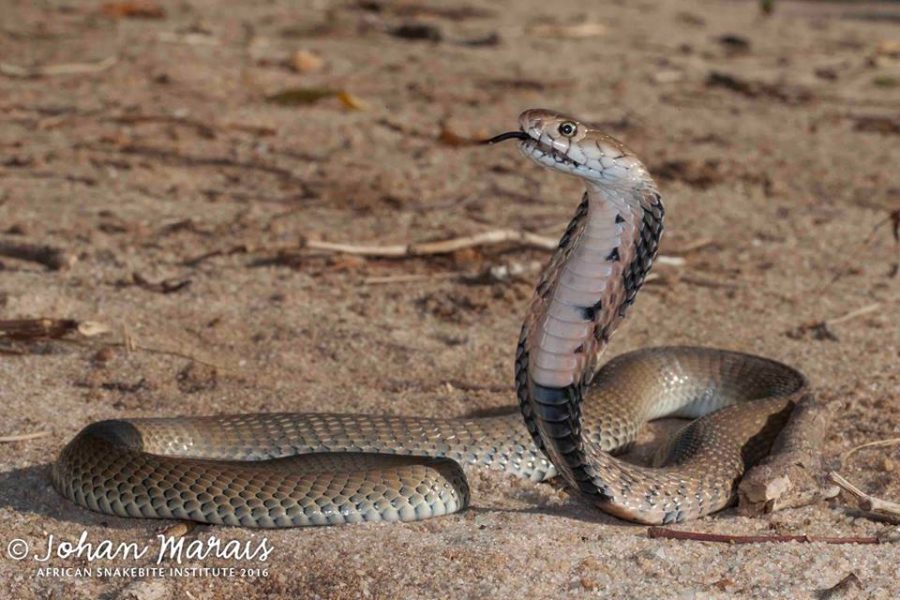 Mikayla Grove's parents – Ludwig and Inge – were outside in the garden at around 20h00 when they heard her screams.
Johan Marais, from African Snakebite Institute (ASI), said: "It was a hot and humid summer evening. They heard Mikala screaming and rushed to her bedroom. Mikayla said that she had a sore tooth and as Inge leant over her, a Mozambique Spitting Cobra that was a few centimetres away on the bed, spat into both Inge's eyes. She grabbed Mikayla and ran into the bathroom to wash out her eyes.
"Two fang puncture were visible on Mikayla's chin. They rushed off to Alberlito Mediclinic in Ballito and notified the hospital that they were on the way. It was a short trip, around 15 minutes, but they drove like crazy with the emergency indicators on and hooting."
Dr Ian Landers, who was on duty, contacted an old varsity friend, Dr Anton Coetzee – who had recently completed a course with the ASI, and who in turn got hold of Marais. Dr Landers also consulted with experienced snake bite doctor, Dr Christoff Bell.
Marais said: "One of the biggest problems with Mozambique Spitting Cobra bites is that the polyvalent antivenom is not great at neutralising the effects of the potent cytotoxic venom and many victims suffer severe tissue damage." He said in Swaziland – where many children are bitten – they often require amputation after suffering severe tissue damage.
Marais says Mikayla received 12 vials of polyvalent anti-venom. "The chin, cheek and throat region was swelling rapidly and with some discolouration at the site of the bite. She was intubated to ensure that she could breathe and pre-medicated with adrenaline – a precaution against an allergic reaction to the anti-venom.
"On Saturday the swelling flared up again and a further 5 vials of anti-venom was administered. Now the waiting game started and will usually take about a week before doctors will know whether there will be tissue damage and to what extent."
Marais spent Wednesday morning with Dr Landers and Mikayla's parents at the hospital, discussing the bite and the treatment.
He commended Dr Landers on "perfect treatment" and said the family could not have wished for better.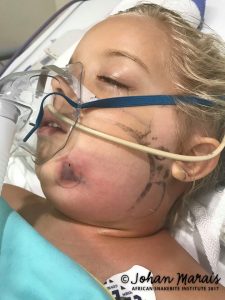 Apparently Mikayla's face is still very swollen, she has pain and was very tired during Marais' visit.
"At this stage the mark on her face where tissue is dying is very small and everyone is hopeful that tissue damage will not be extensive," he said.
According to Marais, the Mozambique Spitting Cobra is notorious for biting people while in their beds (even when they're totally still and not moving), and is responsible for 95% of cases where people are bitten in bed.
"In some years I hear of more than 50 people that are bitten while in their beds. The victims include people who sleep on the floor in huts, small children in cots, and tourists who are staying at very expensive game lodges."
Marais cautions that if you live within range of this snake, you should ensure that snakes can't enter your house through any doors (mosquito-proof doors that are permanently closed are a good idea) or bushes next to the window.
If someone is bitten, it's crucial to get them to the nearest trauma hospital quickly and safely, he says.
On Thursday morning, Marais reported: "Patient doing well and on the road to recovery."
Read Johan Marais' full report here:
Follow African Snakebite Institute here.