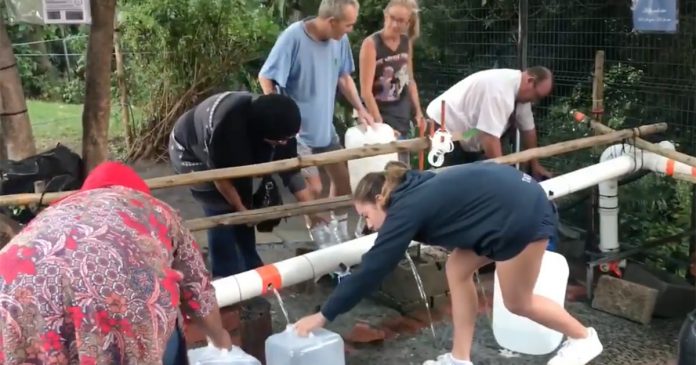 New water restrictions kicked off in Cape Town, South Africa, this morning, with residents now only allowed 50 litres per day per person, in a desperate bid to stave off Day Zero… currently set at 16 April 2018, when the taps will be turned off.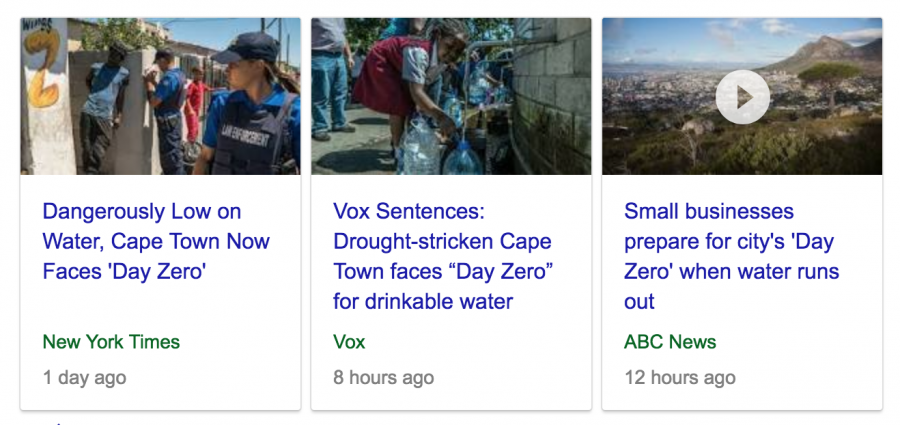 Local blogger – Girl Unplugged – filmed the following scene and interviews at 06h00 Thursday morning as residents queued up and down streets to fetch water from springs which flow off the mountain. Many can be seen struggling with the load… with some carrying the heavy containers on behalf of older people who are unable to do so themselves.
One resident said: "Scary shit – I literally can't believe that it has come to this. I feel so let down by both the provincial and national governments. If competent people were in place, this would never have occurred."
Girl Unplugged told SApeople in an exclusive interview: "We are all stock piling for day zero. Then we will be limited to what one can collect. We carry these containers far. I'm young and healthy… yet I can hardly carry 25L for 15 metres! We're sometimes standing in 40 degree heat for hours!
"Everyone is trying to collect daily now from springs. And then we save it in baths and bins and tanks. I'm getting tanks installed at home. It's costly – a 5000 litre costs R5500. Plus getting it plumbed in, plus all the legislation around getting that pumped onto your house with no back-flow permitted to mains. Plus then if there is no rain from gutters, you get water delivered for R1 per litre.
"Imagine day zero comes and we can't really flush!! It's not good at all."
According to insider rumours, the biggest problem Cape Town could face – if day zero comes – is sewage not flowing… resulting in blockages pushing sewage back up.
Watch Day 1 of new 50 litre water restrictions – desperate Cape Town residents stockpile spring water
I filmed this at 6 am this morning, as our new water restrictions kick in ……this real

Posted by Girl-Unplugged on Wednesday, January 31, 2018
"It's even worse for the people that can't afford tanks," says Girls Unplugged.
"Yesterday at a popular supermarket, they had a Marshal standing next to the pallet of water. They only let each customer take one pack of 4 bottles." (See video below.)
There are marshals in place at some of the springs, and this morning official law enforcement can be seen at the spring in the video.
Regarding a recent video showing a heated argument between a security guard and a resident collecting water (see below), Girl Unplugged says: "Car guard people are also popping up, and obviously we as residents don't know who is who – and we are people peeved with the Council in the first place. Water levies, new legislation, talk of 2 percent VAT increase. And all along this water issue was known… for years!"
Watch Water Wars as resident argues with security guard over 25 litre restriction
KYK: DIE bloedige hitte gister en toustanery vir water by die SA Brouery se fonteine in Nuweland het gemoedere laat oorkook.'n Sekuriteitswag en 'n man het mekaar amper te lyf gegaan oor hy die be­perking van 25 liter water per persoon oorskry het.

Posted by Son Koerant on Monday, January 29, 2018
Usually the water from these springs runs to waste underground, with a few people using them occasionally (and SA Breweries uses the Newlands Spring for their beer)… but now they have become the city's most sought-after spots, with secrecy held around some of their locations.
Girl Unplugged says: "Residents are very angry for being 'punished' for the DA's shocking forward-planning. I sense a huge growing resentment. The shift of 'working together' is now tilting more dangerously into anger.
"A friend of mine reported a gushing pipe on a pavement. Days has gone by. She's following up many times… and still nothing! There's talk that townships are not saving water. They leave hoses running on cars where any city official could see… but it feels like nothing is done. Good folk who are saving water, are suffering the most."
A Cape Town vlogger posted a video exposé on the wasted water in underground tunnels last year… to which the City of Cape Town sent this response to SAPeople.
Watch the water scene at a shop in Cape Town
MORE
Follow Girl Unplugged for more on Cape Town:
www.facebook.com/girl.unplugged/