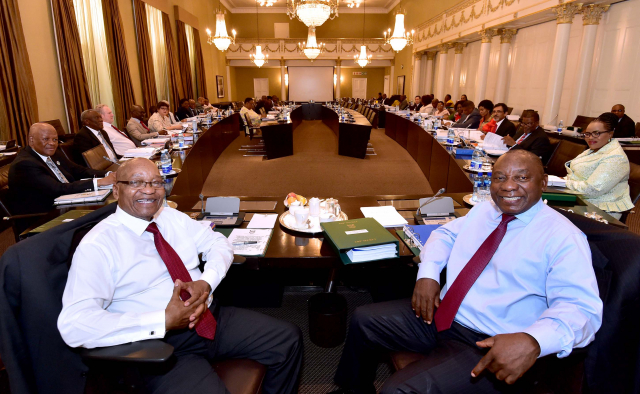 Immunity from prosecution for South African President Jacob Zuma is allegedly not being considered by ANC President Cyril Ramaphosa, according to local reports. (UPDATE: Please see ANC denial of this report at bottom of page.)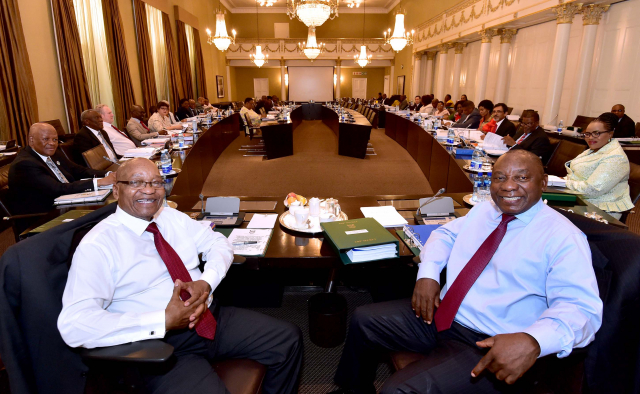 News24 reports Thursday that Ramaphosa told the ANC's Parliamentary caucus that immunity from prosecution is not part of the "transition" discussions. Not only is immunity not on the table, "it is not in my powers to give him that", Ramaphosa is quoted as saying.
Earlier today the DA threatened in a statement to approach courts to prevent Ramaphosa from granting Zuma immunity.
James Selfe, DA Federal Council Chairperson, said granting Zuma immunity from prosecution would be "the most corrupt act imaginable".
Selfe reminded the nation that Zuma is a man facing "783 counts of corruption, fraud, money-laundering and racketeering", a man whose Nkandla residence scandal cost "R246 million of taxpayer's money" and who has "seemingly facilitated State Capture and opened the public purse to the likes of the Gupta brothers".
Selfe said the country is being "held hostage" while Rampahosa negotiates with Zuma. Others have insisted these negotiations are vital to avoid violence breaking out.
A News24 source, close to Ramaphosa, told the media outlet that Zuma "wanted to drag the country into civil war. It's important for this country to make sure people aren't going to lose lives. [Zuma] doesn't care. Cyril wants to deal with this in a way that people don't lose lives."
Ramaphosa is reported to have said today that talks will be complete within the next day or so. He is scheduled to meet with Zuma again on Friday.
UPDATE THURSDAY EVENING (8 FEBRUARY 2018) – The Office of the ANC Chief Whip says it has noted "inaccurate and misleading reports" about today's ANC Parliamentary Caucus meeting.
In a press statement issued this evening, the Chief Whip said: "Whilst the ANC does not usually comment on caucus discussions because they are confidential internal matters of the ANC; we want to distance ourselves from reports that ANC President Cyril Ramaphosa reportedly told caucus that President Zuma will resign on Saturday, and that he will not be granted immunity.
"These reports are false and the intension [sic] behind them is to negatively disturb the fruitful and constructive engagement between the between the President of the ANC and the President of the country around the question of transition. The ANC in Parliament respects the ongoing engagement and eagerly awaits its imminent conclusion."