The ANC NEC meeting in Irene, near Pretoria, to discuss the fate of South African President Jacob Zuma, dragged on for over eight hours on Monday 12 February 2018… but finally, in the early hours of Tuesday, it was reported by the SABC that the ANC has given Zuma 48 hours to resign as head of the state… or be forced out. UPDATE: Zuma reportedly to be recalled after refusing to resign.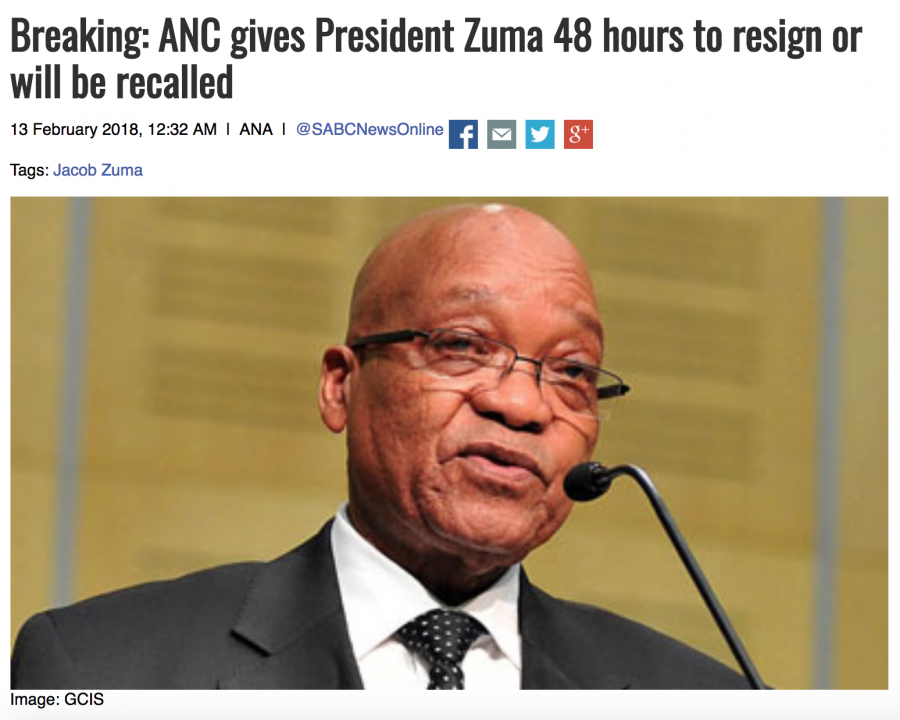 In the past hour ANC President Cyril Ramaphosa (or 'Ramapostponer' as EFF Leader Julius Malema has nicknamed him) and his entourage of 'blue brigade' cars were seen leaving the St George's Hotel and returning – presumably having left to deliver the message to Zuma in person at his Pretoria residence.
Media crews have been camped outside the hotel all day and night waiting for the outcome of the meeting.
The Rand has already strengthened slightly on the expectation that Zuma would be recalled or forced to quit.
There is no word yet on Zuma's response. In earlier reports it was said that Zuma wanted to remain President for three months before resigning.
If he agrees to resign, Zuma will write a letter to the Speaker of Parliament.
Should Zuma not resign, he is facing another Motion of No-Confidence in Parliament on 22 February.
Fellow South Africans, #NECMeeting#ZumaIsGoneParty#ZumaExit#HeisFinallyGone
Happy New Year And Good Morning South Africa ! pic.twitter.com/DS2u40ctDV

— Bheki Ngwenya (@BecksCroc) February 12, 2018
Guys can we please give credit to our wonderful journalists who have been camping outside the hotel the entire day and no one even cares to at least update them about what's happening inside, we appreciate your efforts and dedication #NECMeeting

— Mukololo Khan (@NaVhugala) February 12, 2018
NEC return to St George's hotel in Irene, hopefully they will give us closure #NECMeeting pic.twitter.com/TFzUfTyaXg

— Deepa Kesa (@DeepaKesa) February 12, 2018
The Rand is also waiting outside the #NECMeeting alongside journalists so that it decides which direction to take after official statement

— Sandza Mndayi (@SandzaMndayi) February 12, 2018
You would think he knew. But perhaps he knows better than many and has his next wild card all planned out? How many midnight's we have waited, and still nothing… #ZumaExit #NECMeeting https://t.co/BUNAwQoOEB

— C Constantinides (@ChangeAgentSA) February 12, 2018
Karma is a b*tch #NECMeeting pic.twitter.com/StnlV4QTDa

— Forensic expert from Kuvikiland (@IncomingExpert) February 12, 2018
Goodnight y'all
Resign or Recall
Issa win win situation 🤣🤣🤣🤣#ZumaExit #NECMeeting #ZumaMustGoNow #ZumaMustFall pic.twitter.com/c4kMdb0kD0

— BAB🥀💔 (@MantloroRammala) February 12, 2018