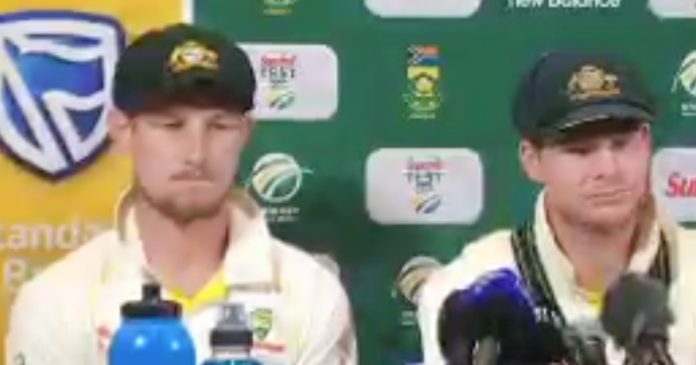 Australian cricketers Cameron Bancroft and Captain Steve Smith faced the press at Newlands in South Africa to discuss – and admit – to ball tampering during the third Test against the Proteas on Saturday 24 March 2018.
There was no ways they could deny it! Watch this:
FULL VIDEO OF @cbancroft4 #BALLTAMPERING. There is no doubt. From the yellow item down the trousers to @darren_lehmann sending a message on-field GUILTY! @officialcsa @ESPNcricinfo @icc BAN AND FINE should have changed ball #savaus pic.twitter.com/8LLToUECWa

— Neal Collins (@nealcol) March 24, 2018
Now watch below as the Australian sportsmen try to convince the journalists at a press conference that this isn't what they're really about.
Cricket Australia (CA) said they are sending two officials to South Africa to investigate the ball-tampering issue, and former captain, Michael Clarke – who retired in 2015 – hinted he would consider returning to take over the captaincy. "If I was asked by right people, then I would think about my answer," he told an Australian television station.
Smith said he doesn't believe he should step down. Watch below.
VIDEO: Cameron Bancroft and Steve Smith admit to ball tampering during the third Test at Newlands.

Posted by SA Cricket magazine on Saturday, March 24, 2018
If you can't view the above, try this:
Australia team post play press conference featuring Steve Smith & Cameron Bancroft. https://t.co/dh5UYfPz31

— Cricket South Africa (@OfficialCSA) March 24, 2018
Absolute bunch of cheats the Aussies !

Posted by Andrew Binning on Saturday, March 24, 2018
Australians were quick to come up with jokes about the incident. This was posted by Aussie Malaysian lawyer and TV chef (former winner of Master Chef Australia) Adam Liaw: