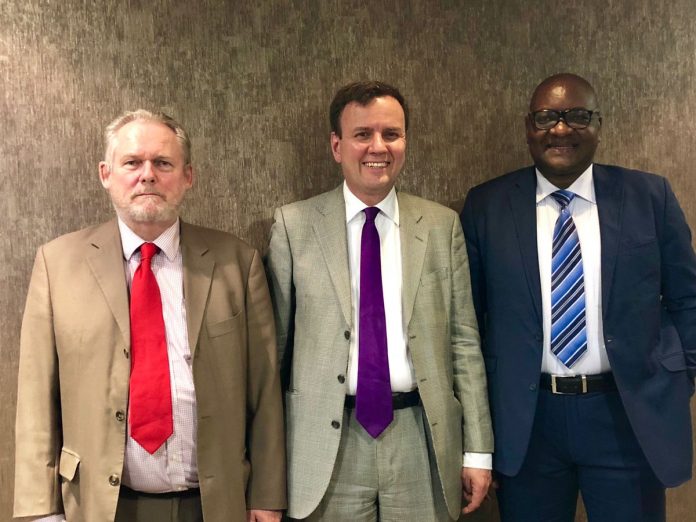 Government is forging ahead in its pursuit to eliminate the red tape hindering potential investors from gaining access to the South African economy.
Speaking at the launch of the Gauteng provincial InvestSA One Stop Shop (OSS) on Tuesday, Trade and Industry Minister Rob Davies said through the opening of InvestSA offices across the country, government seeks to make investing in South Africa as seamless as possible.
"We seek to smooth the way for investors and ease any regulatory hurdles they have to go through and shorten timeframes for decisions and make sure they have a good experience in interacting with the different parts of government," said Minister Davies.
Tuesday's launch of the Gauteng office is the third InvestSA provincial office to be opened in the country. The KwaZulu-Natal provincial OSS opened its doors in November 2017 while the Western Cape's OSS opened in September.
The aim of the InvestSA initiative is to provide strategic guidance, reduce regulatory inefficiencies as well as to reduce red tape for all investors looking to invest in South Africa. Among the roles of InvestSA is to promote both foreign and domestic investment.
Government launched the national OSS office at the Department of Trade and Industry premises in Tshwane in March 2017. Since then, 624 investor consultations were held and 21 regulatory issues were dealt with.
"This has facilitated a number of investments," said the Minister, who launched the Gauteng InvestSA alongside Premier David Makhura.
He said it is government policy to improve the investment climate in South Africa and there are a number of dimensions to this.
Some of the steps government has taken to tackle this issue include the appointment of the Eskom board in January as well as the renewable energy power purchase agreements that were signed by Energy Minister Jeff Radebe last week.
In addition, government through the Department of Trade and Industry's flagship Industrial Policy Action Plan (IPAP) has identified opportunities for investors in different sub sectors of the country's value added economy.
This year will see the department launch the 10th iteration of the IPAP. The industrial policy action plan is central to government's industrial development which seeks to encourage and upgrade value-added, labour-absorbing industrial production and diversify the economy.
Increasing foreign direct investment
Premier Makhura said the province is keen to increase its level of foreign direct investment (FDI).
He said the OSS was housed at the Gauteng Investment Centre which was launched in 2013.
"Between 2014 and the end of 2017 there have been more than 200 FDI projects that have come into our province," said the Premier, adding that some of the investment came as a result of national efforts and some through the Gauteng Investment Centre.
"We are also fortunate that the total value of FDI that came into the Gauteng economy between 2014 and 2016 ran up to R69 billion," said the Premier.
InvestSA will coordinate with the World Bank on a reform programmes to improve South Africa's Ease of Doing Business Rankings. – SAnews.gov.za
Minister Rob Davies officially launches #InvestSAGauteng #GautengIsOpenForBusiness pic.twitter.com/PD5EjViaq8

— InvestSA Gauteng (@InvestSAGauteng) April 10, 2018
.@GregHands meets with South African Minister of Trade and Industry Rob Davies & the Premier of Gauteng David Makhura – discussing strength of ???? relationship.

Total trade in goods and services between the UK and South Africa was £8.8bn in 2016, a 9.2% increase from 2015. pic.twitter.com/umzFaoIa8n

— Department for International Trade (@tradegovuk) April 10, 2018
"South Africa needs to drastically improve on its rankings from 82 – This will be the focus over the next 2 years. " Minister Rob Davies @the_dti  #InvestSAGauteng pic.twitter.com/S8H7PFVHwX

— InvestSA Gauteng (@InvestSAGauteng) April 10, 2018