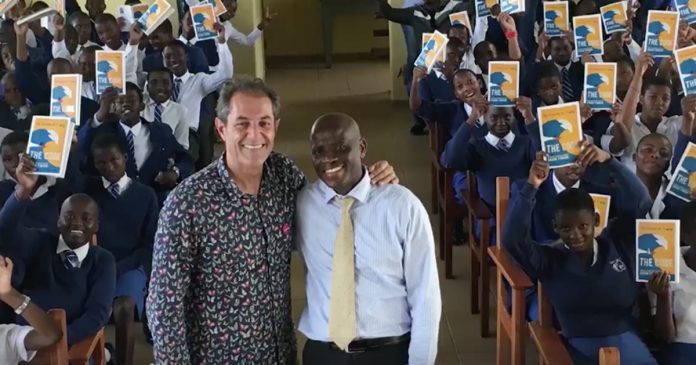 During his 16 year professional surfing career, Durban's Shaun Tomson broke records – the first sportsman to win 19 major professional surf events, as well as the youngest – and the oldest! – to ever win a surf title! BUT nothing was as great as a trip he did to South Africa last year…
"I did this series of [speaking] events across South Africa – 40,000 kids, 24 schools, the poorest and the poshest. And out of everything that I've done in my life – that was the greatest," says Shaun.
"To stand there and to see kids with nothing… These kids are at school 7 days a week because they want to learn, they want to be change-makers, they want to be leaders…"
Together with his book The Code, the South African expat (who has lived in the United States for the past 20 years) is on a mission to create a positivity amongst youth "because they're going to be the future leaders of the country".
He's also on this mission because he and his wife sadly lost their "beautiful boy" in 2006. Fifteen-year-old Matthew died in Durban while playing the 'choking game' (which involves intentionally cutting off oxygen to the brain so as to lose consciousness).
Shaun says Matthew just made a terrible mistake, a bad choice. His death has taken Shaun's life in a different direction – talking to schools, motivating kids to make positive choices. (His book highlights the importance of making 12 'I will' promises to oneself, thinking about the future in a strong introspective way, and then make a strong commitment to making positive change.)
"My wife and I realised the best way to heal is to help others," says Shaun. And – just like when one's surfing a wave, there's no looking back. Only look forward.
Shaun, who admits he isn't a religious Jew, says he is a "deeply spiritual Jew"… and the words in an essay that Matthew read to him just an hour before he died gave him the courage and hope to paddle out again.
"When you suffer, you get this understanding of life – to love and be loved. And now, I love helping people…"
As he says, for anyone who has suffered: "Life's good man. I've suffered, but life can be good again… The light shines ahead… The sun will rise again…"
WATCH Shaun Tomson on 'the light shines ahead'…
WATCH Shaun Tomson in South Africa last year