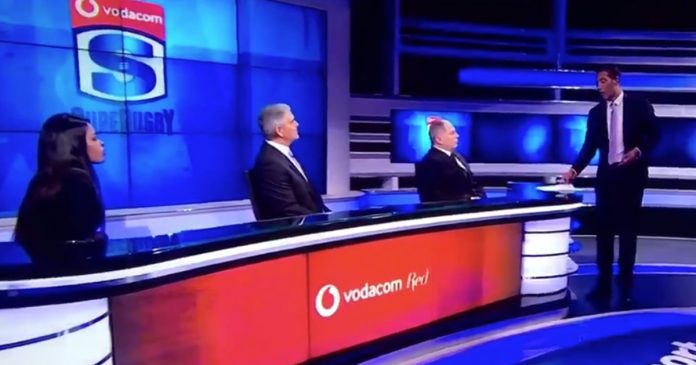 There was drama on SuperSport on Saturday as Ashwin Willemse walked off the set, in the middle of a live recording, after a dispute with Nick Mallett and Naas Botha. It's uncertain what words had been exchanged between the three former Springboks before the public scene.
The three were commentating on the Super Rugby match between the Lions and the Brumbies, which the former had won 42-24.
In a video (see below), Willemse can be seen saying: "You see, I think it's important for me because you know, I've played this game for a long time… like all of us here. And as a player I was labelled a 'quota player' for a long time.
"I worked hard to earn my own respect in this game… so, I'm not going to be patronised by two individuals who played in apartheid – a segregated era – and come and want to undermine…
"So, I think for me, I've had my fair share. I can't work with people that undermine other people."
Looking at the two men, Willemse said: "And you can sit and you can laugh about it but you know exactly what happened. And it's fine, it's fine. I don't mind being ridiculous. I'm glad it happens on air so that people can see…"
Mallett said he was not laughing about it.
SuperSport presenter Motshidisi Mohono tried to salvage the situation, saying: "Well, that's unfortunate, because the match was going so well, and so was our conversation."
702's Eusebius McKaiser said: "I am enormously proud of Ashwin Willimse. Good on you, Ashwin!"
Former Springbok, and author of 'Being a Black Springbok', Thando Manana said: "It was always going to happen on Live television. Ashwin Willemse i am so glad you finally put Nick Mallet and Naas Botha in their Place."
In SuperSport's latest tweet, it announced: "SuperSport views this incident in a serious light – we will conduct a full investigation and interview all relevant individuals."
VIDEO: Ashwin Willemse slams Nick Mallett and Naas Botha before walking off the SuperSport set. pic.twitter.com/iYl0yRFfUu

— SA Rugby magazine (@SARugbymag) May 19, 2018
Video footage from just before Willemse's words with Nick Mallett and Naas Botha (short version):
It's not sure what was said off air, but here's some of the conversation leading up to Ashwin walking out during the live recording of SuperSport. SAFM's Ashraf Garda said: "The tone between the presenters suggests even more happened on air and off air…"
Willemse refers to the "patronising" going on, and "keeping the order"; and Mohono can be heard laughing and saying "ooh, you guys"… as if there had been friction beforehand, off air.
What was said off air before crossing back live? #SuperSport #AshwinWillemse pic.twitter.com/Hlbv6I9UyB

— thebigBAMtheory (@riaan_bam) May 19, 2018
Video footage leading up to Ashwin Willemse walking off the SuperSport set (long version):
SuperSport views this incident in a serious light – we will conduct a full investigation and interview all relevant individuals.

— SuperSport (@SuperSportTV) May 19, 2018
Poor Ashwin. It's going to be said he overreacted. But the truth is there isn't always explicit evidence when you feel undermined, it's a feeling, a vibe that you get. And then there's the matter of proving it. YOU have to justify your reaction to it. #AshwinWillemse

— Bongani Bingwa – Broadcast Journalist (@bonglez) May 19, 2018