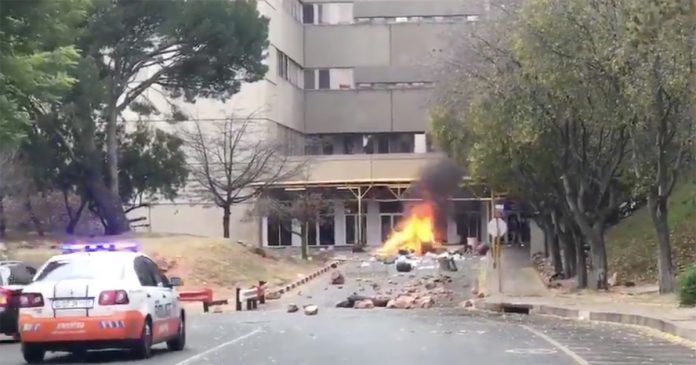 Protesting staff workers at the Charlotte Maxeke Johannesburg Hospital (formerly known as the Joburg Gen) have burnt tyres and blocked entrances yesterday and today, causing fear and disruption for patients and other staff.
Photographs of violent scenes have been shared on social media, and the entrance to the hospital was blocked this morning.
Jack Bloom, DA Gauteng Shadow MEC for Health, said a nurse described to him how she feared for her safety when she couldn't drive her car out at 1pm yesterday, because of a burning tyre and aggressive protestors.
"I was told that protesters threatened staff and patients and in once instance, pulled doctors out of surgery while a patient was on the operating table.
"Hospital security locked wards for the protection of staff and patients," he said.
The workers' grievances are primarily about unpaid performance bonuses for 2016 and 2017, and about current wage negotiations. The protesting staff – mainly general assistants – are demanding a wage increase of over 10%.
"I am highly concerned that disruption continues at this hospital which was violently trashed a month ago," said Bloom in a statement Thursday.
Leratong hospital on the West Rand has also been affected by workers who have blockaded the hospital, causing the cancellation of all non-emergency surgery.
Bloom said: "The Gauteng Health Department needs to settle worker grievances speedily and fairly, but disruption of hospitals should not be tolerated as they provide an essential service."
At 14h45 Wednesday afternoon, Bloom said the situation had calmed down after "severe disruption" this morning.
"Non-emergency surgery has been cancelled and most patients have left the hospital."
The South African Police Service was called in to stabilize the situation. Unions have denied involvement, but after talks with Management, have undertaken to speak to the workers.
#CharlotteMaxeke academic hospital entrances have been barricaded by staff protesting – allegedly over unpaid bonuses pic.twitter.com/NFReFzCVet

— Nickolaus Bauer (@NickolausBauer) May 31, 2018
#CharlotteMaxeke The entrance to the hospital has been blocked. Protesters are inside the hospital. Patients being told to leave. CE pic.twitter.com/OTUP4XsFiN

— EWN Reporter (@ewnreporter) May 31, 2018
#CharlotteMaxeke Protestors have begun dispersing pic.twitter.com/pnlfqz7rkR

— Nickolaus Bauer (@NickolausBauer) May 31, 2018