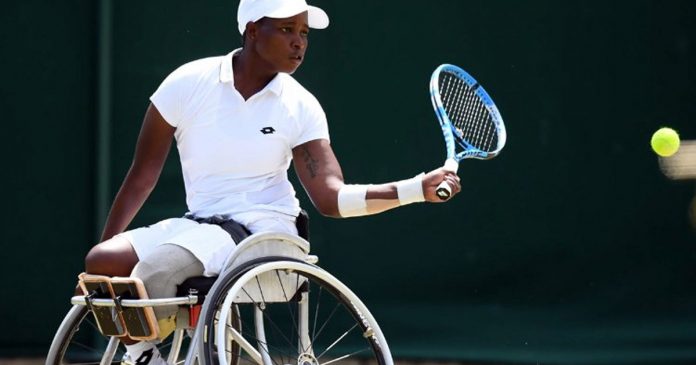 Not since South African-born Kevin Curren faced Boris Becker in the 1985 Wimbledon Final have South Africans been so gripped by the prestigious grass court tennis event in London (even though he was entered as a US citizen)… because this year we had not one – but FOUR incredible South Africans playing their hearts out for themselves and their homeland, South Africa.
There's one particular player who deserves a special accolade for stealing our hearts with her guts and determination, despite all odds being against her. And that's Kgothatso 'KG' Montjane who almost didn't make it to England, due to a lack of sponsorship.
But the determined 32-year-old – who was born in Polokwane, Limpopo with a congenital disorder which affected both of her hands and a foot, with the other foot being amputated by the age of 12 – found a way to make her dreams come true – thanks partly to the wife of former President Thabo Mbeki… and in so doing made history for South Africa, becoming the first black South African woman to play at Wimbledon.
President Cyril Ramaphosa tweeted good luck to her last week, as she surpassed all expectations and made it through to the semi-final.
KG was a wildcard and it was her first appearance ever at Wimbledon, but she gave it her all, entertaining and thrilling fans as she fought tirelessly to secure a quarter final win over the world no. 6 player, Katharina Kruger (Germany).
Our world no. 8 then bravely faced the world's number one player, Diede de Groot (Netherlands) in the semi-final… but sadly lost… although with her positive attitude, she says she has gained so much.
"This is a moment I'll forever cherish and there's no doubt it will keep me motivated going forward in my tennis career," said Montjane. She also made it through to the doubles Semi-Final.
"Taking the sport 11 years ago, I never imagined I'll get at this level and play amongst the best in the world, this is a great feeling."
TeamSA reported that she also thanked everyone who has supported her on her journey: "A big thank you to my federation Wheelchair Tennis South Africa (WTSA), WDB Trust, my family, friends and all my fans for the incredible support this week."
Her message is contrary to some posts that are going viral on social media which paint a picture of a desolate athlete, discarded and left alone to fend for herself.
In one of a number of emotive posts by former athlete Cheryl Roberts – who was selected for the 1992 South African team for the Barcelona Olympics, Cheryl says:
"She travelled alone to play her debut Wimbledon tournament. She had to assemble her wheelchair alone. Had no coach with her and no practise partners. She had to ask a British coach to practise with her before her matches. It was her first time playing on grass. She won her debut match at #Wimbledon2018. She became the first black SA woman to play at Wimbledon. She became the first woman in post-apartheid SA to play in the Wimbledon singles semifinals. She is 32 year old Kgothatso Montjane, SA's world class wheelchair tennis player and my sports queen."
According to WTSA, this is not quite accurate.
"A coach was arranged for Kgothatso to work with while at Wimbledon, and also there are repair stations for players' wheelchairs, they do not fix or assemble wheelchairs," said Anthony Moruthane, National PR for WTSA.
Speaking to SAPeople, Moruthane said:
We are very proud of Kgothatso Montjane's achievements and we remain committed to helping her grow as a federation in her career.

She's definitely an inspiration to youngsters and gives hope to people living with physical disabilities that it is possible. Great achievement reaching the semi-finals on her debut at SW19 – a trail-blazer, barrier breaker and a game changer.
The biggest problem that KG and Wheelchair Tennis face is that the organisation lost its longtime sponsor Airports Company SA over a year ago.
"We would have loved to send a coach but due to no sponsor at this stage, the priority was to see KG participate in the event"
With contributions from SASCOC, SRSA, Department of Sport Gauteng and Netcare, Wheelchair Tennis SA has just been able to keep running programmes in local communities… but they can no longer afford to send players to all the international tournaments.
When Kgothatso was awarded a wildcard into the Wimbledon Championships, WTSA had to start "knocking on doors to look for funding for her".
They got lucky with WDB Trust, which was founded by former First Lady Zanele Mbeki. According to Cheryl, KG wrote personally to the former First Lady.
WTSA says "luckily WDB Trust offered a generous amount to help Kgothatso travel to the French Open with her coach,  but the amount left was not enough to cover a travelling coach with her to Wimbledon."
Moruthane adds:
Our players have always travelled with coaches when we had funding from ACSA, and most importantly they are responsible and independent players who are able to do most stuff by themselves. We would have loved to send a coach but due to no sponsor at this stage, the priority was to see KG participate in the event.

WTSA is going through a challenging time at the moment but we remain committed to developing players and offering programmes in the communities.

We are working very hard to get sponsors to continue to support our stars like Kgothatso and grow our community footprint.
Cheryl Roberts suggested today on Twitter: "We need a national fund to help South Africa's sports girls and sportswomen, with an emphatic focus on black girls in sport and working class women in sport…"
We couldn't imagine a better time for sponsors to come on board than right now… to help make dreams come true for female players like KG who are willing to give their all to make their dreams come true, and lift the pride of South Africa…
Earlier in 2018, SA's world class wheelchair tennis player had no sponsor. She sent a letter to SA's former First Lady, Zanele Mbeki asking for some assistance. Mrs Mbeki responded with some help. And Kgothatso Montjane was able to play in the French Open and today at Wimbledon pic.twitter.com/0WRdOGlg6k

— cheryl roberts (@cherylroberts00) July 12, 2018
This is dope! South Africa's greatest wheelchair quad tennis player, Lucas Sithole, from Northern #KZN yesterday made an historic debut at #Wimbledon18 when he played in an official quad doubles exhibition match at Wimbledon. Lucas hopes 2 B playin #Wimbledon2019 in competition pic.twitter.com/UTDHI0yDyv

— cheryl roberts (@cherylroberts00) July 15, 2018