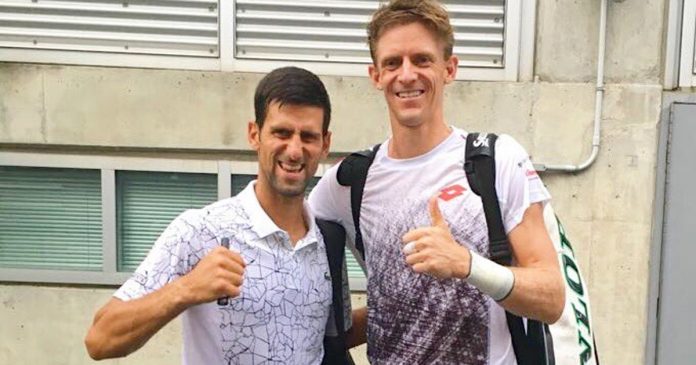 Just a month ago they were rivals on opposite sides of the court at Wimbledon, but this week they're playing together in Canada… and acing it! South African tennis player Kevin Anderson and Serbian partner Novak Djokovic have reached the quarter-finals of the doubles at the Rogers Cup in Montreal.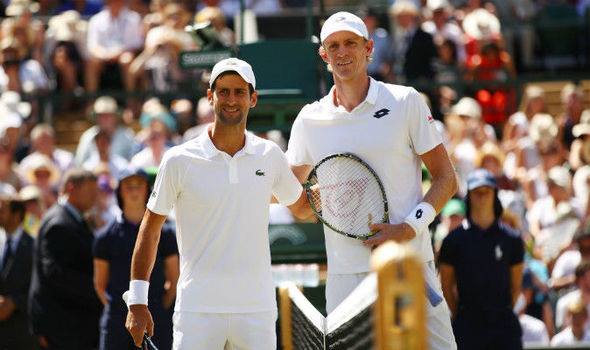 Tennis South Africa said: "The high-profile duo, who have teamed up for the tournament, have progressed after beating 3rd seeds, Nicolas Mahut and Pierre-Hugues Herbert – of France."
For many tennis fans, it's been great to watch the two powerful tennis players on court together… after they faced off at Wimbledon in the Men's Singles Finals – with Djokovic taking the title (6-2 6-2 7-6).
Media outlets are calling them 'Tennis Wimbledon', and they're calling themselves Team Djokerson.
Now on the same side of the court in Canada, Anderson and Djokovic lost the first set 6-4, but fought back to win the second set 6-4, and pulled off the third set with a deciding tie break 10-7.
Anderson tweeted at the start of the competition: "Great to play on the same side of the court this time with @DjokerNole and get the win! #RogersCup."
Last night he thanked his fans for staying in the rain to watch, and posted a photo with his wife and their pet dog.
The South African expat and his unlikely tennis partner will next face Nikola Mektic and Alexander Peya.
Kevin has also progressed to the quarter-finals of the singles. Rogers Cup noted after his 7-5 6-3 win against Ilya Ivashka yesterday that Anderson is "always a fan favourite in Canada" and said: "he's off to the #RogersCup quarterfinals tomorrow, but not before signing Every. Single. Autograph."
Djokovic on the other hand has been knocked out of the Rogers Cup Singles after Greek teenager Stefanos Tsitsipas beat him in a shock upset in the third round – 6-3, 6-7 (5), 6-3!
#Djokerson into the QF! ?? @DjokerNole @rogerscup pic.twitter.com/uz8UR7BYzF

— Kevin Anderson (@KAndersonATP) August 9, 2018
Team #Djokerson power on!

Defeat French duo Herbert/Mahut 4-6 6-4 10-7.#RogersCup pic.twitter.com/TaFFzymwGe

— Tennis TV (@TennisTV) August 9, 2018
#Djokerson ✅ @KAndersonATP pic.twitter.com/M2zKPWIz0J

— Novak Djokovic (@DjokerNole) August 7, 2018
Post-match golf cart ride with my girls ? Thanks to all the fans who stayed late and through the rain to watch! #rogerscup pic.twitter.com/xH7OJHi45r

— Kevin Anderson (@KAndersonATP) August 9, 2018
Always a fan favourite in Canada, @KAndersonATP ends the impressive run of qualifier Ilya Ivashka in straight sets, 7-5, 6-3.

He's off to the #RogersCup quarterfinals tomorrow, but not before signing Every. Single. Autograph. pic.twitter.com/dBgMkQS5Ud

— Rogers Cup (@rogerscup) August 9, 2018