Several fires have raged in the Western Cape, South Africa, this week, claiming the life of one firefighter pilot and destroying at least 10 homes in the Southern Cape, and leaving thousands homeless in Cape Town informal settlements, as the region has been gripped by a heatwave… and tonight flames continue to burn in the mountains above George in the Herold Veldfire which started three days ago.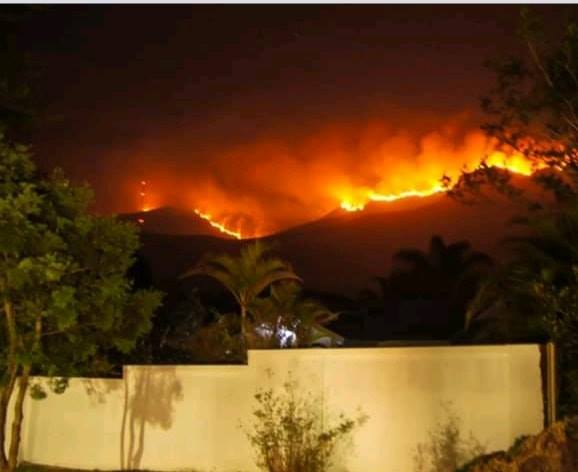 Working on Fire (WoF) said at around 21h00 Saturday night that the eastern flank is currently visible with flames "slowly burning down George Peak".
There is no current threat to people or infrastructure.
WoF said: "Ground teams are in place with spotters on duty to keep watch throughout the night. Weather conditions remain favourable for back burns tomorrow."
Aerial support had to remain grounded earlier today due to mist and smoke enveloping the Garden Route town of George, and making weather conditions unfavourable.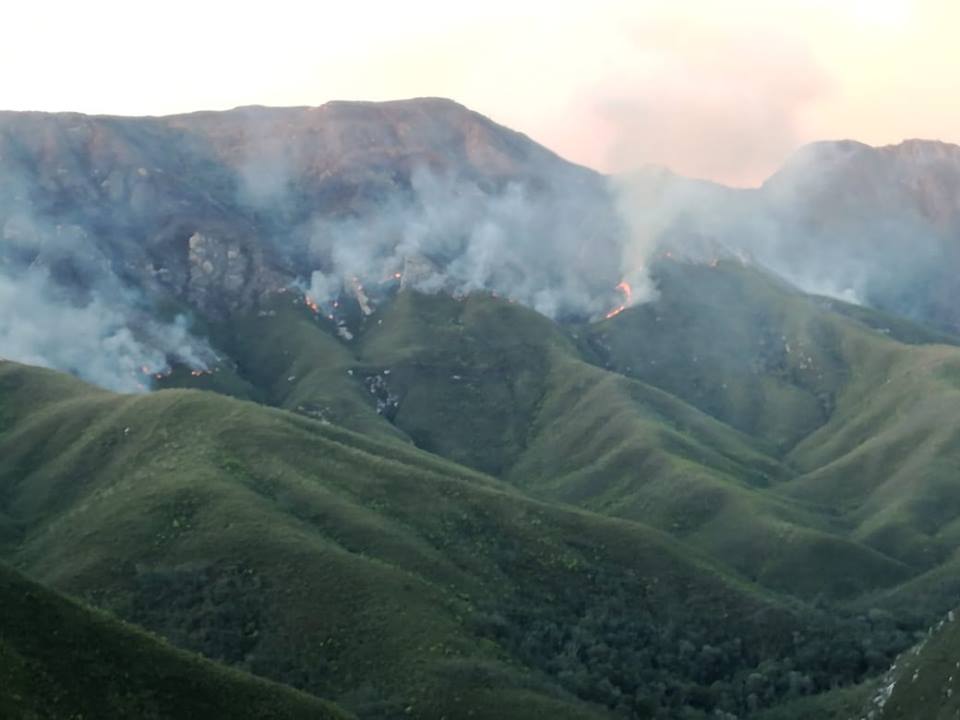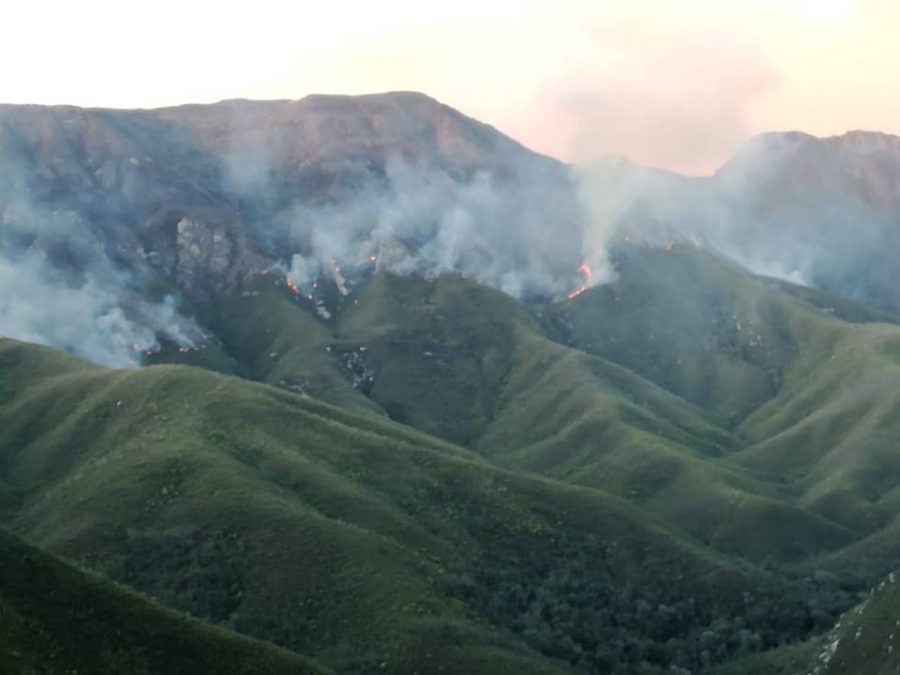 The fire danger index in the Western Cape has been high, due to the heatwave.
Cape Nature has closed all hiking trails, and members of the public are asked to please refrain from hiking or cycling in and around George Mountains over the next few days.
Local tour guide Andre Roux posted photos yesterday and tonight of the fire in the George Mountains. Yesterday he posted the two photos below, saying: "Only a hiker would understand how devastated we feel, to see our mountain burning. It can take 3 to 5 years for it to heal itself to its former glory. This is Campherkloof and Pass-to-Pass Trail that is burning, known by a few hikers, as Gorilla Peak. The left side of Photo 2 reveals its beauty before the fire."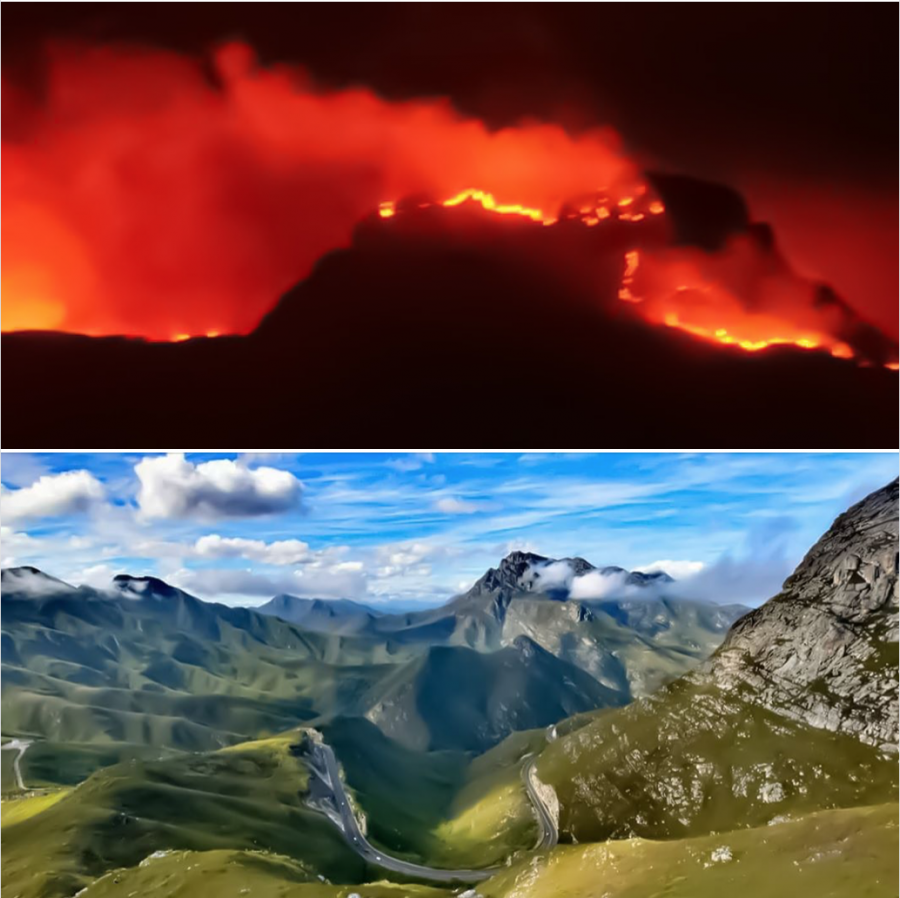 Members of the public are also strongly discouraged from using DRONES as this could interfere with aerial operations during the day, said WoF.
The mountains above George on Saturday night:
A Facebook user who lives in the area posted this dramatic photo by Sheldon Bubanj, and said: "The mountains above George the other night… next week another hot spell."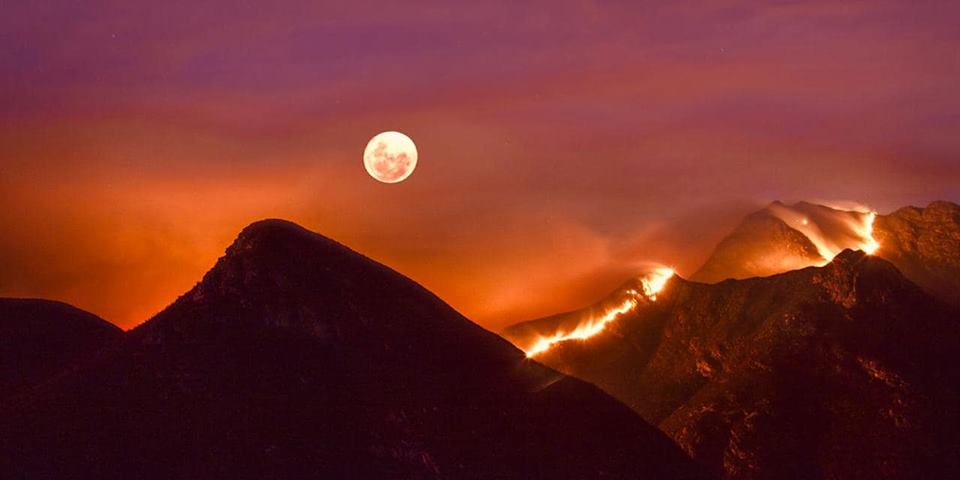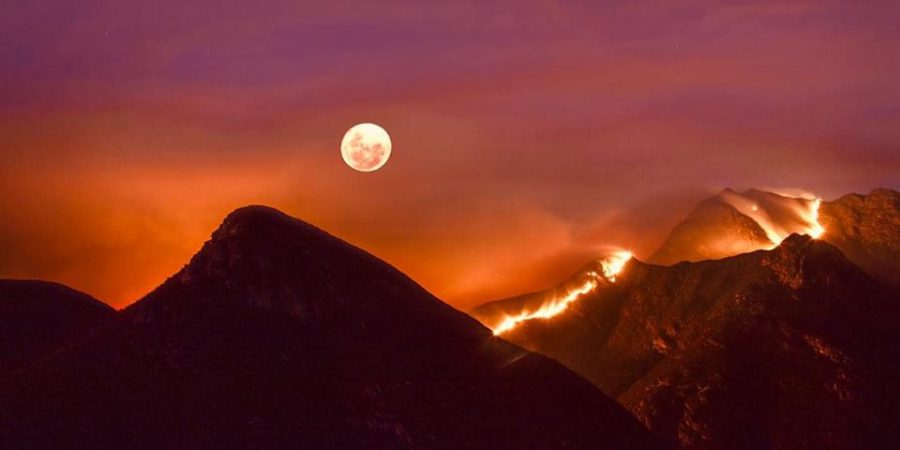 Cape Town Township Fires Leave Thousands Homeless
Meanwhile over 800 people were left homeless on Thursday night after 309 shacks burnt in a fire in Vrygrond on Thursday afternoon. According to GroundUp it was the third major fire in the past week in Cape Town informal settlements "which have left thousands homeless". (Read the full details and see photos on GroundUp.)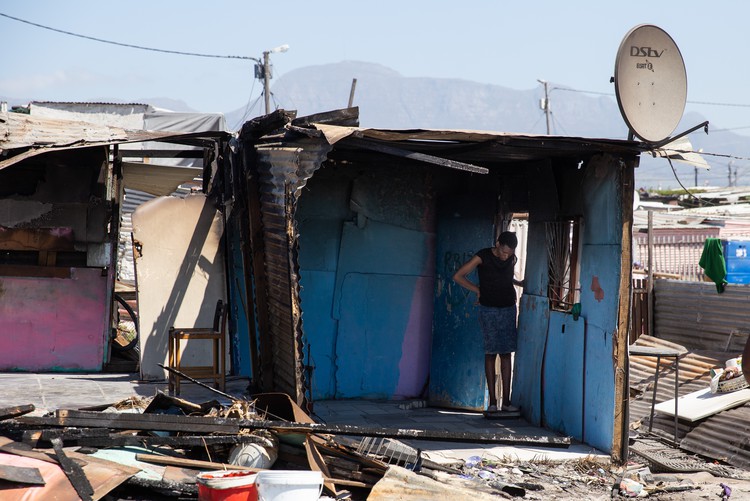 One resident told Ground Up journalist Bernard Chiguvare it was the third time she was a victim of fire, and begged the City of Cape Town to introduce a plan for formal houses.
Formation Fly By on Sunday in Knysna for Nico Heyns, who lost his life in the Vermaaklikheid Fire
On Tuesday, brave firefighter Nico Heyns (65) lost his life in the line of duty in the Vermaaklikheid Fire, also on the Garden Route in the Southern Cape… where at least ten houses were lost (please see bottom of page if you'd like to help and donate).
Tomorrow – Sunday 28 October 2018 – Heyns will be honoured by family and colleagues in Knysna.
WoF will be doing a "Formation Fly By" over Knysna with a Huey Helicopter, two Air Tractor 802 Fixed Wing Water Bombers and two Cesna Spotter Planes.
Members of the public can watch this "Fly By" around 5pm when these aircraft fly through the Knysna Heads.
Vermaaklikheid needs support: