A businessman from the Muslim community in South Africa has reached out to the Jewish community with warm words of tolerance and respect that should go viral around not just South Africa, but the world.

Solly Hattia emailed his message to the South African Jewish Board of Deputies (SAJBD) who said they were "heartened" by his reaching "out to us in friendship".
The SAJBD has shared the letter "as we believe that we indeed need to cultivate goodwill and understanding between our respective communities".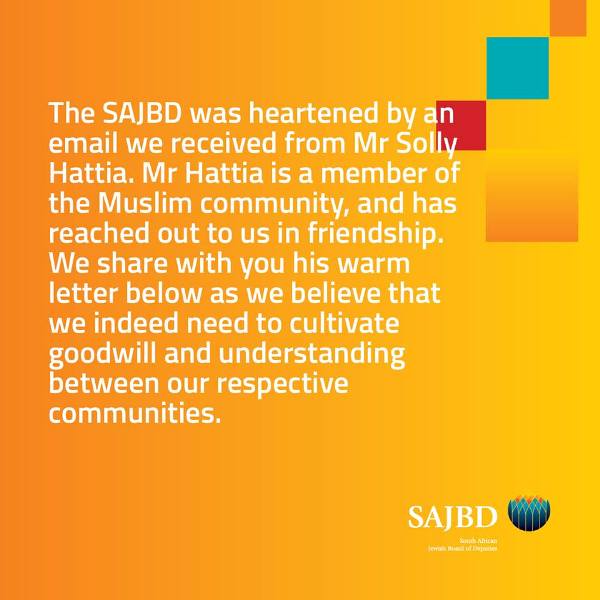 Mr Hattia's email is republished below with the kind permission of the SAJBD:
My experiences living amongst a Jewish community – by Solly Hattia
My first engagement with Jewish people began when the company I worked for merged with a Jewish family-owned-business and to whom I was then to report to as my new CEO.
My first encounter with my new Boss, Ronnie Norwitz, was on a Friday when he came down to my office at around 12 looked at his watch and said: "Solly aren't you going to be late for your Friday prayer?"
Never before in all my years of working, had I ever had this courtesy from a boss! His other interesting comment on my return from the Mosque was always: "Fridays are good days".
Ronnie would always say this with the gesture of a clenched fist swinging his arm through the air as if he was going to hit someone. He always greeted me with a smile and a kind word. Braai days at work you would find him at my fire naturally.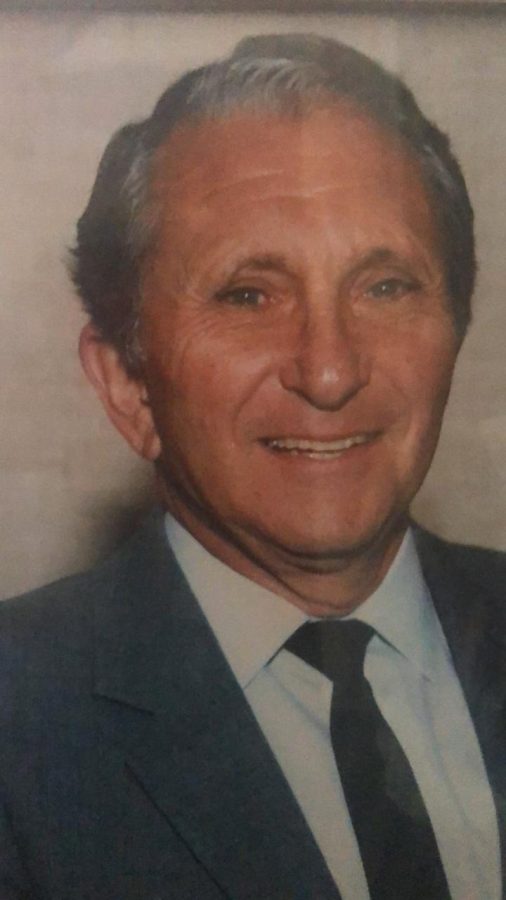 Ronnie Norwitz sadly passed on a few years ago, may his soul rest in peace.
After moving from Lenasia to Bramley, we bought a house from a Rabbi on 2nd Avenue. I recall the Rabbi showing me the double wash basins in the kitchen, emphasising the need for separating meat from fish and the "mezuza" doorpost parchments with inscriptions from the Holy Torah.
We enrolled our kids, all 5 of them – 3 girls & 2 boys – at Eden Primary School on Pta road. Soon we were having garden parties, birthdays and street meetings to discuss our safety and security. Our friendships grew through our children's interaction with our wonderful Jewish neighbours, as well as the greater Jewish community whose kids also attended Eden School.
Our GP as a natural consequence was, and still is, Dr Shlomo Levin, another amazing human being. Not just our family GP but a real friend, he had no issue making a house-call in an emergency or seeing you after hours in his private home. I don't know of many other doctors who would call to inquire about a child's recovery just a few days after seeing them, as a follow up.
By now we were self-employed in the same field of servicing the bus coach and construction machinery industries. We continued doing business with the existing clients some of whom were family-owned Jewish companies, and once again the support continues to grow to this day.
The Super Group serves as one of our primary distributors in and around the country through their many outlets. Currently we live next door to two Jewish families in Houghton, both equally amazing. The Schindler's and Taurog's are wonderful neighbours who are always there for you when you need them. It's a long story and I will share it one day hopefully.
Why, you may ask, am I patronising the Jewish community?
My answer is simple. As fellow South Africans, in fact as "cousins" through our Abrahamic faiths, we need to find a forward thinking approach and show respect and dignity to each other, regardless of our differences.
We will naturally take sides, as it's in our DNA to do so.
How we relate to these issues is what is paramount for an all-inclusive understanding towards peace and togetherness. We trade with one another, attend the same universities and schools, live in similar neighbourhoods, work together and share so much in common in as far as our faiths are tied so closely etc.
Let's debate, have meaningful dialogue, agree or disagree, take sides if needs be… provided we do it with the utmost respect and dignity for each other regardless of our differences.
"Unity in diversity" in the words of Michael Novak, American philosopher, "is the highest attainment of a civilisation, a testimony to the most noble possibilities of the human family. This attainment is made possible through passionate concern for choice in an atmosphere of social trust".
As a fellow Muslim living in your midst I humbly suggest we don't break our ties as a result of what's happening in Israel / Palestine… but be human in our quest for justice and peace through fair mindedness and allow our consciences to prevail.
Thank you for taking the time to read.
Solly Hattia
View Solly Hattia's original message on SAJBD's Facebook page here and visit SAJBC's website here: https://jewishsa.co.za/