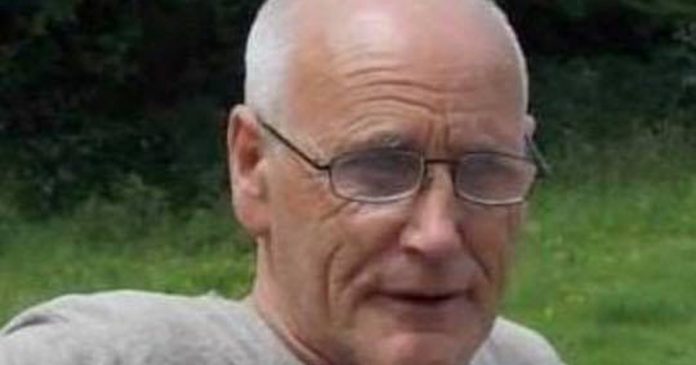 The family of 66-year-old Stanley Currie, who went missing in South Africa after boarding a flight from Dublin, Ireland, to Joburg has expressed gratitude to all those who helped share their distraught posts looking for him. It was information from a member of the public that helped locate him, together with fantastic work from a community watch non-profit organisation and the South African Police Service (SAPS).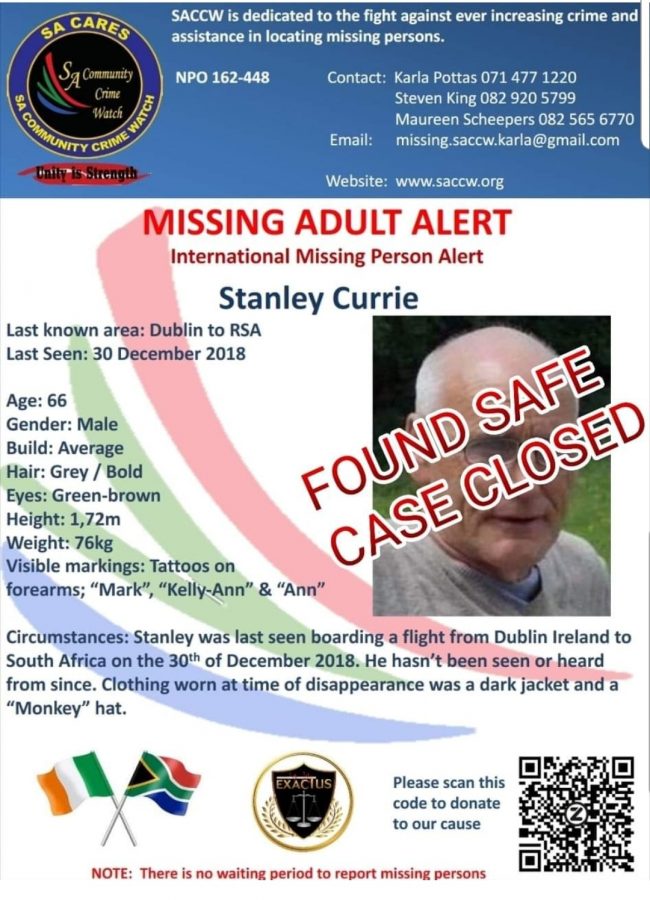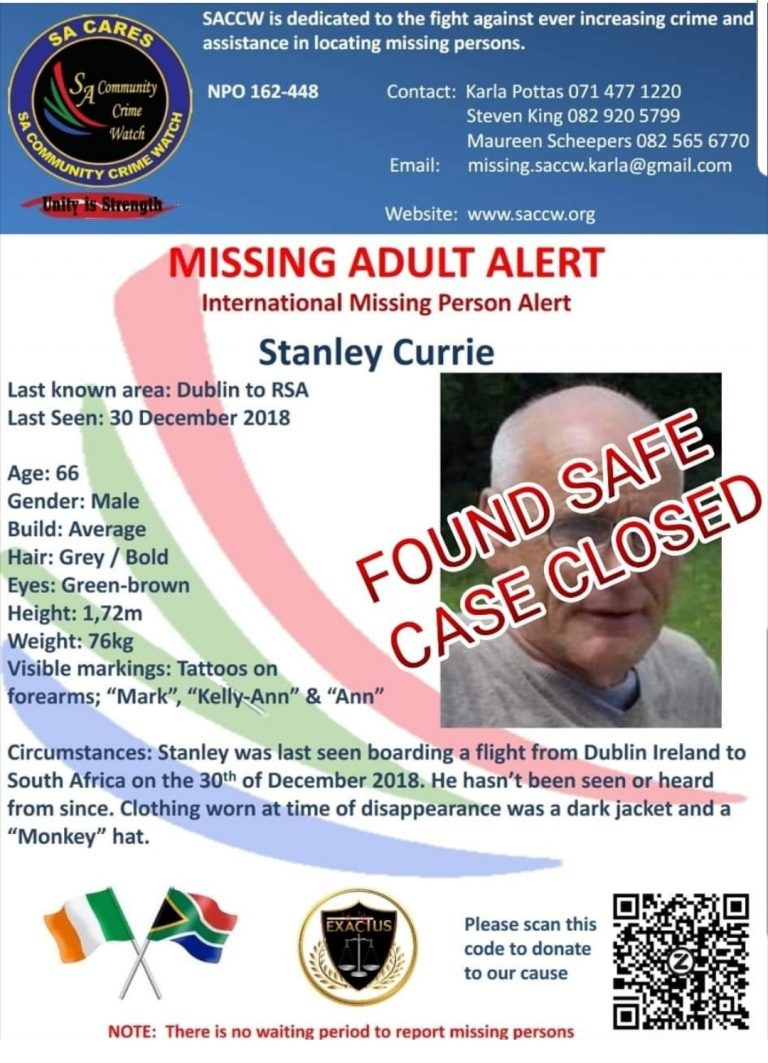 Glyn Cartmell, Regional Communications Manager at the British High Commission in Pretoria, told SAPeople: "I can confirm that we are providing consular assistance to Mr Currie and we are also in contact with his family and South African authorities."
Stanley was last seen on 30 December 2018 when he boarded a flight to SA, and the family became concerned when they hadn't heard from him for days. To their knowledge he had travelled to South Africa with a "lot of money in cash" to meet a woman he had met over the internet a couple of years ago.
According to reports in the Irish media, Stanley was disoriented when found.
His son, Mark Currie, said on Facebook last night: "Dad has been found.. thanks for all the shares and help.. no other info at the minute apart from he's in a medical centre getting fixed up."
It was the tattoos on his arm – with Mark's name and two other family members – that helped people identify him.
His daughter-in-law, Sian-Clair Currie thanked everyone for their support and said "they mugged him as far as we know", although this has not been confirmed. She said a Crowdfunding page had been set up to buy him a ticket home. (It has already surpassed its target.)
"We just have to wait for his passport to be sorted first x," she said.
The SA Community Crime Watch page (SACCW), which posted news of his disappearance, said it was thanks to a tip off they received from a member of the Edenvale community that the foreign traveller was found.
SACCW said:
Thank you for sharing, and thank you to all the members of public that made contact with us concerning this case. A special thank you to W/O Wynand Venter SAPS POCC, Brigadier Ras V. I. C Unit, Col, Samaad V. I. C unit, Col Clark from the SAPS Investigative Psychology Unit, SA community crime watch missing persons division, SACCW opperations, Mamba Security and Edenvale CPF members. #saccw_missings #saccw_national
SACCW's Chief Executive Steven King told the Irish Sun newspaper that the tip off came from someone close to the airport, in Edenvale. King told TimesLIVE that two women found Stanley lying on a pavement, beneath a tree. He was apparently rather sunburnt.
"They said they had come across him as he was looking for the place he was supposed to be staying. He was a little hurt by the sun and disorientated but he is OK and he spoke to his family over the phone earlier today and they were overwhelmed to know he was OK."
King said: "I'd like to thank all the members of the public in South Africa that got in touch with us about this case because we did receive a lot of calls from people who thought they saw someone like him and it helped narrow down the area.
"We had been working with the police and several other groups and then we got this call. I suppose you could call it the luck of the Irish."
According to reports Stanley only had his cellphone and an extra pair of jeans with him, and the women couldn't see anything on his cellphone screen.
SACCW said: "All we can say is that he's being treated in hospital. thank you all."