If you live abroad, or otherwise missed voting in yesterday's national elections in South Africa, then filmmaker SUSAN SCOTT's tweets of her experience in the queue at Randburg are a must-read. You'll feel like you were there!!!
Susan – director of the multi award-winning Stroop: Journey into the Rhino Horn War – began her very South African-flavoured tweets at 06h41 on Wednesday 8 May, and ended over four hours later, just before 11h00, when she was finally about to vote. Read below:
06h41
Not sure what @AkiAnastasiou is seeing up in the @Radio702 helicopter…?!!
Because here in Randburg the queues are skrik-vir-niks!
Voted here my whole adult life and never seen it this packed.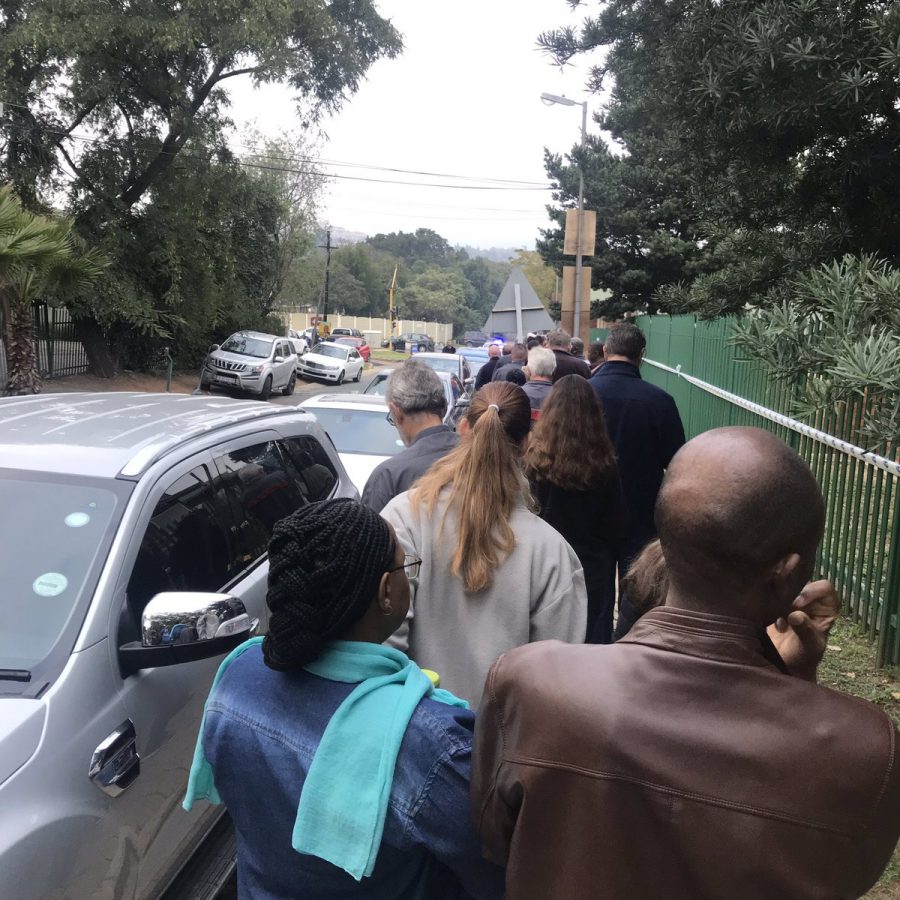 07h01:
Very chatty guy in front of me and it's getting colder so people going from smiling and chatting with him to smiling wanly and just nodding to now grabbing their phones looking very busy to stop from engaging with him.
Shame!
07h02:
Guy behind clearly runs a travel agency because he is on the phone non-stop to his assistant who seems to be booking all the flights for his clients: "that's why I've got you to do what you need to do… (pleading voice)… you need to connect the dots. we need to work on clicking off from Emirates and now on to Delta… you're missing a few strategic pieces… once again you're part of the right team, you're a member of the body structure…"
I've never imagined motivating a travel agency booking crew would be so entertaining!
07h57
Panicked woman several in front turning around now to tell all of us that they've run out of ballot papers at her son's voting station… "I mean like his one was the last one they stamped hey"
07h59
Okay so now the IEC ID scanner guy has come out now to scan IDs… we've just run out of ballot papers.
Panicked woman now saying "this is the 2nd time this morning & you all laughing at me now but I am telling you now they don't want us to vote… and it's people like the Guptas, I'm not saying it's them, but it's people like them who are behind this."
She is very angry.
Three woman have now left the queue to go & have breakfast at the coffee shop down the road. It seems they know each other from their childrens' school.
08h30
Seriously now a guy who looks like a Blue Bulls supporter with his maid/helper/domestic (I am not making this shit up) is walking down the queue saying "coffee, coffee with a rusk only R20" & his helper is holding an elaborate tray with lace & a glass jar of rusks.
I've never…
To top it off chatty guy doesn't buy now and just says, "wow, did you see that?? Coffee! Wow."
08h45
Okay now I am getting annoyed.
Panicky woman has walked over to the DA table across the road where they are now setting up a gazebo (very DA area this…) and now apparently one box, ONE BOX of ballot papers will arrive at 10am. In an hour and fifteen minutes.
**
Panicky woman now really riling us up now saying the DA table said "many many people coming up to them saying they've always voted here and now their names are not on the list inside…"
Seriously WTF. I am getting annoyed as I said.
**
So police car has just arrived and IEC monitor sprints out to the car to offload a box of ballot papers… she runs past us and panicky woman, "aggggh no man really… that is pathetic. One box and it's so small."
IEC monitor: "relax, I'm getting more." 😂
**
Cop car just pulled up next to line and chatty guy asking them to switch off because "we will all die of fuuuuuumes brother before we vote man!"
**
Brown leather jacket guy: "how much petrol are they using to go and get one small box"
Panicky woman: "and it's not even their petrol… it's OURS."
**
IEC monitor back at police car so panicky woman says "how many ballot papers are in that tiny box?"
IEC monitor: "1,500"
Panicky woman: "how many are in front of us?"
Brown Jacket laughing: "no no Mama, there are only fifty in front of us!!"
**
Panicky woman to IEC monitor: "Are you getting more boxes man?"
IEC monitor (who I have to say is a lovely woman with so much patience and a beautiful smile): "yes of course but you don't want to know what else is going wrong…"
**
Panicky woman: "WHAT?!! What do you mean 'what else'?"
IEC woman runs off.
Chatty guy rejoining queue from hanging out at cop fumes car: "Yirre, I've just heard they have duplicate numbers on ballot papers. How can they fck up when you can number them from 1 to 80-million? Huh?"
**
Panicky woman: "well I have brought my black pen because they give you a pencil and will rub it out to make it what they want it to be."
Chatty guy: "I am going to CNA to buy black pens and sell them for a rand!!"
Got news for him: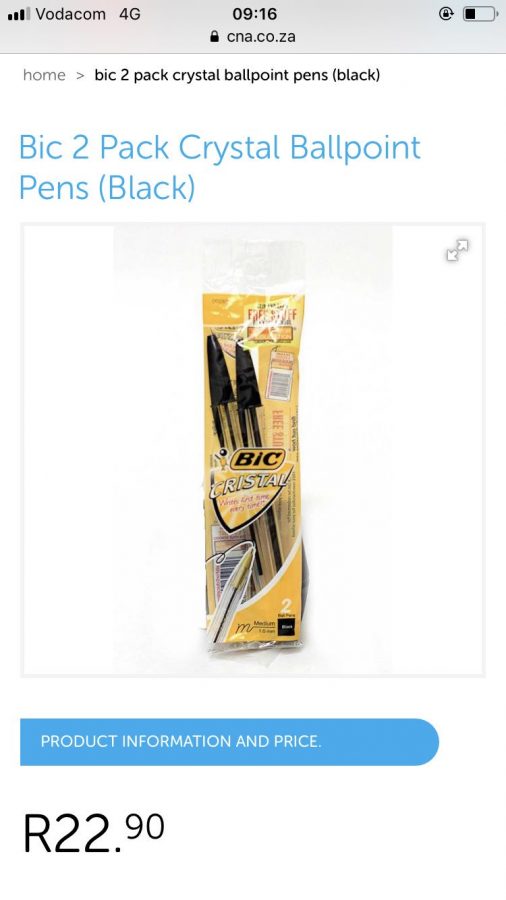 **
Brown leather jacket guy to panicky woman: "I've just counted Mama and 1,500 is here…" draws line in front of her…
We all just burst out laughing!! And to be fair, so does she!!
What a gem he is!
**
Queue moving now. Thank the Pope.
Almost at the Laerskool gate & panicky woman seeing posters on the floor at the door "haha!! The ANC broke the rules posting their ANC posters right at the gate in violation of the IEC rules. Hahaha!!"
No guesses for who she's NOT voting for!
**
An elderly gentleman walks with his Harley helmet (again I cannot make this stuff up) past all of us to the gate & says "benefit of old age hey!!"
Panicky woman: "what?? How old do you have to be to go to the front?? I'm 63."
Brown leather jacket guy: "64" 🤣
**
At the gate now.
Woman with pram walks past us now and panicky woman: "someone borrow me a child."
Everyone laughs! 🤣
Brown leather jacket guy: "we just need one and bring it back and forth to share between us!"
10h55
Bakkie drives past with woman shouting out "make sure you make a cross FOR CHANGE and NO CORRUPTION hey"
She winks and makes a sign of a cross with her finger at the queue as the bakkie accelerates off. Again… you cannot make this shit up.
Oh, my word! Panicky woman's daughter just returned from running 5-Kay's! I thought she went with the others for a coffee and turns out she ran 5-kms in the time we moved 17m.

***
SUSAN SCOTT is the brilliant director of the multi award-winning documentary STROOP – the little rhino film that is making a BIG difference.
If you haven't yet, please watch STROOP: Journey in the Rhino War and tell all your friends. It's now available digitally in Australia too!