CAPE TOWN – South Africa's President Cyril Ramaphosa said today was the best Mandela Day he had ever had because of what he experienced at the Red Cross War Memorial Children's Hospital.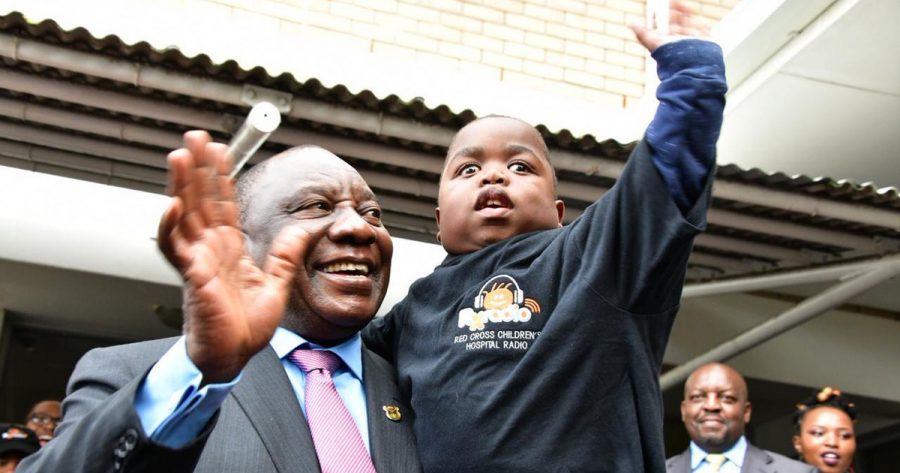 "I came here to uplift the spirits of the young people," he said, holding one of the young patients in his arms, "but in the end I am the one whose spirit has been lifted." (See video below.)
During his visit, Ramaphosa did a radio interview with the patients, and said they asked him a lot of "difficult" questions.
The Red Cross War Memorial Children's Hospital is South Africa's only dedicated child health institution and offers a comprehensive range of specialist paediatric services to children, according to its website.
The hospital's RX radio station is the first radio station in the world presented by children for children, live streaming from a hospital.
"What impressed me most was that they are so full of hope despite the many challenges and difficulties that they are afflicted with, the real health challenges that they face," said Ramaphosa. "They are so full of hope."
The invitation to the president:
A few months ago I received an invitation from Rx Radio, the Red Cross Children's Hospital Radio to join them as a guest for a show. There can be no better day to honour their invitation than to spend my 67 minutes of #MandelaDay2019 being interviewed by these bright young minds. pic.twitter.com/ENsc2jDAuy

— Cyril Ramaphosa 🇿🇦 (@CyrilRamaphosa) July 18, 2019
The President arrives at RX Radio today:
📹 @CyrilRamaphosa arriving at the RX Radio, the Red Cross Children's Hospital Radio station staffed by children at the hospital in Rondebosch. As a studio guest the President will be interviewed by the young radio anchors whose interaction will be broadcast to children pic.twitter.com/6KamJvyOZI

— SA Gov News (@SAgovnews) July 18, 2019
The interview:
President Cyril Ramaphosa visits the Red Cross Children's Hospital for an interview with Rx children's radio station https://t.co/UIUFenh3Bc

— South African Government (@GovernmentZA) July 18, 2019
Meanwhile, President Ramaphosa's wife – Dr Tshepo Motsepe – spent her 67 Minutes for Mandela Day with the Early Care Foundation:
[PICTURES]: Dr Tshepo Motsepe spent her #67Minutes for #MandelaDay2019 with the Early Care Foundation, distributing learning resources to the Morning Star ECD Centre in Edenvale, Ekurhuleni and the Matshidiso Child Day Care Centre in Diepsloot, Johannesburg. pic.twitter.com/eOqCpHNCTl

— PresidencyZA (@PresidencyZA) July 18, 2019