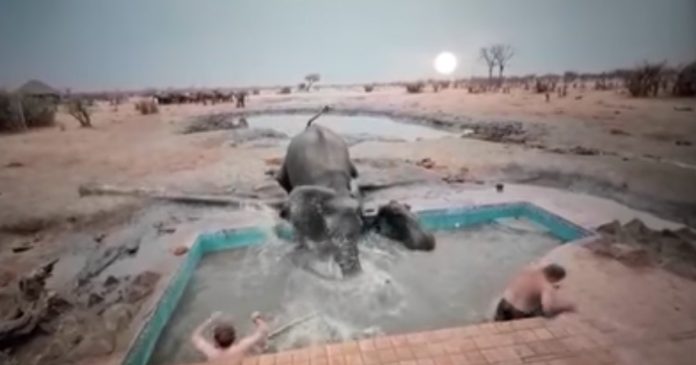 Watch the video below to see two men leap out of a pool faster than you can say 'elephant', when a large mother elephant jumps in to boot them out.
The mother was trying to protect her baby who was stuck in the pool. But the men were wanna-be good samaritans. They were attempting to coax the baby towards the steps of the pool because the side was too high for it.
But all the mother heard and felt were their shouts and what appears to be stones being thrown at her to keep her away while they bravely tried to rescue her baby for her.
In what could have ended in tragedy, the female elephant lurches herself into the pool and makes a beeline for one of the prospective rescuers in a deliberate attempt to get him out of the pool and away from her infant. Fortunately, it all ended well. Watch below.
It's not certain where or when this was filmed. The elephant video was uploaded by Africa, this is why I live here… but with no caption other than "Africa is not for sissies!"
WATCH VIDEO: Elephant Mom leaps in swimming pool to chase humans away from her calf
It's not the first  time an elephant has jumped in a swimming pool, nor the first time human swimmers have had to rush to escape from a pool in Africa – last year an Australian tourist and a male friend had to flee the water after a crocodile jumped in the swimming pool!