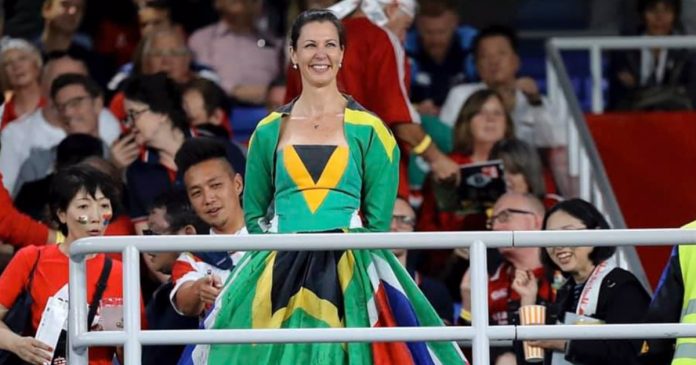 When asked by many social media followers and reporters on her page to tell a little more about the story behind the dress, Kirsten revealed she made it for  the 2011 World Cup and that the Springboks have actually signed it! (In fact her friends joked that it took the media so long to discover her.)
Kirsten said on Monday:
I'm very proudly South African and a dedicated Springbok fan. My husband and I have been to every World Cup that South Africa have played in (this one is our 7th).

I made this dress for the 2011 World Cup and wear it proudly to every World Cup. I'm very grateful to the awesome Boks who have signed it.
Here's a photo of Kirsten at the 2011 Rugby World Cup at the quarter final between South Africa and Australia in Wellington, New Zealand, captured by SAPeople follower Deidre Ludolph Petersen. Deidre says: "That dress is still a beauty : -)"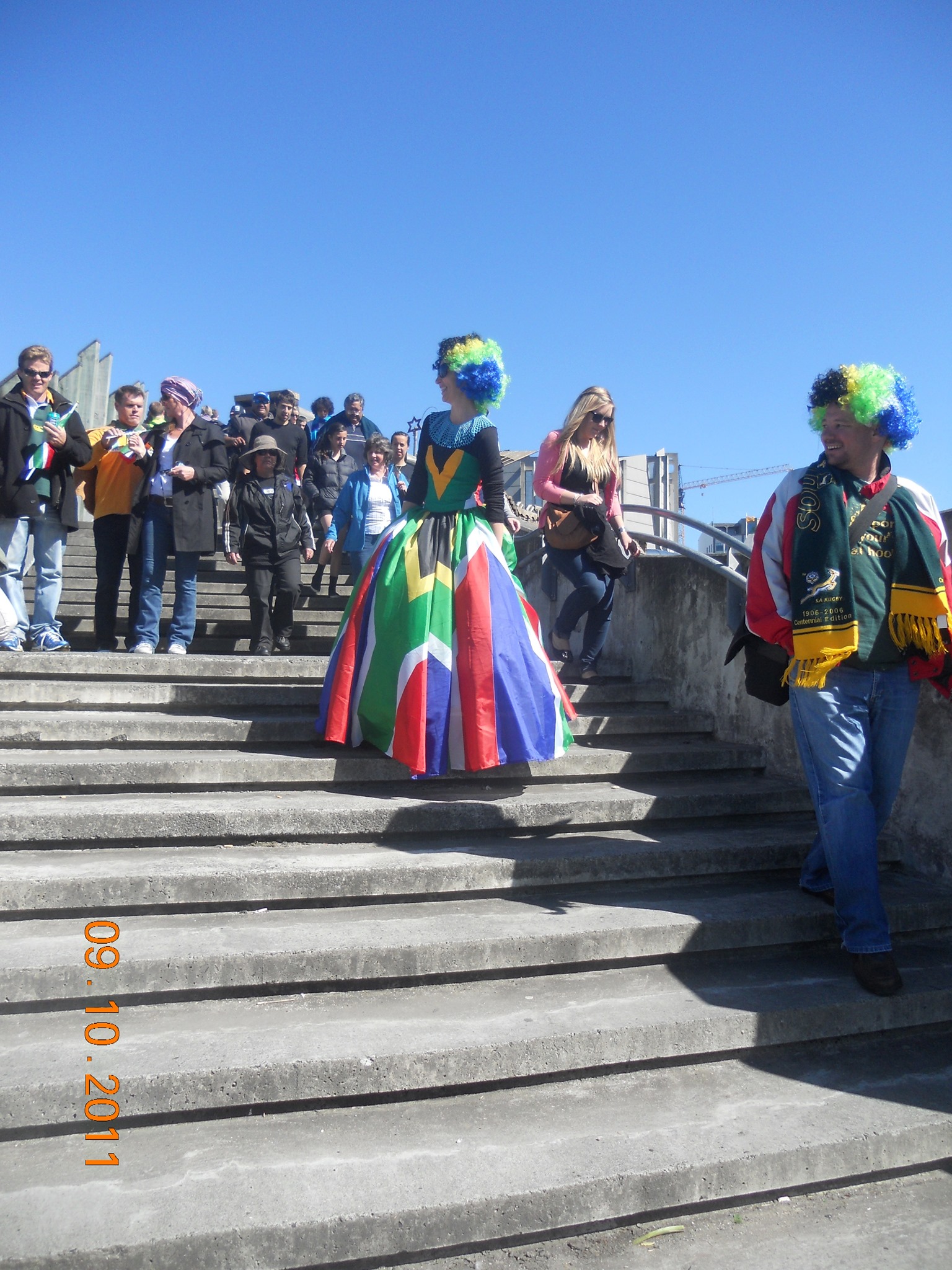 This week friends and strangers took to Facebook to compliment Kirsten on her outstanding proudly South African attire with people saying "fabulous", "amazing", "you do us proud.🇿🇦🇿🇦🇿🇦🇿🇦" and "Wow!!! SA mascot of note!!! 🇿🇦 GoBokke!!!"
Kirsten's dress caught the world's attention this weekend when one of the most popular media outlets, The Daily Mail, featured an AP photo of Kirsten at the South Africa vs Wales match.
The UK paper captioned the pic: "A South Africa fan dons a stunned dress as she smiles from the stand. Supporters took to the towering 72,000-seat stadium today."
SAPeople follower Ilze Oosthuizen met Kirsten at the quarter finals match last weekend and captured the below photo.
Ilze said: "I happened to be in the fanzone next to her at the SA/Japan match last week and took this photo of her. She looked absolutely exquisite and elegant and made us South Africans proud. I posted it on my Facebook and people were in awe."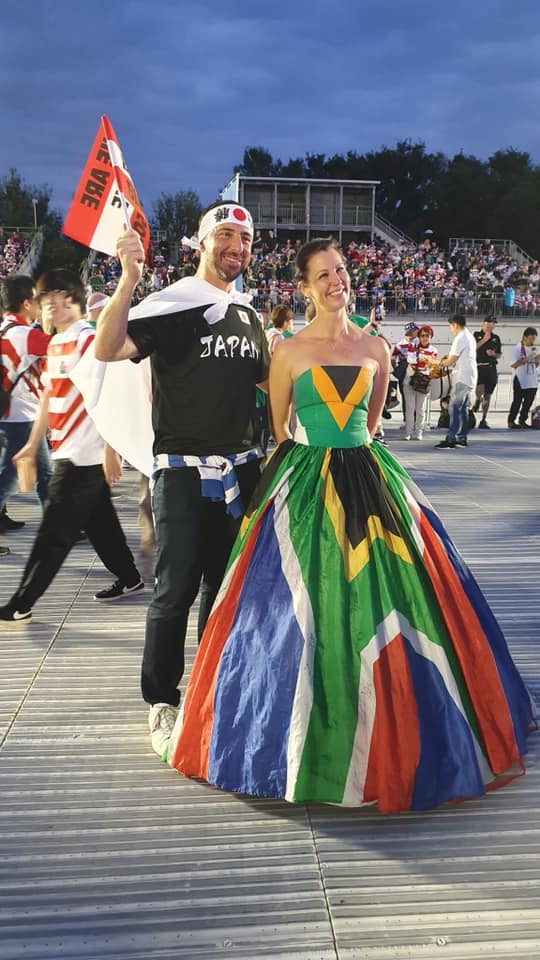 When friends asked Kirsten where husband Steve was in the Daily Mail photo, she joked that he's "trying to stay as far away as possible otherwise he becomes official photographer 😆"
One of Kirsten's friends Nina Pearse also posted this gorgeous photo from yesterday (Sunday):
My gorgeous friend and dedicated Bok supporter, Kirsten Teasdale, adding to the gees in Japan. Love it, Kirst! Go Bokke!! What a game! #rugbyworldcup #gobokke #supportinginstyle

Posted by Nina Pearse on Sunday, October 27, 2019
Even Kirsten's Facebook profile picture shows how proudly South African she is, wearing a T-shirt with Africa emblazoned on it, and a big red heart over SA.
Remember – you can watch the Rugby World Cup weekend highlights including SA vs Wales on Showmax here.