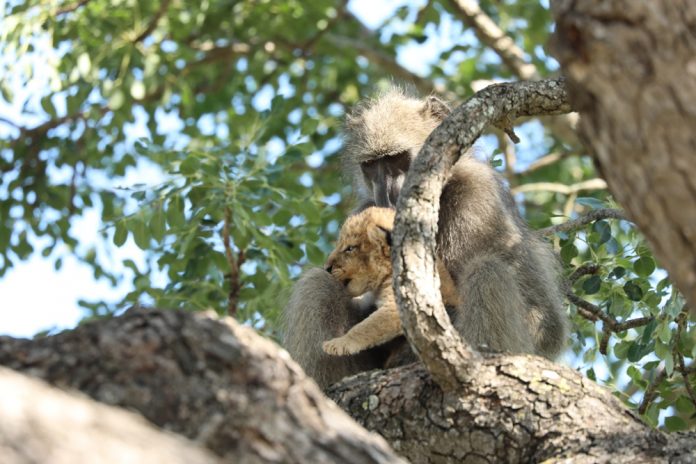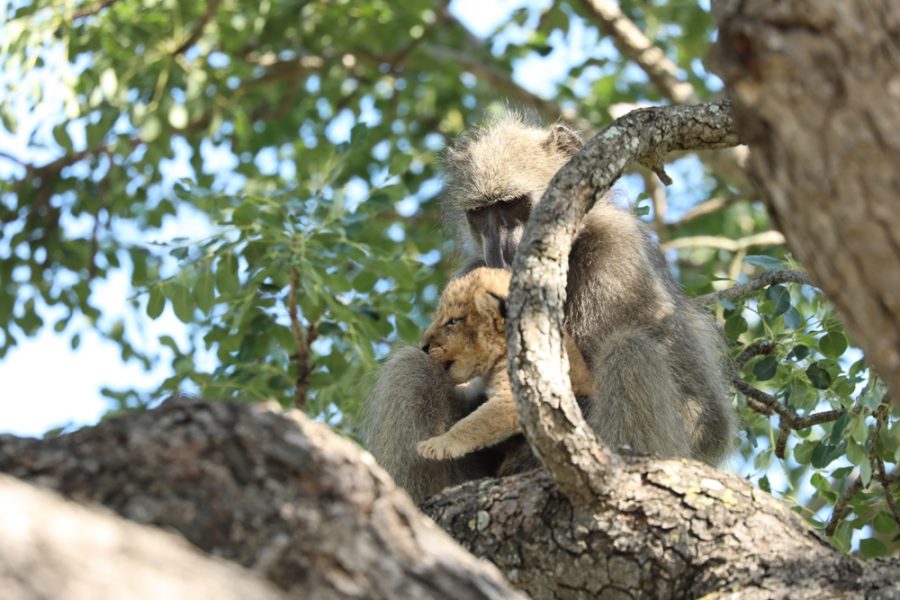 On Saturday morning I entered Kruger very early and had a breakfast appointment at Skukuza planned… writes Kurt Schultz.  Having worked in Kruger and guided and run www.kurtsafari.com for the last 10 years. I spend most of the week in an office, so weekends are my time to get my camera out and get into the Bush. Just last week I was speaking with my Manager and mentioned I have not had a lot of luck recently, but things were about to change…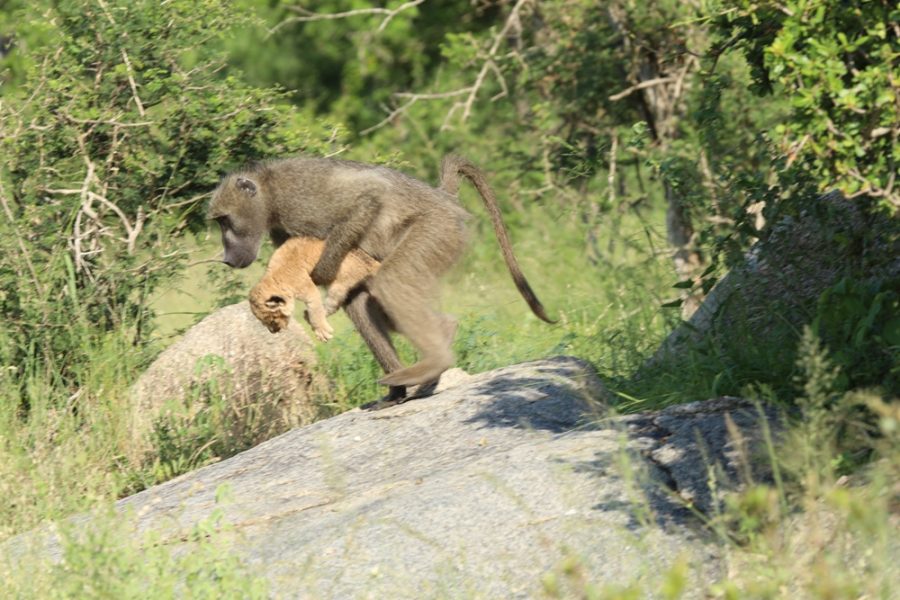 I went to an area that had been very active with Lion sightings recently, and came upon a troop of baboons really excited and playful. This is normal for early mornings.
There was another vehicle at the baboon sighting, and it was mentioned there was possibly a lion cub amongst the baboon troop.
After waiting for a long period we noticed the one baboon, that first seemed to be a female, carrying a lion cub I thought was dead. This area has large granite hills and boulders on it, and is known in the past for lions and leopard hiding their newborn cubs in this region and amongst the koppies.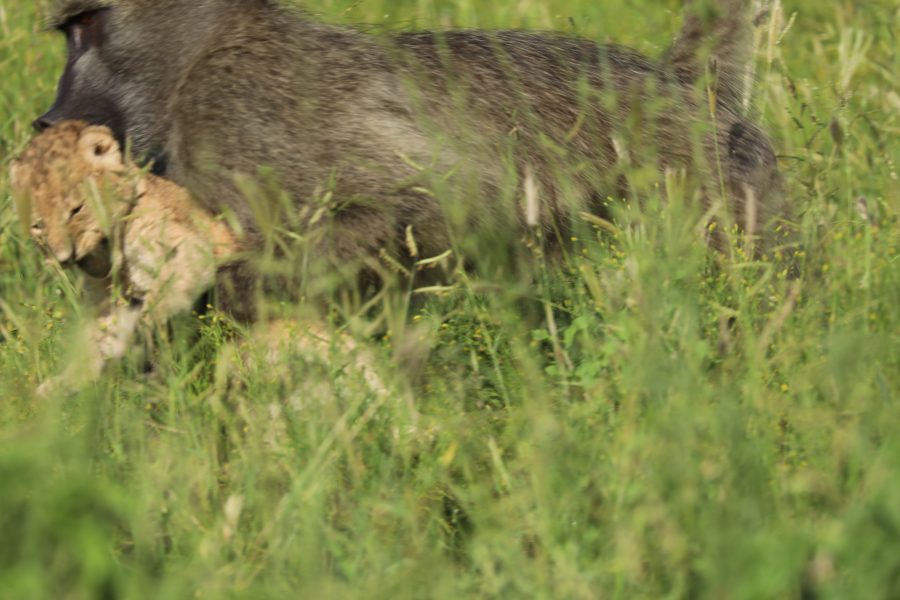 The baboon crossed the road and climbed a marula tree. We then noticed the lion cub was alive!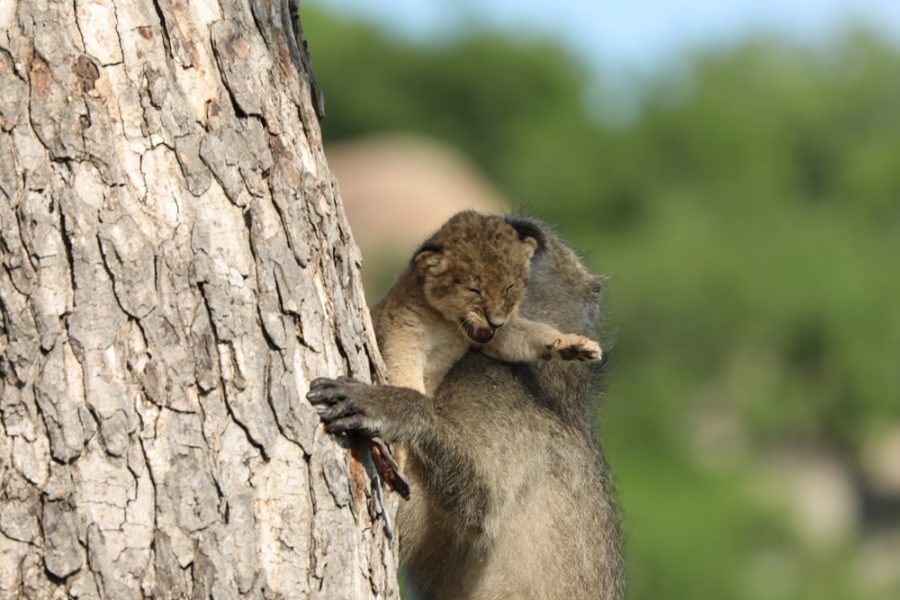 The baboon was grooming the lion cub as if it was a baby baboon. Male baboons do a lot of grooming but the care given to this lion cub was the same care given by a female baboon to one of her own young.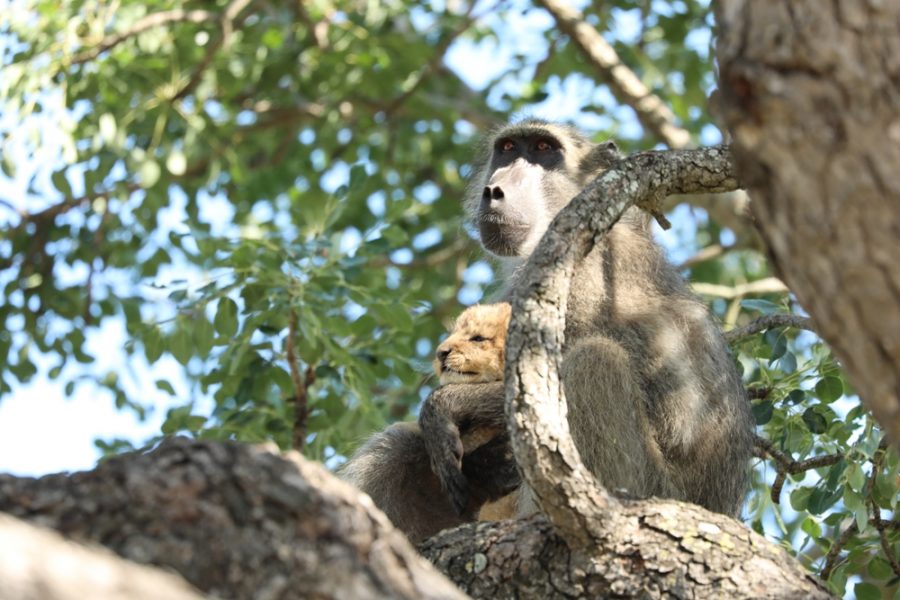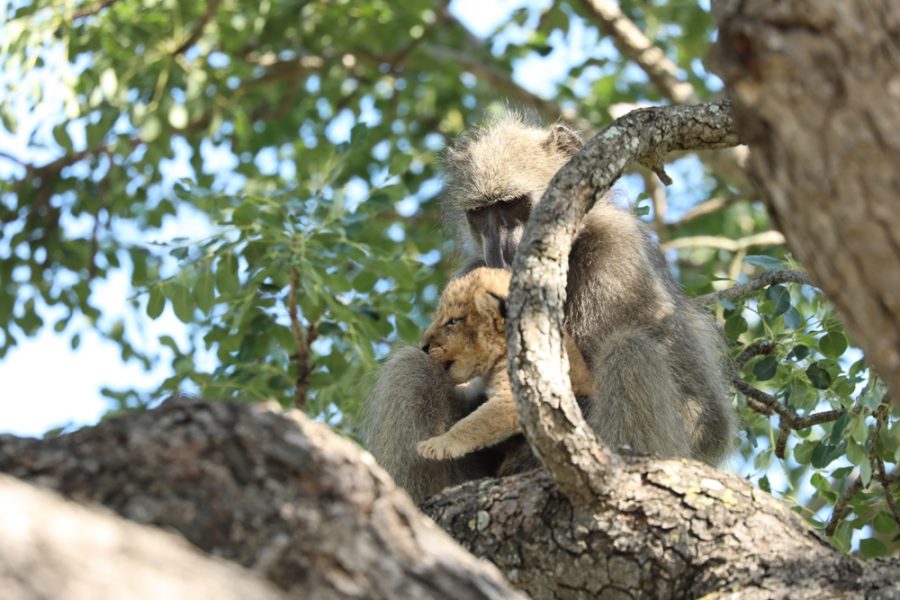 The rest of the troop got used to the presence of this lion cub and the group settled.
The male baboon moved from branch to branch grooming and carrying the cub for a long period of time. The cub seemed very exhausted and although uninjured to the naked eye, there might have been internal damage to the cub; it is not used to being carried in this manner – baboons are really strong animals and when they were all excited and fighting over the baby in the beginning, it could have been injured internally.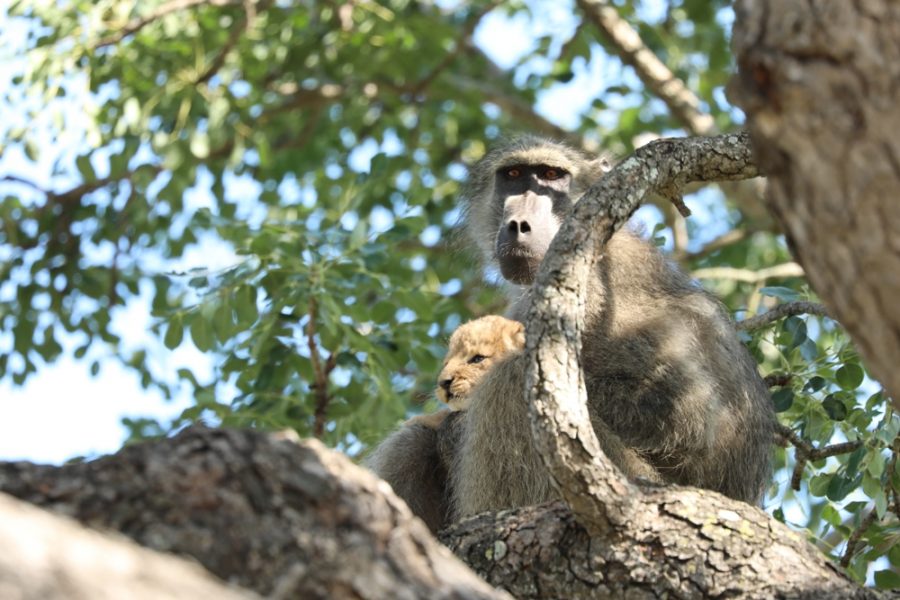 It was already about 30 degrees by 8 am and dehydration also seemed to be playing a part.
The baboons started moving further in and I left the sighting as other vehicles arrived and everyone wanted a view.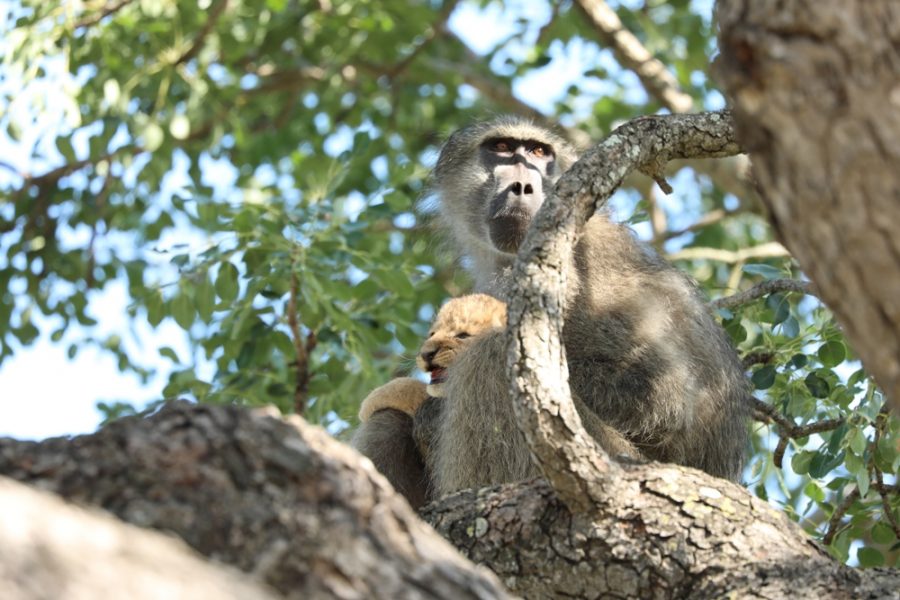 In 20 years of guiding southern and east Africa, and being in the Kruger for close on 20 years, I have witnessed baboons viciously killing Leopard cubs and have heard of Baboons killing lion cubs… but have never seen the care and attention given to a lion cub in this manner.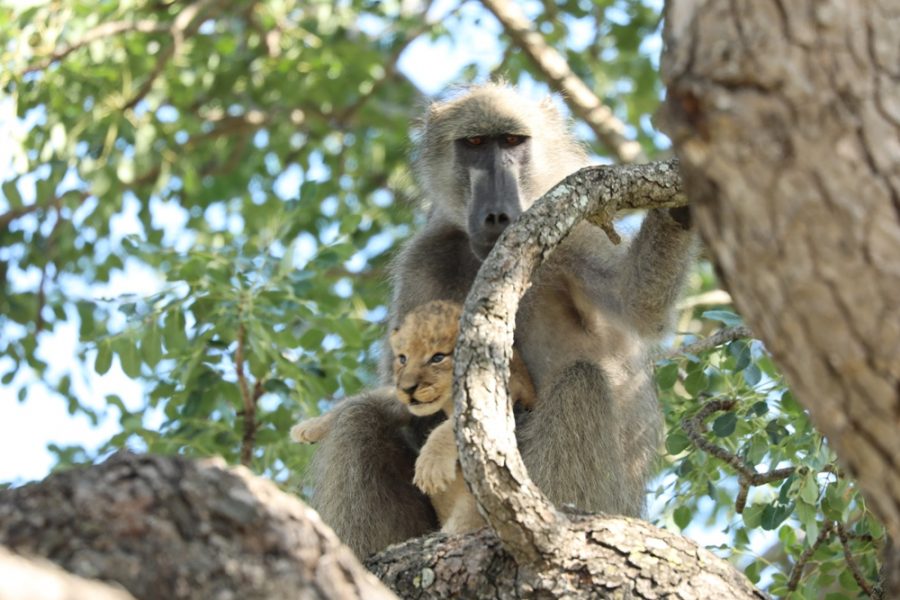 I don't see a chance of this poor cub surviving. The troop of baboons was large and a lion would not be able to get the young back.
Nature is cruel at most times and survival of young Predator cubs is not easy. The Lion cub poses a threat to the baboons when the lions gets older.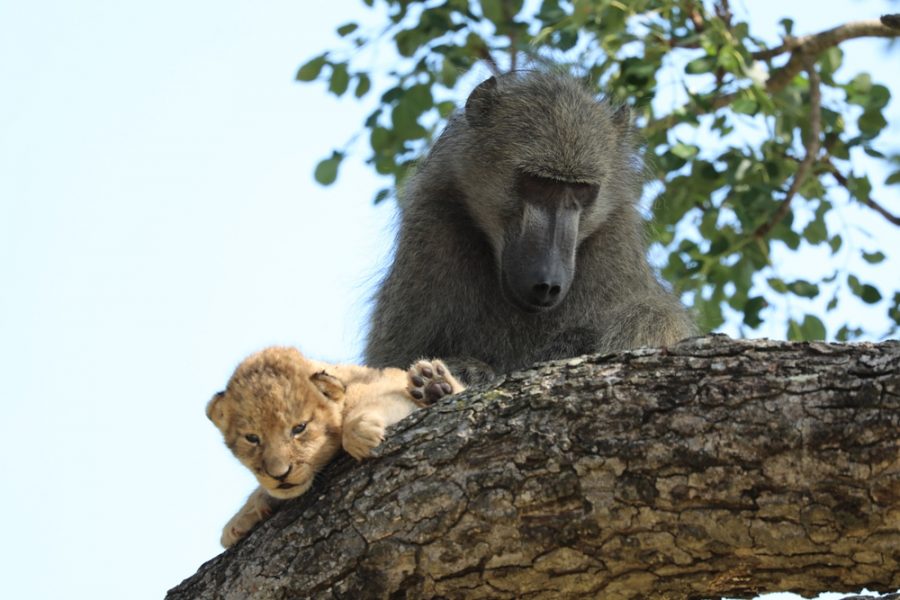 This will remain one of my most interesting sightings,; one does care for the lion cub and wish it to grow up and live a wild and free life, however nature has its own ways; we cannot get involved and we need to keep Kruger simple and wild. These were the wishes of James Stevenson-Hamilton (known as the 'father' of the Kruger), where nature wonders freely amongst the cars that contain you.
By Kurt Schultz, www.kurtsafari.com
***
Kurt Safari offers 1 to 5 day safaris into the Kruger National Park, operating in Southern and Central Kruger. With a modern fleet of 23 vehicles and Kruger top safari guides, most from the local Hazyview communities, with many years of guiding experience have built up a great company rated at number 1 on TripAdvisor for Kruger Park safaris. Based in Hazyview, KurtSafari offers quality and educational safaris, mostly from the new Umbhaba Eco lodge in Hazyview (a recently renovated lodge now under new management). Kurt says: "Join our guides for an unforgettable safari, a passionate team to ensure the best possible stay for our quests." www.kurtsafari.com
These photos and story are © kurtsafari.com. Please contact admin@sapeople.com if you would like to use them.