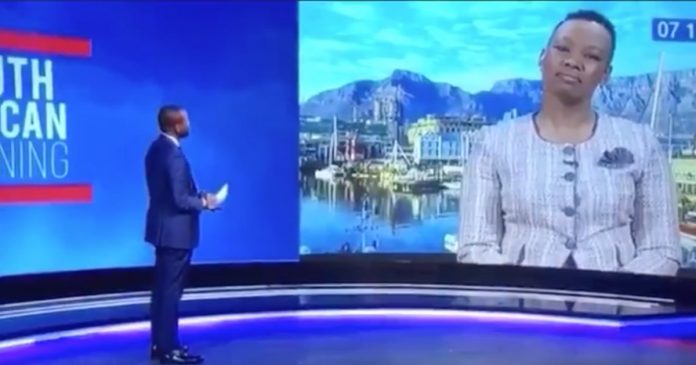 Whoops, South Africa's Minister Of Communications suffered a communication failure during a television interview with eNCA.
Asked about allegedly flying her husband to Switzerland for a holiday to celebrate their wedding anniversary, on taxpayers' money, Minister Stella Ndabeni-Abrahams categorically denied it, saying she and her husband have never been to Switzerland… they only went to Geneva.
This is sure to come as a shock to residents of Geneva who believe they live in the second most populated city in Switzerland.
The Minister reminded the interviewer of the statement she has issued in which she said: "I've never been to Switzerland. My husband has never been to Switzerland. We went to Geneva and New York…" (See the Minister's explanation below the video.)
WATCH VIDEO: South African Communications Minister Confuses Geneva in Switzerland
The Minister Of Communications

Says that she did not go to Switzerland with her husband but she took him to Geneva.

Hebana 🤷🏿‍♂️

@Stellarated pic.twitter.com/WucIVwCCjD

— Madzenga (@NMadzenga) February 19, 2020
Some jokingly suggested perhaps she was referring to a small city in the US state of New York that's also called Geneva. However, the Minister has definitely visited Switzerland – she attended the World Economic Forum in Davos in January 2019.
The Minister has since joked herself saying: "Hay seriously you didn't see that I made an error? Ndibhudile bandla 😂😂😂"
Minister Ndabeni-Abrahams says she meant France, not Switzerland. The allegations, which first surfaced in January, were that she and her husband went on a shopping spree into France in September 2019. The Minister reiterated on Wednesday afternoon that she and her husband did not go to France as has been reported. She insists: "I went to Geneva and NY for work but was accompanied by my husband."